Reasons why Something Needs to be Done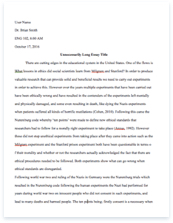 The whole doc is available only for registered users
A limited time offer! Get a custom sample essay written according to your requirements urgent 3h delivery guaranteed
Order Now
Motivation is the reason or reasons one has to accomplish something. Motivation can come in many forms. It can come intrinsically through the inner desire of work satisfaction or the desire to achieve. It can also come extrinsically through external factors such as benefits, paychecks, and awards. The key to successful motivation is being able to have intrinsic desire be the primary motivating factor and have extrinsic desire be the secondary motivating factor.
In order to be successfully motivated, it is important to have intrinsic desire be the primary motivating factor. This is because an inner desire to achieve greatness will be the greatest factor in keeping someone on track and inspired to reach their goal. This has been proven over and over again in the best athletes. For example, Muhammad Ali stated, "I am the greatest. I knew it before I ever was." He also believed that "If my mind can conceive it. If my heart can believe it. Then I can achieve it." His biggest motivating factor to accomplish his goals of becoming the best boxer ever was his inner desire to be the champion. He truly believed that he was the best and could achieve his goals even when no one else believed him. He had faith in himself and was motivated to do whatever it takes to accomplish his goals. Muhammad Ali trained like no one else in order to be the best. One of his famous quotes was, "I hated every day of training, but I said, don't quit. Suffer now and live the rest of your life as a champion."
One time someone asked him, "How many sit-ups do you do?" He responded, "I don't count until it starts hurting because that's when it really counts." It was his inner desire to achieve greatness and make an impact on this earth that allowed him to accomplish his goals. It was not the paychecks, the fame, or the benefits but the inner fire to be the greatest there ever was. He hated every minute of training, he trained like crazy and had so many people doubt his abilities.
However, he did not quit because of his intrinsic desire to succeed outweighed the extrinsic factors of quitting. Now while intrinsic motivating factors are going to be the primary avenue to being motivated to accomplish a person's goals; it is also important to have extrinsic motivating factors to help keep the person in line when his inner flame of desire is going out. This is because someone is not going to give it one hundred percent every day. Some days people get tired, they are sick of the routine, the hard training, and the pain. They are going to want to throw in the towel. These extrinsic factors are what is going to help keep a person going. Extrinsic factors such as getting a paycheck, having accountability to a team or family, and other benefits may help keep a person on track for a short amount of time while they figure out a way to get that intrinsic desire back. For example, not every day of Ranger Challenge were people motivated to compete. Some days people were exhausted from school or lack of sleep due to early mornings. Everyone still showed up every day and gave it their best. This is because they had accountability to the team. Even when their intrinsic desire to get first place was fading away their extrinsic desire of accountability to the team was there to keep them in check until their intrinsic desire came back. A common real-world example would be going to work. Not everyone is going to have the intrinsic desire to go to work every day. The extrinsic factor of a paycheck and having to provide for the needs of themselves or their family makes them get up and go to work anyway, even if they are not feeling it. If extrinsic factors are their main source of motivation then a person will get burnt out faster and not be as productive. This is because when trials and challenges approach they will be more willing to throw in the towel compared to someone who is doing it because they have a deep internal desire.
The best way to implement successful motivation in my life is to set goals for myself that I have a deep desire to achieve. Once I set these goals that my inner desire wants to achieve extremely bad, I then need to act on it. I can act on it by doing the necessary tasks it takes to get it done even if I do not feel like doing it. If I am getting fed up I can fall back to my extrinsic reasons such as a paycheck, benefits, or awards to keep me going temporarily while I get my intrinsic desire back up.
Related Topics