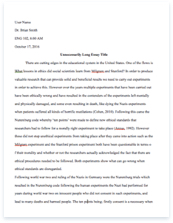 The whole doc is available only for registered users
Pages: 7
Word count: 1681
Category: School
A limited time offer! Get a custom sample essay written according to your requirements urgent 3h delivery guaranteed
Order Now
As an intern of the Social Responsibility Project (SRP) at the Sauder School of Business, I am writing to discuss how Molson Coors Brewing Company can integrate CSR strategically to create a business partnership with the NGO Mothers Against Drunk Driving.
Molson Coors Brewing Company
In 2005, Molson Brewery of Canada and Coors Brewery of the United States took part in a merger to become what is now the Molson Coors Brewing Company, the world's fifth largest global supplier of beer. According to the Molson Coors Website, the brewery produces 14 signature brands of beer domestically and is involved in sales of imported beers from partner companies such as Heineken and Corona. Molson Coors takes pride in being a true Canadian company from its sustainable practices, heritage, and original founders.
Company Strategy: Public Relations
The final goal for for-profit companies is to generate revenue to make profits, and Molson Coors shares this same goal. What separates Molson Coors from just any other alcohol brewing company is their marketing strategy. Recognizing that they could only be successful if their products are consumed the right way, they strategically implemented Corporate Social Responsibility into their business framework to increase Public Relations. Public Relation is especially important to Molson Coors because their product, alcohol, is not perceived by society as a safe and beneficial product.
Molson Coors CSR
Molson Coors Brewing Company invests a lot of time and money into their corporate social responsibility practices from the value chain through to the end consumers. In fact, anyone viewing the company website would be able to see the importance the company places on CSR, emphasizing ethical and responsible business decisions. To them, Corporate Social Responsibility "has never been an initiative or a department", instead, it is "becoming a global company with shared commitments to brewing extraordinary beers and running a business focused on respect for [their] employees, [their] communities, and [their] drinkers". They effectively consider and cover all four prevailing justifications of CSR mentioned in Michael E. Porter's Strategy and Society: moral obligation, sustainability, reputation, and license to operate. Their moral obligation to responsible consumption and community is what separates them from their competition and makes their business strategy unique.
Responsible Consumption
Marketing is one of the many factors that influence consumptions attitudes and drinking behaviors. Alcohol companies have always been condemned for their party campaigns and sales that target young adults and teens, and promote irresponsible drinking. Molson Coors has been criticized for numerous beer campaigns that convey irresponsible behavior when associated with their beer.
* Before the merger in 2005, Molson had a television commercial called "Friends" that portrayed negative behavior. The commercial showed a well-dressed young man, holding a Molson beer, fake business cards and pictures of orphans and puppies in his wallet, trying to impress women in a bar. Not only did this commercial endorse trickery, it was sexist as well. "An Alcohol-industry watchdog group says the campaign is a deceitful guide to luring women into bed".
* The company held an online contest on Facebook to promote their brand to college students. It allowed students to submit photos that show their schools' "spirit and sociability". Molson Coors ended their contest early because parents and faculties of schools believed that the contest promoted excessive alcohol consumption and underage drinking. Even though the contest was supposed to be about school spirit, it was canceled because of public perception. Molson Coors continues to practice social responsibility by meeting with school to discuss about future campaigns that are considered acceptable.
On the corporate website, Molson Coors claims that they aims to avoid any misunderstands that they target underage drinkers or condone excessive drinking. Hoping to avoid future targeting misunderstandings, Molson Coors has diverged marketing efforts from targeting particular demographics (i.e. age groups) to targeting Canadians in general. Their commercials describe how wonderful it is to be a Canadian, live in the best country on Earth, and play hockey. Their slogan, "I Am Canadian", tries to persuade Canadians to drink beer made in Canada. By targeting Canadians in general, Molson Coors needs to be careful not to appeal to younger, under-aged Canadians. For example, a beer commercial that targets hockey players can target the wrong audience because many Canadian start playing hockey at a young age. Kim Marotta, head of CSR at Molson Coors says that "[they] make sure that the ads are reaching 70% legal-drinking-age adults. [They] actually get Nielsen numbers before [they] do a marketing buy or placement, and [they] will go back and audit it afterwards, too." Even though Molson Coors cannot be legally responsible for underage drinking or drinking and driving that happen outside the company walls, they feel that there is some moral obligation to promote alcohol responsibility. Since the merger in 2005, Molson Coors has taken the initiative to promote responsible consumption and discourage harmful consumption of alcohol:
* In 2008 when the Toronto Transit Commission had decided not to offer free transit on New Years Eve because of budget cuts, Molson Coors stepped in with $20,000 to fund transit, providing a safe way for alcohol consumers to return home. This act of social responsibility was a stand against drinking and driving that shows care and responsibility for the lives and actions of their consumers. At the same time however, they were able to benefit from increased sales because more people felt that it was safer to consume alcohol with public transportation in place. Molson Coors again funded the TTC the follow year as well.
Enriching The Community
Molson Coors also stresses the importance for community development:
* Currently in progress is the Molson Coors Community Cheer Program, which donates and distributes $1,000,000 to a minimum of 20 projects that "promote active lifestyles in the Canadian community". The company hopes to fund projects that supports responsible alcohol consumption, common causes and charities, projects that support community by bringing people together, and projects that have positive intent and sustainability. [9-]
Mothers Against Drunk Driving (MADD)
In 2008, 1,162 fatalities and 68,538 injuries were estimated to result from impaired driving.11 On average, these numbers average to 4 deaths and 190 injuries per day.11 From these statistics, the Ministry of Transportation estimates costs of $21.62 billion related to impaired driving. Drinking and driving is a crime, and Mothers Against Drunk Driving Canada, a grassroots, charitable organization ran by over 100 community leaders and over 7,500 volunteers across the country, was the first to take action against it. Their objective, as expressed by their mission statement is "to stop impaired driving and to support victims of this violent crime". Ultimately, MADD wants to save lives and raise awareness about the dangers of drinking and driving. With both private and public donations, MADD is able to fund awareness campaigns against impaired driving to people across Canada.
* Campaigns such their Red Ribbon Project, which distributes red ribbons across the country that symbolize safe and sober driving, are funded by public donations.
* MADD has utilized social networking sites such as Twitter and Facebook to promote their awareness, which is effective and less costly.
* Raised and donated funds are frequently presented as bursaries to students who have lost their parents or guardians in an alcohol related vehicle accident; a program that supports victims of drunk driving.
* MADD's prevention initiative, the 911 Campaign, reaches out to communities, teaching people, to recognize signs of impaired driving and encouraging them to report it to the authorities.
Many MADD's campaigns are heavily aimed at raising alcohol awareness in teens and young adults. Volunteers hope to educate Canadian youths on the consequences of impaired driving before they start driving or drinking. Campaigns such as:
* The School Assembly Program, an onscreen re-enactment impaired driving cases, has been successful in scaring students when they hear and see the consequences of impaired driving. * The MADD Scientist program teaches students how alcohol affects the brain, judgment, and other people.
Shared Values
Fortunately, Mothers against drunk driving is not an anti-alcohol organization, their main goal is to prevent impaired driving caused by excess alcohol, not consumption all together. The fact that Molson Coors and MADD share the same values present both parties a potential partnership that could help them achieve their goal: they both promote responsible drinking and community. Molson Coors has done a good job in understanding social perspectives, and integrating them into the "core framework it already uses … to guide its business strategies". There are many ways for Molson Coors to improve public relations by working with MADD:
* Giving donations as a sponsor
* Setting up campaigns that discourage impaired driving or binge drinking * Helping MADD teach communities to recognize drunk drivers * Implementing programs to help drunk people get home safely
Bibliography
Whitford, D. (2011, Jun. 7). How To Drink Beer And Save The Environment.
Retrieved Oct. 18, 2011, from http://features.blogs.fortune.cnn.com/tag/molson-coors/
Hammer, T. (2009, Dec. 18). Hey Toronto, Your Fare's On Us New Years Eve! Retrieved Oct. 19, 2011, from http://blog.molson.com/community/tag/ttc/
Lawton, C. (2004, Jul. 28). In Molson Ads, Tips To Get Girls Turn Some Off. Retrieved Oct. 19, 2011, from http://search.proquest.com.ezproxy.library.ubc.ca/docview/398917876
Lasica, J. (2010, Apr. 22). 4 examples of corporate social responsibility done right. Retrieved Oct. 18, 2011, from Social Brite: http://www.socialbrite.org/2010/04/22/4-examples-of-corporate-social-responsibility-done-right/
MADD Canada. (n.d.). Who Are We? Retrieved Oct. 20, 2011, from http://www.madd.ca/madd2/en/about/about_who_we_are.html
MADD Canada. (n.d.). Statistics. Retrieved Oct. 20, 2011, from http://madd.ca/madd2/en/impaired_driving/impaired_driving_statistics.html
Molson Coors Brewing Company. (n.d.). Community Cheer. Retrieved Oct. 17, 2011, from http://www.ourcommunitycheer.com/homePage.aspx
Molson Coors Brewing Company. (2011). Corporate Responsibility Report 2011. Molson Coors Brewing Company.
Molson Coors Brewing Company. (n.d.). I Am Canadian. Retrieved Oct. 20, 2011, from YouTube: http://www.youtube.com/user/MyMolsonCanadian
Molson Coors Brewing Company. (n.d.). Molson Coors Responsibility. Retrieved Oct. 18, 2011, from http://www.molsoncoors.com/en/Responsibility.aspx
Porter, M. E., & Kramer, M. R. (2006, Dec.). Strategy & Society: The Link Between Competitive Advantage and Corporate Social Repsonsibility.
Strauss, M. (2007, Nov. 27). Molson Ends Facebook Contest. Retrieved Oct. 20, 2011, from Globe & Mail: http://go.galegroup.com.ezproxy.library.ubc.ca
Related Topics