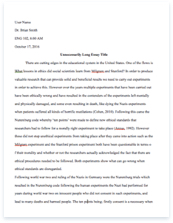 The whole doc is available only for registered users
Pages: 6
Word count: 1319
Category: Audience
A limited time offer! Get a custom sample essay written according to your requirements urgent 3h delivery guaranteed
Order Now
"He who never made a mistake never made a discovery."
– Samuel Smiles
Throughout history, discoveries are constantly being challenged, questioned and their worth reassessed. As a result of texts' questioning nature, responders gain a deeper insight into the subject matter which heightens or lessens their credibility. This is evident in Simon Nasht's documentary Frank Hurley-The Man Who Made History (2004) and Hannah Kent's historical fiction Burial Rites published in 2013. Via the use of literary and filmic techniques, notably narration, montage, point of view and embellished retelling, each composer provokes questioning and challenging of the historical, artistic and moral worth of their text's subject matter, in turn producing new perspectives on and deeper insight into motives, nature and worth of the discovery.
The rediscovery of an icon allows contemporary audiences to gain new ways of seeing the significance of their role in history. Simon Nasht's rediscovery of Frank Hurley's story in his documentary, allows him to repeatedly question and challenge Frank Hurley's relevance as a historical photographer and contemporary perceptions of the worth his photographic work. Through Nasht's focus on the manipulation of war and explorer images he undermines their credibility as historical artefacts. In the World War I scene, Nasht centres against an ominous black background two single still images captured on the battlefield before overlapping them to reveal Hurley's technique of creating composite images whereby falsifying the representation of the event. In addition to the montage, a sombre voice-over with an accusatory tone heightens the tension of the scene and delivering a condemning judgement on his work.
Thus posing the question whether Hurley was "a giant of photographer or just a conjuror with a camera?". Although Nasht's documentary lessens Hurley's significance as a historical photographer, it heightens his credibility as a artist. This notion is especially attained though the direct camera interview with Joanna Wright from the Royal Geographical Society, London. In the interview Wright appears to marvel at Hurley's photographs whilst saying "What Hurley managed to bring together was a fantastic story with fantastic images…It was a seminal moment in the history of photography, because no one had ever realised just how powerful images are. And Hurley did that". Direct camera interviews establish complete trust between subject and viewer, Nasht uses Wright's interview to highlight Hurley's significance as a artistic photographer.
Rediscovery of a subject matter in a new context also allows for a re-examination of the role of context in determining the original estimation of a person or event. In their respective texts Nasht and Kent challenge whether their subjects, Hurley and Agnes, were victims of their time and ask audiences to evaluate whether they were deserving of the judgement placed against them. In his lifetime Hurley was subject to considerable criticism associated with the questionable morals and actions behind his works and adventures. Nasht repeatedly uses direct to camera interviews of multiple experts to question with hindsight the motivations of Hurley's work. The main controversy involving Hurley within the documentary is his exploitation of a village and theft of their sacred artefacts during his visit to Papua New Guinea. Nash's inclusion of information regarding Hurley's film 'Pearls and Savages' and its popularity, shows societies positive attitude in Hurley's time towards invasion and colonialism, and that people were naive to the negative repercussions of their actions.
Nasht places a archival photograph into the Papua New Guinea scene which shows the exterior of the Garrick Theatre with posters for 'Pearls and Savages' in its window, highlighting acceptance during Hurley's time towards colonialism. The documentary argues that although Hurley was culturally insensitive, it was a relocation of the cultural ignorance naiveté of the colonialists and their dominant perspective at the time. This insight is afforded by rediscovering a subject matter in a new context. The challenging throughout Burial Rites allows contemporary readers to understand the unjust punishment of gender in Northern Iceland 1829, giving contextual insight during the rediscovery of the story of crime and punishment, although the guilt is ultimately upheld what we reassess is the severity of the punishment.
Kent conveys this throughout her novel through the juxtaposing characterisations of Agnes Magnusdottier and Sigga (Sigrídur) Gudmundsdóttir. Sigga is given clemency in a patriarchal justice system in which male bureaucrats dominate the local economy, religion and politics due to her beauty and compliant demure whilst Agnes who is described as a 'witch', 'untrustworthy' and a 'murderous' is sentenced to die regardless her level of involvement. The rediscovery and examination of the context surrounding Agnes's last year leading to her execution is skilfully constructed by Kent around the question is Agnes a master of manipulation or is she a victim or circumstance to reveal that Agnes was a victim of her time and was sentenced unjustly.
Ultimately the rediscovery of a personality or event allows for a humanisation of the subject matter. Although Kent's novel ends pessimistically Nasht's text contrasts this ultimately providing viewers with a honest portrait of Hurley. Not only does the documentary investigate Hurley's life being the famous photographer and a legendary figure in Australian cultural history, it additionally gives insight into what he was like as a husband, father and solitary man. The text questions his authenticity highlighting character flaws however through this inquiry Nasht humanises Hurley and his story making him relatable to all audiences, as well as brings new relevance to him as a adventurer. This is achieved through the sequence in which Nasht reveals events and perspectives throughout the text. Throughout most of the documentary Nasht portrays Hurley to have been a morally dubious man, however the documentaries positive resolution immediately refreshes responders view and making them reassess their opinion on Hurley.
The last scene features a a voice over of John Noble the voice of Hurley reading a excerpt of Hurley's journal, "I have lived the life that suited me. Took risks and did not complain. If I could live my life over again I would do it all exactly the same." As a result of ending the documentary with a sincere voice over, Nasht effectively humanises Hurley giving him a unapologetic and resilient persona, highlighting that he was a ordinary man who forged his own destiny, making mistakes along the way. Despite the composer revealing negative side of humanity it shows that everyone can change the world and one doesn't have to be a saint to do this. Hannah Kent writes in a factitious style creating a embellished retelling of the events leading to Agnes's execution.
This technique humanises Agnes and increases audiences empathy towards her. Shortly after beginning the novels responders begin to see Agnes as a relatable character rather than a 'cold blooded, murderous'. As a result of this retelling readers begin to learn that whatever crime Agnes committed she was undeserving of the brutality and humiliation imposed on her. Kent uses rich metaphoric language to describe Agnes's bleakness and fear as she walks to the Guillotine to be executed "I am the dead fish drying in the cold air. I am the dead bird on the shore. I am dry, I am not certain I will bleed when they drag me to the axe." This technique positions audiences to feel the characters raw emotions and see her as vulnerable person increasing her relatability and humanising her.
The Re-discovering events can lead to the reassessment and re-evaluation of their worth. As a result of questioning and challenging Nasht's lessens Hurley's merit as a historical photographer, however he intern heightens Hurley's credibility as a artist and pioneer of colour and composite imagery. Kent's rediscovery of Agnes's execution similarly to Nasht reveals that she was ahead of her time and a victim of the harsh society. As a result of both composers questioning and challenge their subjects through the use of literary and filmic techniques, narration, montage, point of view and embellished retelling they successfully reassess the worth of their subjects.
Related Topics