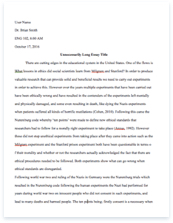 The whole doc is available only for registered users
A limited time offer! Get a custom sample essay written according to your requirements urgent 3h delivery guaranteed
Order Now
How and why did the personal computer industry come to have such low average profitability? The main answer to this question is competition. However, the profits come mostly from the software in the computers. More demand for computers was increase so there were more competition and that lowed the average probability for the computer industry. 2.What is the effect of standards on the computer manufacturing industry from a 5-forces perspective (i.e., how do standards affect power of buyers from the computer manufacturing industry, etc)? Well as there is more demand, with that normally comes more competition – thus comes more choices for the buyer (buyers having more power). So as more companies needed computers for business and people were adapting to the personal computer business the more power the buyers had over the sales of the market because there continued to be more options for them – stemming from the demand. 3.
Why has Dell been so successful despite the low average profitability in the PC industry? a.Assess Dell's generic strategy (see figure 8-1 in Strategy Maps chapter)? The strategy that Dell is taking would be a "cutting cost" strategy. They also sell to a very large business market allowing them to have a very high place in the market. I think this was their initial strategy and over time they have focused on customization and then of course that allows them to raise prices a little. b.Do a different Strategic Mapping for the PC industry. What are the axes you used and why? The axes I would use for mapping the whole PC industry would be price and customization. Because from the reading (and just general knowledge) that the more you customize the more expensive it will be for the company/the more they can charge. Conversely, the less you customize and just get a run-of-the-mill PC it will be cheaper. c.What are the distinctive aspects of its value chain (optional)? –
d.Assess Dell's strategy using the Strategy Diamond (optional) –
e.Do a Value Curve to understand how Dell's choices allow it to cope with the unattractive features of computer manufacturing industry. What were items that Dell created, raised, reduced or eliminated? Well on one side it would be price and then the other axes would be things like style (color, shape, size), software, attachments (camera, finger scanner, charger), and internal attachments (speed, ram, memory) This would help to show how much
each thing would make the price spike. f.Analyze Dell's business model using the Business Model Canvas (optional) –
4.How effective have competitors been in responding to the challenge posed by Dell's advantage? Why has it been hard for rivals to match Dell? Well this case easily allows you to check the major cost difference between them and a competitor like Compaq/reseller team. And you can see by comparing the price to COG to each of these companies – which the competitors have been responding by trying, but the challenge of this increase of sales has been hard for anyone to keep up with. 5.As a Christian CEO, should your firm be willing to create new value for a consumer by redefining the nature of competition/marketplace (think Blue Ocean vs. Red Ocean)? Are there any limits to or constraints on such an approach?
Yes I think it is ok to create this new value for a consumer. That is all apart of business (even as a Christian CEO) however you have to be careful how you do it. I think that if you are making millions on millions and want to attempt the Blue oceans concept to kill business "just because" that is not ethical – however if you attempt this concept for pure, unadulterated competition and need for further demand/business then I believe it is within limits. But like I said if things are going 110% already and you know that creating this new value will kill a competitor – it seems wrong, I would just stay with the red ocean concept.
Related Topics