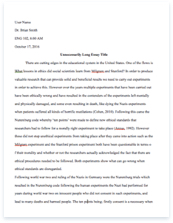 The whole doc is available only for registered users
A limited time offer! Get a custom sample essay written according to your requirements urgent 3h delivery guaranteed
Order Now
The main strategy of KFC is to establish its market position in other countries. The key factors of its success lie in cost savings through R&D, innovations and work efficiently. These factors are lower costs and increase profit in the industry. KFC uses a low cost / differentiation leadership on its brand name as well as on taste. http://www.slideshare.net/skdrugs/kfc-case-study-presentation 4.1 Overall Cost Leadership Strategy
This strategic approach aims at reduction in costs. KFC is a publicly traded company with responsibilities to all shareholders. By becoming socially responsible, it tries to attract a new type of stakeholders. KFC is a subsidiary of Yum! Brands, one of the largest restaurant companies in the world. According to the research, it earned estimated $ 9.2 billion in sales revenue. According to the findings, in 2011, there were over 17, 00 KFC outlets in 105 countries around the world. In China and United States have half of the total KFC restaurants and China accounts for 49% of the company's revenue. KFC's main motive is to manage profitable customer relationship.
Professor Michael Porter suggests that strategy formulation requires an analysis of the attractiveness of an industry and the company's position within that industry. This analysis becomes the basis for formulating generic strategies.
Industry Analysis
In the analysis of the industry, Porter identified five forces: 1) the competition among companies (21 the threat of new companies entering the market. (3) the possibility of using substitute products or services, (4) the bargaining power of suppliers, and) 5 the bargaining porter of buyers or customers. On the basis of the industry analysis, a company may adopt generic strategies. These strategies are generic because they may be suitable on a broad level for different kind's o organizations. Ark' enterprise, however, may use more, than one strategy
Overall Cost Leadership Strategy
This strategic approach aims at reduction in costs, based to a great extent on experience. Thus, the emphasis ma)' be on keeping a close watch on costs in areas such as research and development:, operation, sales, and service. The objective is for a company to have a low-cost structure compared with its competitors. This strategy often requires a large relative market share and cost-efficient operation, as illustrated by the low-cost Ivory soap sold in a broad market.
Differentiation Strategy
A company following a differentiation strategy attempts to offer something unique in the industry in terms of products or services. Porsche sports cars are indeed special; so is the Caterpillar Company, which is known for its prompt service and availability of spare parts. In the broad consumer market Dial soap is differentiated from other brands of soap by its use of deodorants.
Focused Strategy
A company adopting a focused strategy concentrates on special groups of customers, a particular product line, a specific geographic region, or other aspects that become the http://www.studymode.com/essays/Industry-Analysis-Generic-Competitive-Strategies-153799.html Industry Analysis and Generic Competitive Strategies
Related Topics