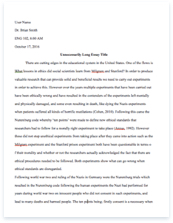 The whole doc is available only for registered users
Pages: 3
Word count: 679
Category: Business
A limited time offer! Get a custom sample essay written according to your requirements urgent 3h delivery guaranteed
Order Now
At the year end of 2003, the Las Vegas a place of glitz and glamour survived the terrorist attack of September 11, 2001. Mandalay describe themselves as business of entertainment and it has been one of the innovators in the theme resort concept that is popular in casino gaming. They are also famous for extravagant vacations and convention centers in Las Vegas, Reno, and Laughlin Nevada. They rejuvenate the Circus Circus with new marketing strategy and experienced rapid growth and high profitability. Mandalay currently does not seem to have a formally stated mission and no publicly stated vision statement is available. However, the development of Mandalay Mile continues to be the core of Mandalay's future. Although Mandalay does not publish its organization chart, it appears that they provides overall direction and strategic leadership as well as functional coordination in areas of finance, accounting, human resources, legal issues, and marketing. Each resort enables to handle the specific activities required to successfully operate a large, combined hotel, casino, and entertainment resort. I. Statement of the Objectives
1. To improve their basic requirements that a business needs.
2. To expand rapidly worldwide.
3. To provide quality and the best service for their customer.
4. To get ahead with all their competitors.
5. To have an advance equipment and technology for their resort and casino.
II. Central Problem
How they can develop their casino even if there are a restrictions in other states?
III. Areas of consideration
* Strengths
1. They have rejuvenated the Circus Circus with fresh marketing and experienced rapid growth and high profitability.
2. They have a good location.
3. The average return on invested capital was 16.5% and they generated over $1 billion in free cash flow.
4. Each Mandalay location has a distinctive personality.
5. Each resort enables to handle specific activities required to successfully operate a large, combined hotel, casino, and entertainment resort.
* Weaknesses
1. They don't have a mission and vision statement.
2. Does not publish organizational chart.
3. Have limited branch because of the restriction on a casino.
* Opportunities
1. Rapid expansion.
2. Renovate their existing property.
3. Create an online casino game.
* Threats
1. Restriction on developing casino.
2. Growth of competitors.
3. Bad publicity.
I. Alternative Course of Action
1. Expansion worldwide
Advantage:
* Instead of going to Vegas the customer will go to the near Mandalay on their place.
* They can have many customers.
Disadvantage:
* Costly/Expensive.
* There is a limit place to choose before they can expand.
2. Online Casino
Advantage:
* You can access anywhere and anytime.
* It can attract many customers.
Disadvantage:
* Costly/Expensive.
* Prone to computer problems like system malfunction, hacking, cheating etc.
3. Renovation of their facilities and improvements in technologies. Advantage:
* It can attract many customers.
* Increase revenue-generating potential.
Disadvantage:
* Costly/Expensive.
* There is a possibility that it can't attract customer.
II. Strategy Formulation
I therefore conclude that the best solution to the problem is alternative course of action # 1. If they can expand their resort, they can accommodate many customers and it can increase the revenue of the resort but the restrictions prevent them for expanding rapidly. That's why they need to prove to the people that Mandalay Bay resort is not all about gambling and casino but it is also for having a great vacation that they offer different amenities to the people like beach, party, concert, luxurious hotel rooms, themed park, shopping mall, well renowned restaurants, and casino.
III. Plan of Action
1. They need to make a mission and vision statement and make an organizational chart. 2. Improve other source of revenue like restaurants, shows and other attractions. 3. Make an online casino because internet gaming venue has exploded.
IV. Potential Problems
4. What if the number of competitor increases?
5. What if the expansion/renovation fails? What will be the next move of the management? 6. What if regulations on gaming industry becomes more strict and extensive
V. Contingency Plans
1. Buy the small competitors or make them their business partners. 2. They need to think a new plan to attract the customers like different entertainments, games, foods, hotel etc. 3. They need to follow the rules and regulations.
Related Topics