Managers Must Be Honest With Their Employees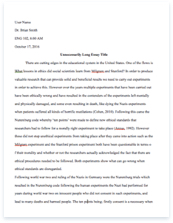 The whole doc is available only for registered users
A limited time offer! Get a custom sample essay written according to your requirements urgent 3h delivery guaranteed
Order Now
Kristin has recently been nominated as supervisor of the department where Steven has worked for years. Steven is deputy director of the department and thinks that some of his colleagues have been promoted just because they liked without specific merit, so he suggested to Kristin that changing this will make the department better. The next morning Kristin called Steven and asked for the names of those whom Steven was referring to. The relevant facts of the case Steven is Assistant Department Manager, within the supplier accounting section in an important industrial company. Steven is such as at home in his work and thinks he knows all the details of the organization, thanks to the work experience gained over the years as an accountant in the accounts of suppliers of an important industrial company.
Kristin is the new supervisor, experienced and determined, with a proven talent to improve the efficiency of operations. Kristin was in a similar position in a different branch. Kristin was meeting every employee to get to know their opinions to improve their jobs. When Kristin asked Steven about his opinion, Steven said that, according to him, people received opportunities for promotion and overtime not based on their merit, but on preferences. Kristin assured Steven that he would examine this. Kristin wanted to see Steven the next morning and asked him to tell her who he was referring to, otherwise he would have considered him as a non-team player. Ethical issues included the extension of Steven's responsibility to act Steven thought that some employees had received a promotion based only on personal preference and not on merit. When Kristin asked Steven whom he was referring to, she wanted Steven to be loyal, a good team player, and then provide the names.
Steven was an honest and sincere person, so he does not consider it right to give Kristin names to his co-workers, with whom he has worked for many years, but he probably was not even glad he did not receive promotions, and thought this was an unequal treatment disparity. However if Steve gives Kristin the names, then surely he will ruin the relationship with his colleagues, but if he will not give any name, Steven could also lose the place at the end. Initially, I have specified that Steven is an honest person, so he should give the names if he is convinced that these people have been advantaged based on a preference, without their merit. In this way, perhaps, he would get an explanation and he would have a chance to figure out how to behave in the future to get a promotion. Various stakeholders and what is at stake for each of them Steven is a stakeholder: he needs to prove to Kristin that he is honest to maintain his reputation and work. Kristin is too. Her objective, in addition to her task, is to make the workplace efficient. Other employees are also interested parties, as Steven's behavior could have consequences on their job position.
Alternatives and ethics of every alternative I think the first alternative for Steven would be to apologize and admit he was wrong with his statement. However, I think this would not solve the problem, as he could probably lose his job because Kristin might not consider him honest and therefore think that he is not a good team player. Perhaps, then, it would be better if he were honest, and gave Kristin all the information about what he noticed about unworthy candidates. In this way, Kristin could appreciate the collaboration of Steven and even promote it. It is therefore evident that from a utilitarian perspective, the second option is better. In fact, in the short term, Kristin will get what he wants from Steven and he will be appreciated for his honesty. But employees who have been advantaged without merit will lose the benefits unjustly received. In the long term, this will be very beneficial for the organization and the health of the company. Practical constraints
The practical constraint is represented by the fact that the diligence and honesty of Steven will certainly have a negative impact on the relationship with colleagues and will ruin the harmony in the department. According to Kathy Caprino, ' When your emotions escape a colleague's control and you feel anger, pain, resentment, and other highly charged emotions, you need to settle down before telling someone about the situation, and think carefully about possible consequences. You simply project an image of yourself that you are unreliable and someone who does not have the courage and strength to manage things in a positive and direct way with the people involved', (Kathy Caprino, 2012). This could also negatively affect corporate profits; personal relationships between colleagues are in fact directly related to the results of the working group, causing direct consequences on the financial statements.
How should Steven respond? I believe that Steven should first provide the name of his colleagues, who have received promotions and other undeserved benefits and a reason for his claims, but should also ask for explanations about the choices made by the company. Sometimes what looks like unmotivated behavior, in reality comes from a precise decision-making strategy, especially within large companies like this. Also, as Dave Kerpen advises, 'Always tell the truth to your boss and never lie, lies are too risky, not just for your relationship with your boss, but also for your relationship with yourself', (Dave Kerpen, 2013) Steve must therefore assume responsibility for the statements made, because ethical conduct is not enough honesty, but it is also necessary to take responsibility for our actions.
Related Topics