Macbeth a Man Whose Ambition Out Weighed His Conscience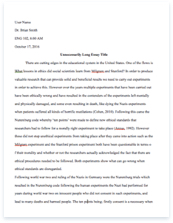 The whole doc is available only for registered users
A limited time offer! Get a custom sample essay written according to your requirements urgent 3h delivery guaranteed
Order Now
Macbeth's struggle with evil was a long and somewhat deeper story. Shakespeare writes Macbeth so the reader has to think about why Macbeth did what he did and how much of what he did was him and how much were outside influences. The reader has to see that Macbeth was taken over by greed and or what could be called ambition. Macbeth's struggle was also a test of character. Every man has a breaking point where he will give in; Macbeth's breaking point was the crown of Scotland. What Shakespeare really wanted the reader to see was that after all of the evil things that Macbeth did and after evil had its way with him Macbeth was still conscience and watching himself lessening what he used to be until he is a shadow of his once distinguished self.
Macbeth began the play at the prime of his life as a distinguished general who just won a great battle against the Norwegians. Macbeth was one of Duncan's most revered and respected generals and was dubbed Thane of Cawdor. Macbeth also got what he really likes admiration and popularity from Duncan and others: "He hath honour'd me of late; and I have bought Golden opinions from all sorts of people,Which would be worn now in their newest gloss"(act.I.vii.34-36). The admiration from others is so great that Macbeth wants to put off murdering Duncan so he can enjoy it. Macbeth eventually sees that the Crown will get him more admiration and power than Thane of Cawdor.
After thinking and rationalization Macbeth's Ambition finally outweighs Macbeth's sense of right and wrong. The witches tempt him with the idea of becoming king. Lady Macbeth helps him overcome his natural hesitation to commit murder. But Macbeth himself chooses between his honor and the crown- and between salvation in the next world and material gain in this one. After Macbeth kills Duncan he starts to fell regret and his conscience starts to get him when he reveals "I am afraid to think what I have done;/ Look on't again I dare not."(Act.II.ii.66-67). Macbeth's self-hatred begins when Lady Macbeth tells him: "Get on your nightgown, lest occasion call us/And show us to be watchers: be not lost/So poorly in your thoughts." Macbeth replies "To know my deed, 'twere best not know myself."(Act.II.ii.89-91). Macbeth begins to fell his rational side give away to his dark side.
Macbeth eventually turns into a ruthless dictator who rules with fury and terror since he has nobody's loyalty or respect. Macduff describes Macbeth's Scotland by saying: "each new morn/New widows howl, new orphans cry, new sorrows Strike heaven on the face, that it resounds/ As if it felt with Scotland,/" (Act.IV.iii.5-8). Macbeth's step that took him from tormented murderer to evil tyrant was when he made the independent decision to murder Banquo. , Macbeth is still in torment, but the cause of his anguish seems to have changed. He is afraid of Banquo, because Banquo knows about the witches and because the witches predicted that his descendents would be kings. Banquo's death, he says, will put his mind at rest.
After Banquo there was no looking back Macbeth continued killing and eliminating everyone that could hurt him. Banquo's murder does another thing to Macbeth; it pushes him to the point of hallucination. While at a banquet Macbeth sees Banquo ghost and losses all of his composure and begins to get worse and worse. Macbeth is now so bathed in blood that he fears everyone around him and places paid spies in the houses of all his nobles. True paranoia has set in and is changing the once noble Macbeth before his very eyes. Near the end of the play Lady Macbeth, who was starting to crack, killed herself. Macbeth gets the news of his once soul mate and reacts to the news with:
"To-morrow, and to-morrow, and to-morrow,
Creeps in this petty pace from day to day,
To the last syllable of recorded time;
And all our yesterdays have lighted fools
The way to dusty death. Out, out, brief candle!
Life's but a walking shadow, a poor player
That struts and frets his hour upon the stage
And then is heard no more: it is a tale
Told by an idiot, full of sound and fury,
Signifying nothing."(Act.IIV.iv.21-30)
Macbeth sounds as if he sees his life as wasted and brief. Now all Macbeth wants is death to come and end the life that he has ruined. Macbeth is a classic tragic figure brought to ruin by his own greed, guilt, and fear. Shakespeare intensifies Macbeth's tragic nature by showing him to be a valiant hero so the reader can feel sympathy for this once great man who became a heartless killer. The play ends in tragedy, for the main character loses his battle with himself. Macbeth had so much to look forward to as Thane of Cawdor, but he wanted more. In the very end he finally realizes that his murderous existence has brought about his undoing and that there is no point in going on. Even after the external and internal forces of evil have done their worst, Macbeth remains essentially human. His conscience continues to witness what he has become; which is the harshest form of torture which makes Macbeth want to end it all in one last battle, as if to take a stab at the world that he was once so revered in.
Related Topics