'Love and hatred' in 'A Tale of Two Cities'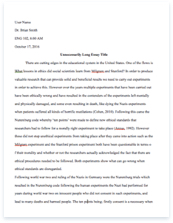 The whole doc is available only for registered users
A limited time offer! Get a custom sample essay written according to your requirements urgent 3h delivery guaranteed
Order Now
Love and hatred were almost the major link which linked all the characters and events together throughout the novel. By portraying the relationships and conflicts between the Manettes, Defarge, Carton and Evremonde, Charles Dickens has successfully shown that the vigorous tenacity of love is always so much stronger than hate.
The first incident that Dickens has portrayed to show the power of love was, Lucie restored love and life to Dr. Manette, who has suffered a lot from his 18 years imprisonment. The quote which showed how lovingly was Lucie to her father and how her father was comforted by her were with hands which were extending towards him, trembling with eagerness to lay the spectral face upon her warm young breast, and love it back to life and hope and his cold white head mingled with her radiant hair, which warmed and lighted it as though it were the light of Freedom shining on him. After 18 years of darkness, Doctor Manette was restored to life by her daughter, Lucie. With her love, it enabled him to regain his confidents and hope, and it became significantly important later when Lucie met Darnay and fell in love with him.
Second, Cartons love to Lucie empowered him to sacrifice for her, at the same time, restored the true meaning to his own wasted life. Carton was originally a wasted man who drank wine often and cared nothing. He confessed to Darnay when he first met him, I am a disappointed drudge, sir. I care for no man on earth, and no man on earth cares for me. But when he fell in love with Lucie, he was motivated to do something better and worthier than what he has been doing. He promised, For you, and for any dear to you, I would do anything. If my career were of that better kind that there was any opportunity or capacity of sacrifice in it, I would embrace any sacrifice for you and for those dear to you. With this quote, it was proved that the power of love could empower a wasted man to change his attitude towards his own life and did something great.
Lucies love was indeed powerful to the one whom she loved, it turned hopeless man to hope, and it turned wasted man to worthy, and made people sacrifice in protecting her. With all these positive powers that love could give out. Dickens also portrayed some destructive power, like hatred which Madame Defarge embodied, so as to develop a literally war between the power of love and hatred, and to prove the power of love was always stronger than hatred.
Hatred was the most prominent character in Madame Defarge, which was due to her tragic past. Madames family was tortured to death by the brothers of the Evremonde. In order to wait for the moment to have revolution and exterminate the blood line of Evremonde, Madame developed her composed manner since she was young. Also, her coldness and determination were enhanced after years of poverty and sufferings in France. The power of hatred turned Madame to a single-minded and cruel person, who immersed herself into revenges and the joy and satisfaction of seeing blood and death of her enemies, also, to become emotionless when seeing others suffering. It was nothing to her, that an innocent man was to die for the sins of his forefathers. It was nothing to her, that his wife was to be made a widow and his daughter an orphan; that was insufficient punishment, because they were her natural enemies and her prey, and as such had no right to live. Madames hatred has caused her to lose all her moral sense and humanity, and became a killing machine.
With so powerful the love and hatred were among the characters, Dickens proved the power of love was always stronger than hatred by two main events.
When Darnay was imprisoned once again in Paris, which Doctor found no way to save his life. Carton appeared and fulfilled his promise to Lucie a few years ago by sacrificing his life for Darnay. Actually, sentencing Darnay to death was Madames will, which was caused by her hatred towards the Evremonde. But, Carton has ruined her plan because she couldnt exterminate the blood line of her enemy, which she has planned for many years. Cartons love to Lucie was so powerful that it has defeated Madame Defarge, since she couldnt get what she wished for years the death of Charles Darnay.
Also, with Miss Pross, who was loyal and faithful to Lucie, and was under the influence of the power of Lucies love, she fought against Madame Defarge in the deserted house so as to prevent Madame from discovering the absence of the Manettes and chase after them. Miss Prosss determination to protect her love empowered her strength to defeat Madame Defarge, I pray for bodily strength to keep you here while every minute you are here is worth a hundred thousand guineas to my darling, thought Miss Pross, all she thought was to protect Lucie, she didnt even care what danger she was in; while Madame was only thinking of denouncing the Manettes to death.
The death of Carton and the lost of hearing of Miss Pross were the cost of defeating Madame Defarge. Besides showing the power of love was always stronger than that of hatred, Dickens also conveyed that sacrifices were needed to be made when people wanted to protect their love from harm. Throughout the novel, Dickens conveyed the message that, love and hatred would affect its owners fate, loving might deserve a better and fruitful life, while hating could only bring pain and death.
Related Topics