Linda Richards First Trained Nurse In United States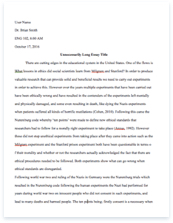 The whole doc is available only for registered users
A limited time offer! Get a custom sample essay written according to your requirements urgent 3h delivery guaranteed
Order Now
Linda Richards the first trained nurse of America received her training in several stages. Her first training was under Doc Currier, her family doctor, the nurse-training program at the New England Hospital for Women and Children, at the King's College Hospital and the Edinburgh Royal Infirmary in Scotland. (Richards, L. 1915).  In addition, she had practical experience in nursing. She nursed her fiancé George Poole for four years, she worked as assistant nurse at the Boston City Hospital for three months, she became the night supervisor at the Bellevue Hospital in New York City. This training and practical experience stood her in good stead.
While working at Bellevue Hospital Linda founded a system for registering and maintaining records of every patient. This is historically the first information system developed for nurses and was later incorporated in the Nightingale System. Moreover, she took over the Boston Training School and turned it into the best nurse training institutes in USA. Her experience brought dividends abroad and she established a nurse training school in Japan. (Doona, M 1996).
  She worked on the project for 5 years before she returned to the USA. Her intense passion for nursing helped her to establish nursing training schools in Philadelphia, Massachusetts and Michigan.  The amelioration and esteem she brought to the nursing profession continues till now. She lifted the standard of nursing from the level of maids to the level of a medical adjunct. This improved standard remains till today. The respect and acumen she brought to the nursing profession continues till today.
Linda Richards converted her experiences into valuable resources for the society. When she was a student nurse, she received little proper training except for bedside instructions; she saw to it that when she established the training schools all over the USA, the schools had excellent formal training. (Baker, R, 1959)  When she received her training Linda Richards experienced that the training schools had no proper equipment, inadequate housing, and no qualified teachers.
When Linda Richards established teaching schools all over the USA she ensured that these schools had good equipment, proper housing and qualified teachers. These effects are felt even today. The nursing schools have prescribed equipment, hostel facilities and properly qualified teachers. The nagging problem that nursing schools faced in the days of Linda Richards was that they lacked adequate finance. Linda Richards arranged for proper finance. Even though the schools at that time were attached to hospitals, more finance was diverted to them. Today thanks to the efforts of Linda Richards we have autonomous endowment driven hospital schools.
(The Cherry Ames Page 1996)
"After ten years as a schoolteacher, Linda Richards began working as a nurse at Boston City Hospital in 1870.
In 1872, she enrolled in a one-year course, based on the principles established by Florence Nightingale, at the New England Hospital for Women and Children, which was run by female physicians.
She received her diploma on September 1, 1873, and went to work as night supervisor at Bellevue Hospital in New York City.
After attending Florence Nightingale's training school at St. Thomas Hospital in England in 1877, she became superintendent of a new training school at Boston City Hospital, which officially opened in 1878.
She worked in Japan for five years beginning in 1886 to start a training school for nurses.
Back in the United States, Linda Richards worked as a visiting nurse and helped train nurses to work with the mentally ill." (The Cherry Ames Page 1996)
What is significant about the improvements that Linda Richards brought to the nursing profession was the degree and level of innovation in her efforts. Her leadership qualities are reflected in the system of record keeping that she introduced. She distinguished between the doctor's notes and the nurse's notes and reflections of her original system are seen in any hospital, any where in the world. Her foresight and percipience is seen when she started the system of nurses wearing uniforms. Today whenever you see a nurse sporting her uniform remember Linda Richards. She contributed to the establishment of the American Journal of Nursing. (Bullough V. 1988). She was the initial stockholder!
The establishment of a Journal was the first step in starting the process of research in the area of nursing. Today if one comes across research in nursing one should remember Linda Richards. She was a founder in many ways. She was the first to perceive that different classes of patients needed specialized nursing. For example she realized that industrial nursing and psychiatric nursing required different training.
Today the system of specialized training in the different disciplines is an effect of the efforts of Linda Richards.  Her selfless work in Japan for establishing a nurse training school will always be remembered. Her work was path breaking in the sense that she argued and established with evidence that trained nurses provided improved care to the patients than untrained nurses or informally trained nurses.
What really is important in case of Linda Richards is her fortitude. It was not for the fainthearted to go as a missionary to Japan. It was an act of courage and it was an act of greater courage that in spite of not understanding the local language she established a nurse training school in Kyoto through an interpreter (Collins, D.R 1973). The efforts of her brought dividends to humanity.
Her grit is seen in her work in the USA as well she served as the first president of the American Society of Superintendents of Training Schools and effectively established the first professional organization for nurses. Her resilience and staying power did not desert her even in academic pursuits. She became a member of the committee that established the Hospital Economics program at Teachers College, Columbia University. Her concern was that the nursing training schools were not getting adequate finance. Today the endowments and autonomy that nursing schools have are a positive result of the efforts of Linda Richards.
Her courage and staying power were most tested when in 1874 she returned from London to the USA. When she was the superintendent of the Boston Training School, she faced resistance from physicians who opposed the training of nurses. Her determination did not sway and she countered every resistance, withstood every pressure and fought every attack. She established a system or regular classes where nurses were taught. She went for trained teachers and did not leave the nurses to the mercies of physician lectures. The result was a steady output of trained nurses who improved the reputation and the efficiency of the profession. The trained nurses proved themselves and everyone gained because of the improvements.
References:
Baker, R, (1959) Linda Richards: First Trained Nurse in America. New York: Julian Messner,.
Bullough V. (1988). Linda Ann Judson Richards. In: American nursing: A biographical dictionary, Vol I. V.L. Bullough, V.L., O.M. Church, & A.P. Stein, (Eds.). New York: Garland.
Collins, D.R (1973) Linda Richards: First American Trained Nurse. Champaign, ill.: Garrard Publishing,.
Doona, M.. (1996). Linda Richards and nursing in Japan, 1885-1890. Nursing History Review, 4, 99-128.
Richards, L. (1915). Early Days in the First American Training School for Nurses. American Journal of Nursing 16:174-79.
The Cherry Ames Page (1996) Linda Richards: America's First Trained Nurse Retrieved from: http://www.netwrx1.com/CherryAmes/richards.html on August 29, 2006
Related Topics