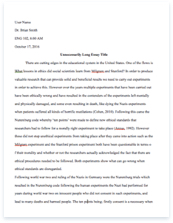 The whole doc is available only for registered users
A limited time offer! Get a custom sample essay written according to your requirements urgent 3h delivery guaranteed
Order Now
Qs.4. Could anything have been done differently at Lehman Brothers to prevent what happened? Explain.
Answer: As Lehman Brothers & their manger were responsible for what happened, there are many things that could have done to prevent it.
Things that could have done:
1.By ensuring social responsiveness & responsibilities: Managers social responsibilities go beyond making profits to include protecting and improving society's welfare. On the other hand social responsiveness is when a company engages in social actions in response to some popular social needs. The practice of socially responsible marketing has many distinct advantages for businesses who choose to embrace it. In terms of financial advantages, the government has established a number of tax-cuts and other benefits for companies in many industries as incentives to be more socially responsible.
For instance, companies that reduce their carbon emissions and pollution levels are often offered tax exemptions and other assets for their cooperation in the country's movement towards environmental awareness and responsibility. Similarly, social responsibility in marketing helps to ensure that a company is, in fact, following the rules and this not only instills faith among the customer base, but also helps to keep the company out of any kind of trouble in terms of legal problems and also in terms of public relations. Bu, as Lehman Brothers were not socialy responsible they ruined their company. They should have ensured social responsibility and responsiveness.
2.By understanding business skills: The key business skills to consider include: Strategic Management. Creating a business and strategic plan for your business and making sure you keep to it. Basic Accounting. Which records to keep, how to keep them and how to file them. Financial Management. Where to find financing and how to manage it once you've sourced it. People Management. Hiring your first employee and how to manage them. Marketing. How to market your business through traditional channels, web and social media. Sales. How to complete a sale and look after your customers. Operations Management. Choosing and managing your suppliers. Lehman Brothers should have understood thenbusiness skills to run their company well.
3.By understanding the process of management: Process management is the ensemble of activities of planning and monitoring the performance of a process. The term usually refers to the management of business processes and manufacturing processes. Business process management (BPM) and business process reengineering are interrelated, but not identical. Process management is the application of knowledge, skills, tools, techniques and systems to define, visualize, measure, control, report and improve processes with the goal to meet customer requirements profitably. It can be differentiated from program management in that program management is concerned with managing a group of inter-dependent projects. But from another viewpoint, process management includes program management. In project management, process management is the use of a repeatable process to improve the outcome of the project. Planning
Planning is the function of management that involves setting objectives and determining a course of action for achieving those objectives. Planning requires that managers be aware of environmental conditions facing their organization and forecast future conditions. It also requires that managers be good decision makers.
Organizing
Organizing is the function of management that involves developing an organizational structure and allocating human resources to ensure the accomplishment of objectives. The structure of the organization is the framework within which effort is coordinated. The structure is usually represented by an organization chart, which provides a graphic representation of the chain of command within an organization
Leading
Leading involves the social and informal sources of influence that you use to inspire action taken by others. If managers are effective leaders, their subordinates will be enthusiastic about exerting effort to attain organizational objectives.
Controlling
Controlling involves ensuring that performance does not deviate from standards. Controlling consists of three steps, which include establishing performance standards, comparing actual performance against standards, and taking corrective action when necessary. Performance standards are often stated in monetary terms such as revenue, costs, or profits but may also be stated in other terms, such as units produced, number of defective products, or levels of quality or customer service.
By ensuring the functions of management they could save their company.
4.By encouraging ethical behaviour: Here are some ways for organizations to encourage ethical behavior. 1. Communicating the code of ethics: The preliminary step to promote ethical behaviour among employees is by establishing a code of ethics. The code of ethics provides the direction and guidelines for employees' ethical behaviour. This enables the employees to have a clear idea of the management's expectation with respect to employee code and conduct. 2. Making the managers as role model: Having managers as role models is another way of promoting ethical behaviour. For this purpose, managers need to be chosen with care and due consideration.
This will be beneficial in the following ways. a) Employees will have a guiding force to promote ethical behaviour b) Employees tend to emulate their managers and if they are ethical in their behaviour, it lends more credibility to the code of ethics c) If managers strictly adhere to ethical standards themselves, employees will feel less reluctant to oppose the guidelines laid out for ethical behaviour 3. Disciplinary actions for unethical behaviour: Condemning any malpractice or unethical behaviour in the initial stages itself is better than allowing it to proliferate to other areas of the organization. Imposing sanctions on unethical behaviour helps the employees to understand the implications of inappropriate behaviour.
Therefore, the management needs to lay down disciplinary actions that will be taken against employees found guilty of violating the rules. If management promotes sales 'at all costs', then employees might resort to any methods to achieve their targets. However, if management is serious about the means as much as the results, they should make sure that it is conveyed in no uncertain terms to their employees. 4. Rewards for ethical behaviour: When an employee is rewarded for positive behaviour, it is likely that the employee will not only continue to adhere to ethical practices but also be an inspiration to his colleagues. Therefore, it is important that employers identify and reward employees who stick to ethical practices despite tempting situations.
Related Topics