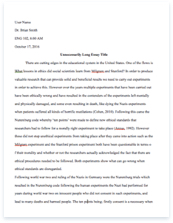 The whole doc is available only for registered users
A limited time offer! Get a custom sample essay written according to your requirements urgent 3h delivery guaranteed
Order Now
As the May graduation ceremony finished, all the high school graduates threw their black and gold caps in the air and joined in cheering with the friends and family still in their audience seats. Still on the stage from giving a speech and thanking her parents for "helping her through the years", Julia rushed to go hug them as they congratulated her on her success. After, there came the countless pictures with her siblings and friends outside in the fresh spring air, through it all, Julia kept smiling her wide, full smile. How did it come to this? This young woman on the path to study nutrition and medical school is very different from a confused, diet pill abusive young girl in her teens. What she didn't realize was that going through all she did made her a stronger, healthier and a more confident person. 7 am and I am startled by her again as she rustles in her large bed, her mother wakes her up. As drags herself off the bed, she looks to the nightstand and she sees me laying there. Her eyes bore into me as she gives me a wanting glance, it startles me as it does every morning.
"I'll see how the day goes, before I take you" she mutters to no one in particular. As she gets up to get dressed, she steps on an empty diet pill bottle that rolled out from under her bed, just one of many she has gone through over the past few months, she catches herself as she almost slips. She goes to her closet and she gets dressed in her "big" clothes: lose red t-shirt she got from camp a few years ago and her oversized grey sweatpants, because she doesn't want to feel fat. I stay there on the delicately carved light brown and gold nightstand all day, as the sun is shining its last few rays of light, she finally comes back from the dinner she barely ate and lays on her bed. Hours past, she runs to the bathroom in the dark, she turns the light switch on and shoves her small and already slender fingers in her mouth. I have heard the piercing gaging sound too many times before. As the toilet flushes, she rinses her hands and falls back to bed. This is what I witness almost every day. Why can't someone put a stop to this senseless thing?
I can't, I'm just a diet pill in a small, white plastic container. If I could hide myself so she wouldn't keep taking me, I would. But then she would find someone to buy her another bottle, that one could hurt her worse. So maybe she will have to deal with the lesser of two evils. Few days later, she is going out with some friends. She is already late, because she can't find something to wear. Her father yells from the living room "don't wear those tight jeans again". She rolls her eyes as she keeps looking in the mirror, trying on jeans after jeans. "I haven't eaten in days! Why am I still not skinny enough?" she whispers, and with frustration she lingers at her outline on the glass mirror that is propped against one of her room's purple walls. As I look at her already boney figure, I ask myself questions too, although they are very different. Who told her that she was fat? Is she blind to what is happening? She decides to stay home after all, propping her head up with her arms, she lies on the big tan couch, and her browns eyes are glued to the TV.
Ad after ad pops up touting weight loss program after program. Commercials and TV shows with "successful and beautiful" but fake woman bombard her mind with images and the lie that thin = beauty. Back in her room she flips through the latest woman's magazine, as she looks at the models on the pages, she gets saddened as she thinks she is still not thin enough. She finally falls asleep around 12am. Again I am woken up by rustling, this time she rushes to the dresser on the other wall, as she opens the tan, wide drawer, she pulls out a small object. It glitters in the moonlight as she walks in front of the window. I try to turn away as I see what she is doing, she draws the knife across her forearm, the veins bulging out, as if they were waiting and meeting their end. The dark, thick liquid running over her arm, dripping to the floor, she runs to the tub in the bathroom and sits in the bathroom floor. In her hurry she left the door open, I see her leaning over the pure white tub, her blood staining it. She rinses it off with cold water, but still the evidence of what she has done is left. There are so many scars on her arm, evidence of her trying to cope with the pain and the constant rumbling of her hungry stomach.
A few weeks later, after her mom notices her scars on her arm and her gaunt, boney frame, Julia's mother takes her to the doctor. After coaxing and forcing from her family, Julia makes countless trips over the years to doctor. Finally Julia realizes what she has done to her body has consequences, and even though she has done a lot of damage, she is getting healthier by working out and eating the right foods. With the loving support of her friends and family, Julia is accepting her body how it is. She will always live with the scars on her arm, but they remind her of how far she has come. Julia is now in college and working towards a medical degree, she wants to help girls like her to accept their bodies and not go through what she did or worse. She doesn't care about the lies the media throw at young people like her, the airbrushed models on billboards only invoke her pity.
Because Julia had a few close calls when she was starving herself and using diet pills, she is thankful to be alive. She uses every opportunity now to tell people she loves them, and she is strong and more confident in herself. She chose to go in to the nutrition and medical field to understand and live healthier lifestyle, and to better prepare to help other young girls that are going through the same thing she dealt with. Although Julia's story turned out right, not every person with an eating disorder or dieting problem will. There are many other young girls that are insecure with their bodies just because they don't look like the ones on TV or in magazines. They could be your sister, or friend or even daughter, maybe just someone you know. They do need our help, to love and accept them for who they are, not just their body size. I wish we all had the courage to stop letting the media feed our minds with unattainable images all for the sake of beauty and success. I am going to start doing my part, by accepting Julia for the strong, and successful woman she is.
Related Topics