John Gacy Paper with Freud Comparisons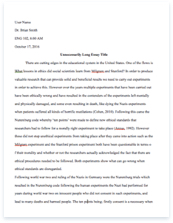 The whole doc is available only for registered users
Pages: 3
Word count: 732
Category: Murder
A limited time offer! Get a custom sample essay written according to your requirements urgent 3h delivery guaranteed
Order Now
John Wayne Gacy is an American serial murder, pedophile and rapist. He murdered and sexually assaulted at least 33 teenage boys and young men between 1972 – 1978. He buried most of his victims around his house and discarded the remains of four others in a nearby river. Gacy grew up in Chicago and had a troubled childhood. Growing up he was overweight and non-athletic due to a heart condition. He was close to his two sisters and mother, but all of the family members were abused by their alcoholic father, John Stanley Gacy. Gacy always strived to meet the approval of his father, which seemed to never happen. Gacy was molested by a family friend when he was 6 years old and never had told anyone because he feared his father, thinking he would blame him. During the fourth grade, Gacy began to suffer blackouts. He was occasionally hospitalized as a result of these seizures. Gacy later estimated that he spent almost a year in the hospital for these episodes between the ages of 14 and 18, and attributed the decline in his grades to his time out of school. His father suspected the episodes were an effort to gain sympathy; on one occasion he accused his son of faking even as the boy lay in a hospital bed.
At the age of 18, Gacy became involved in politics, working as an assistant precinct captain for a Democratic Party candidate in his neighborhood. Gacy himself later speculated the decision may have been an attempt to seek the acceptance from others that he never received from his father. In his role as a mortuary attendant, Gacy slept in a cot behind the embalming room. In this role, he observed morticians embalming dead bodies and later confessed to the fact that on one evening while alone, he had clambered into the coffin of a deceased teenage male, embracing and caressing the body before experiencing a sense of shock. By 1965, Gacy had risen to the position of vice-president of the Springfield Jaycees.
The same year, he was named as the third most outstanding Jaycee within the State of Illinois. When Gacy moved to Iowa to manage his father's Kentucky chicken restaurants he married his first wife and had 2 children. He eventually won the approval of his father for his accomplishments. However, Gacy had a double life engaging in charitable and political activities at the same time he was committing a series of sadistic torture murders. He enticed many young men to his home for homosexual acts, tying or handcuffing his partners then strangling or choking them. Gacy was a successful contractor, was active in the community, and often dressed up as a clown for parties. Eventually police caught Gacy in the act, though by the time they got to him he had already sexually assaulted and murdered at least 33 teenage boys and young men. Gacy was sentenced to death. Gacy died at 2:58 a.m. May 10, 1994 by lethal injection for his crimes.
Many of Freud's theory can be put into John Wayne Gacy's case. Such as his theory of the Libido, in the genital stage. At a young age Gacy had become quite feminine due to being overweight, unhealthy, and spending time with his Mother and sisters, rather than his father. The abuse he received he never dealt with his libido was tied to a certain stage of development. There is only so much libido for each person, and to develop successfully a person cannot use too much of their libido in one stage. Gacy showed the reaction formation, which means he took lingering desire for pleasure from some source (Young men) and acted in the opposite way (committing gruesome murders).
Another theory related to Gacy is the theory of defence mechanisms. Gacy shows multiple defence mechanisms. Denial is the one he most often used. He began denying the feelings he had for men. He denied the murders and rapes he committed to police, public, press and even to himself. It seems he acted out on his victims due to the anger(repression) to his father, he took out his feelings of anger on the victims. He also showed dissociation. He created an alter ego named "Pogo" the clown, which not only was an alter ego, but he truly believed he was the good pogo.
Related Topics