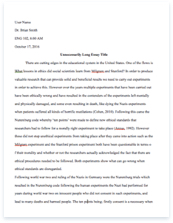 The whole doc is available only for registered users
A limited time offer! Get a custom sample essay written according to your requirements urgent 3h delivery guaranteed
Order Now
When people think of great Track and Field athletes, four time Olympic winner, Jesse Owens is always a name that is called. "Jesse" Owens was born James Cleveland Owens, known as J.C. by his family, on September 12, 1913 in Oakville, Alabama. He was the son of sharecroppers Henry and Emma Owens, and was the grandson of slaves. James was born a frail, sickly child due his ailment of chronic bronchial congestion and pneumonia. Due to this, he was constantly sick. Despite his serious disease, he was still expected to work on the fields picking cotton to help his family survive and be able to eat. When James was nine years old in 1922, he relocated with his family to Cleveland, Ohio. It was here James found a life much different than that in Oakville. In Cleveland, things were more fast-paced. The new change in the setting of school is said to be the biggest change the young Jesse experienced.
Rather than the one room schoolhouse he was used to in Alabama, he now attended school in a much larger environment and teachers much more strict than those he had grown accustomed to. It was at this school that Jesse earned the name that would stick with him for the rest of his life. Jesse had a very thick southern accent. Due to his accent, his words were often misinterpreted. One of his teachers asked Jesse what his name was. He told her "J.C.", but she thought he had said "Jesse" and called him that instead. From then on, the name Jesse stuck and he was called that for the rest of his life. The athletic abilities Jesse possessed really begun to shine when attending middle school, where he set the record for the high jump, clearing six feet, and the long jump, landing 22 feet 11 3/4 inches. Jesse eventually made it to East Technical High School, where his life as an established track athlete began.
While attending East Technical High, Jesse begun to make a name for himself in the school as one of the best sprinters in the world. Jesse would dominate in any major track event he took part in, always winning with first place with impeccable times. One of his most known high school track and field events were his winning of the Ohio state championships consecutively for three years. His accomplishments while in high school were not only based in Ohio though. At the National Interscholastic Meet held in Chicago, Jesse set the world high school record for the 100 yard dash, finishing in 9.4 seconds, and the 220 yard dash, which he finished in 20.7 seconds. Just one week later, he set a next record by landing 24 feet 11 ¾ inches in the long jump. These amazing feats of Jesse made him a greatly watched up and coming track star, wanting to be recruited by many colleges throughout the United States. After Jesse graduated from East Technical High, despite being sought after by many colleges, he chose and enrolled at Ohio State University.
This was a very weird choice as OSU could not even afford to give him a scholarship for track and field and he could not stay on campus or even eat on campus due segregation that took place at the time. Even though this was the case, Jesse really wanted to attend OSU so he took on many jobs to support himself and his wife, Minnie Ruth Solomon, who he met during his years in junior high school and married in 1932 when their first daughter Gloria Owens was born. Some of the many jobs he took on were a night elevator operator, a waiter, a gas pumper, a worker in his local library stacks, and even served a stint as a page in the Ohio Statehouse. Even more, he amazingly managed to balance his many jobs and the rigorous practices he had to partake in to maintain his skill in what got him to where he was at the moment.
His dominance at the Big Ten games was par for the course for Owens that year, which saw him win four events at the NCAA Championships, two events at the AAU Championships and three others at the Olympic trials. In all, Owens competed in 42 events that year, winning them all.
1936 Olympic Games
For Adolph Hitler and the Nazis, the 1936 Berlin Olympic Games were expected to be a German showcase and a statement for Aryan supremacy. Most notably, Hitler lambasted America for including black athletes on its Olympic roster. But it was the African-American participants who helped cement America's success at the Olympic Games. In all, the United States won 11 gold medals, six of them by black athletes. Owens was easily the most dominant athlete to compete. He captured four gold medals (the 100 meter, the long jump, the 200 meter and the 400-meter relay), and broke two Olympic records along the way. Owens record for the world broad jump would last 25 years until being broken by Olympian Irvin Roberson in 1960. After Owens won the 100-meter event, a furious Hitler stormed out of the stadium, though some reports indicate that Hitler later congratulated the athlete on his success.
Related Topics