Issues Which Are Essential to Confidentiality and Objective Observation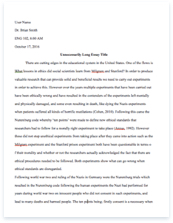 The whole doc is available only for registered users
A limited time offer! Get a custom sample essay written according to your requirements urgent 3h delivery guaranteed
Order Now
It is very important to maintain confidentially when carrying out observations. Also observations should be objective. This refers to abilities of thinking on factual information instead our own opinions and feelings.
One way of ensuring confidentiality is that all the information is followed according to the Data Protection Act. This means all information should be kept securely and should be accurate. An example is, when you are observing or collecting data you must ensure you only record what you see. All your findings and information should be kept in a password protected document or in a lockable filing cabinet.
Another issue surrounding confidentiality is policies and procedures should be in place. For example, they must have a confidentiality policy; the policy may include statements such as having a password on the filing cabinet with confidential information in. "Staff under any circumstances will not discuss any personal information given by parents with anyone else within the setting". This means that a member of staff wouldn't be allowed to talk or discuss information that they have discussed about a child or anything they have observed.
Lastly, another issue surrounding confidentiality is that parents should have rights of access. This means that parents need to give permission for the observation to take place and keep relevant information and documents. Furthermore, parents should be able to ask to see observations at any time. However, they cannot have access if the observer feels the child is in danger and therefore they have the right to withdraw the parent's access to these files.
One issue of objectivity is ensuring that you build a picture of the child instead of relying on one observation. Practitioners need to watch the child in a variety of situations and also speak to their parents to see if they are seeing a change in their child's behaviour. To make your observation fair you need to observe the child more than once. This is ensuring that your observation is conducted over a period of time as the child behaviour towards everything may change.
The second issue is that you should keep an open mind when recording observations and make sure you are seeing the child with "fresh eyes" and not observing them due to prior knowledge of the child, such as family history and information you already know. Also, you shouldn't describe why something took place and we should never give our own opinion on whether the incident was good or bad.
Related Topics