Is Nursing an Art or Science, or Both?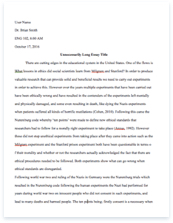 The whole doc is available only for registered users
A limited time offer! Get a custom sample essay written according to your requirements urgent 3h delivery guaranteed
Order Now
Nursing is defined and referred to as both an art and a science through theory and research in nursing practice. Although the science of nursing is grounded on the acquirement of knowledge and skills, along with theoretical understanding of nursing, but it is also described as 'an experience lived between human beings'. Is Nursing an Art or Science, or Both?
Introduction
The terms science and art are essential for the nursing practice. The two notions of art and science have a certain meaning and their vital attributes help to shed light on the nature of nursing practice. The comprehension of both terms is crucial in order to understand the similarities and dissimilarities and to a comprehension of the multifaceted relation executed in nursing practice. The science of nursing comprises the systematized knowledge; whereas, as an art form, nursing has three main constituents —medium, process, and product. Art of nursing and its science are both equally imperative for excellence in the carrying out of nursing's mission. Experienced nurses portray a skillfully balanced movement among science and art and this balanced movement excels as it utilizes the variances amongst these two forms (Peplau, 1988; 2000). According to Jasmine (2009), nursing can be widely recognized as both science and art, in which caring formulates the nursing's theoretical framework.
Nursing and caring are based on a relational unity, understanding, and association between the patient and professional nurse. Nurses are challenged by task-oriented approaches to maintain care in nursing. The challenge of keeping care is continuing as experienced nurses make every effort to keep the concept, art, and act of caring as the nursing profession's moral center. The application of both science and art is required in keeping the care in nursing by means of scientific research, theoretical concepts, and conscientious dedication to the art of caring as nursing's identity, and purposive attempts to take in caring behaviors during all interactions between nurse and patient. This research paper discusses the profession of nursing both as an art and a science.
Discussion
In the past, nurses were instrumental, responsive to the instructions, orders, and trend of other domains, especially doctors. Tasks were delegated to nurses by physicians, and nurses did not inevitably question their orders. Thus, historically, nursing was a profession of giving, and the use of scientific methodology was lacked by it to inform nursing practice. There were no such proper practice principles or evidence for procedures carried out. The orientation of nursing, in the past, was limited to a robotic, task-oriented duty; it was one of mother surrogate, treatment and observing a dependent patients ward. However, nowadays, professional nurses have cast off the handmaid role to turn out to be caregivers on the health care frontlines. Nursing is now recognized as a scientific profession rooted in concepts, theory, and research—focused upon the art of caring and centered on outcomes of health care. Nursing is made up of a distinctive set of functions and practices, each necessitating specialized skills and knowledge. That's why, the essence of nursing is not defined by nursing functions. An approach that comprises of scientific and artistic dimensions of nursing best incorporates the gist of professional nursing care (Jasmine, 2009).
The Science of Nursing: Evidence-Based Practice
It is well-understood by professional nurses that how much it is important to make use of best available evidence to channelize nursing practice. Professional nurses take up caring as the core or essence of nursing, and they are focused to provide cost-effective, safe, and quality nursing care through evidence. Contrasted with good faith, intuition, or habit, evidence is used by the professional nurse so as to make knowledgeable judgments to deliver personalized patient care. This outlines the procedure of keeping a balance between research orientation and clinical orientation. The harmony among clinical and research orientation is essential to professional nurses as they dynamically enhance the nursing's scientific knowledge by way of research. Evidence facilitates advancements in nursing and inhibits the usage of unjustified nursing errors and practices. Finally, evidence-based practice substitutes usage of trial and error and improves development, evaluation, and professional progression.
Evidence-based practice is used by professional nurses for the sake of influencing the standard of care and for encouraging a self-directed nursing environment. In nursing, evidence-based practice relates to the preferential usage of interventions for which qualitative and empiric research has rendered evidence of substantial efficacy for certain issues in nursing care. The collection, analysis, and integration of crucial, relevant, and pertinent research-driven, patient-reported, and nurse-observed evidences are promoted by evidence-based practice. Another instance or illustration of evidence-based practice is the systematic study of care theories and their implementation to patients. Hence, these attempts act upon against rationalizing of nursing practice on shaky knowledge—solely on the basis of other nurses' experience—devoid of scientific evidence on which nursing practice can be established.
The Art of Nursing: Perception and the Caring Experience
Nursing has been described by its clinical functions' description as well, for example sustaining or restoring normal life function, spotting and reporting symptoms of change in condition of a patient, and assessing the physical, emotional, and social state of patient. On the basis of these assessments, nursing implies framing and carrying out a care plan, counseling with regard to other health-related resources and services, and teaching to cover deficits in knowledge (Peplau, 1988;2000). Individual patient perception in all of these endeavors is very critical.
Art and Science of Nursing
There is a direct relationship of art and science of nursing to nursing influence and autonomy. Nurse autonomy is supported and apparent through the profession. In order to create and keep up an autonomous nursing environment, professional nurses diligently work. An autonomous nursing environment is composed of a collaborative setting where nursing participations are appreciated, practices for involvement in nursing research are recognized, patient safety is ensured, nursing practice is fine-tuned, and caring is comprehended. Thus, self-governance acts upon nursing practice and encourages patients' advocacy. Practicing autonomy in the confinements of nursing standards of care provides the opportunity to nurses to exert influence on caring experience of a patient. Autonomous nurses are responsible and accountable to make proactive, independent, and discretionary decisions.
In spite of barriers underlying in today's task-oriented environment of health care, the professional caregivers implement the nursing art and associate caring for patients as they look after patients. This refers to achieving a proportionate balance between science and art, resulting in a caring experience. Knowing the needs of patient is substantial for orienting a nurse response or intervention. A professional nurse comes into a caring relationship with a patient, deals with the specific caring needs of patient, and then establishes caring behaviors and acts to meet the needs of patient. In this perspective, knowledge is required by caring; caring is not delivered on the basis of intuition or good intention. Knowing the patient involves coming across the caring actions that are beneficial for the well-being and growth of patient. A bond is delineated by the caring relationship between the patient being cared and the caring nurse (Idczak, 2007).
Conclusion
To conclude, it can be said that nursing is a mastered and learned art outlined by the skill of looking for the needs of other people to encourage wellness and health. The nursing profession consists of collective actions focused upon caring. Human experience, morals, values, biases, and overall perception influence the art of caring. Deciphering that perception may contribute to blockade one's capability to care or be cared for helps to expect outcomes of health care. Moreover, there is a great impact of the perception of the individual receiving care on nursing outcomes. Nursing is an art in many ways, and embraces the ability of manipulating perception by proficiently utilizing intangibles, for instance compassion, kindness, empathy, graciousness, charity, and solidarity. As a system of knowledge that may be learned or studied, nursing is a science that is concerned with human caring that takes account of arts and humanities.
Research based on theoretical knowledge that is objective, subjective, reflective, and interpretive is addressed by nursing science. There is accountability of professional nurses for the impact they have on perception of patients in regards to care. This impact should not be taken for granted and take account of the art of bringing about an effect in an intangible caring manner. With the application of evidence-based research to nursing practice, nurses further guide the caring experience and patients' health care outcomes. Hence, in a nutshell, through theory and research in nursing practice, nursing is both an art and a science (Idczak, 2007).
References
Idczak, S. E., (2007) I am a nurse: Nursing Students learn the Art and Science of Nursing. Nursing Education Perspectives. Online Source: http://www.sonoma.edu/users/k/koshar/n300/qual_crit_I_am_nurse.pdf Jasmine T. (2009) Art, science, or both? Keeping the care in nursing. Nursing Clinics of North America. 44(4): p. 415-21. Online Source: http://www.nursingconsult.com/nursing/journals/0029-6465/full-text/PDF/s0029646509000462.pdf?issn=0029-6465&full_text=pdf&pdfName=s0029646509000462.pdf&spid=22604704&article_id=721544 Peplau, H. E., (1988). The Art and Science of Nursing: Similarities, Differences, and Relations. Nursing Science Quarterly, 1(1): p. 8-15. Online Source: http://nsq.sagepub.com/content/1/1/8.abstract Peplau, H. E., (2000). The Psychiatric Nursing Legacy of a Legend. Journal of American Psychiatric Nurses Association, 6: p. 56-62 Online Source: http://jap.sagepub.com/content/6/2/56.full.pdf+html
Related Topics