Introduction to Personalisation in Health and Social Care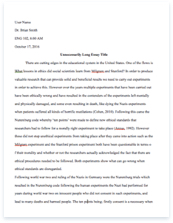 The whole doc is available only for registered users
A limited time offer! Get a custom sample essay written according to your requirements urgent 3h delivery guaranteed
Order Now
(1)Define the term Personalisation
The definition of Personalisation means that every person receiving support either provided by the government or funded by him or herself will have choice and control in what they would like their care to be.
(2)Describe the relationship between rights/choice and Personalisation
The individual get their rights from legislation, human rights, and equalityrights. Under this legislation the individuals have the right to make their own choices i.e. social activities, intellectual activities, spiritualpersonal care, speciality activities, creative activities, physical activities. Personalisation starts with the person and their individual circumstances rather than the service. This means that the choices offered must not be limited to what the service decides to provide. (3)What Legislation/Policies nationally and locally support Personalisation From the beginning of the 19th century we have had policy/legalisation on personalisation these are some of them. Legalisations: – the white paper 2010, The white paper 2007, department of health booklet putting people first and personal budgets –to have more choice and flexibility. The mental capacity act was passed in 2005 this sets out a framework for supporting people to make their own decisions.The green paper (2005)
Policy: -Code of practice for social care workers and code of practice for employers of social care workers (2004), common Assessment Framework for Adults (2010), Personalisation through person centred planning (2010), Putting people first (2007) Living well with Dementia: a national dementia strategy (2009), prioritising need in the context of putting people first a whole system approach to eligibility for social care: guidance on eligibility criteria for adult social care (2010).
(4)Explain what are Direct Payments and Individual Budgets and what impact they have on commissioning services
Individual budgets and Direct payments is a means-tested cash payment made in the place of regular social care to the individual who has been assessed as needing support. Those who are eligible can choose to take a direct payment and arrange their own support. With a help of a care manager, family, friends or social worker. The impact this has that the client becomes the employer they can decide what they want and need. (5)Describe how Personalisation affects the power between the individual and those providing support
Personalisation affects the power between the individual and those providing support because the client becomes the employer and is more in control of making their own decisions. (6)Explain the terms Person Centred Thinking, Person Centred Planning and Person Centred Approaches and how these support Personalisation
Person centred thinking is a set of values, skills and tools by the individuals in the personalisation of services who need support or health care. Person Centred Planning is for the Individuals with learning disabilities, Person Centred Planning also means that the person is at the centre, family and friends are full partners, Person Centred Planning concentrates on what is important now and in their future and specifies the support they require to live there life in the way they wish. The Person Centred Approach is there to help the individuals live as independently as possible to have the right to choose to control the services that they need and to have access to both wider public, community services and employment and education. They are all there to help the individuals to be more in control of what they what, need and their dreams and we as health and social care workers can help fulfil them. Examples of Person Centred Approaches are Dementia Care Mapping- giving people a real voice, is a process that helps the social care worker observe life through the eyes of a person with Dementia. It involves watching someone unobtrusively over an extended period of time to see how they respond positively and negatively to events that happen to-and around them. The results of DCM can change the way the person with Dementia experiences care and support.
For my account my individuals name will be called john:
John lives in supported living home for dementia patients.
John wanted to take Mary out for a coffee on Saturday morning, they both live in a supported home, however John and Mary have got dementia and although he can take full responsibility for his own personal care needs due to his dementia he has in the past forgotten where he lives and where he was going, he also has frequent memory lapses, if he were allowed to leave the fold vicinity by himself then there would be an extremely high chance of him being unable to find out where the coffee shop is and how to get home.
In this situation I recognise John wishes to enjoy himself and be responsible for his own finance, he does need support from a support worker when he leaves fold, this has to be discussed delicately with John as he does not like to be supervised (support worker) when leaving fold.
I had to be aware of the conflict that might arise with John as this has happened in the past. So I took time to talk to him before the situation would arise, to make him feel at ease, and if we could discuss his personal situation to see if we could make a compromise.
I could empathise with John in that he wanted to use his own personal finances to socialise and enjoy himself; after all I wouldn't like anyone telling me what way to live my life
I asked John if he would like anyone to be present with him at the meeting he got a little frightened when I mentioned meeting he thought he was in trouble, I explained to him that we could have a meeting with his family if he wished and our manager so that we could get a better understanding of what John wished so we could tailor a personalised care plan to his needs and wants but also provide a safe environment. John wanted his daughter there and he wanted the meeting to be held in the TV room, I contacted his daughter to see if she could make the meeting and she said yes. We had the meeting and John was introduced to everyone I asked John what would you like to do he replied " just to go down the town once in a while with my friend" as we looked at Johns care plan and risk assessment we discussed what we could do to remedy this, I asked John if there was any way that a support worker or family member could go with him as he and his friend suffered from dementia and we didn't want to lose him, he laughed, the he said he wouldn't mind if someone came as long as they could sit away from him and his friend so they could have a chat.
John left the meeting feeling happy that he could go for a coffee with his friend and understood why he needed the extra support. Taking time to discuss, listen and reason out Johns views benefited John as he appreciated that we were striving to understand and trying to work the best plan for him and one that will give an acceptable outcome. John liked the idea of his family becoming more involved; in turn his family are enjoying theprivilege of becoming involved once again in their father's social outings. They have found (and told us that) they often now plan with john where they could go out to or different places to go. The fact that john is not accompanied when out is no longer an issue rather than an enjoyable experience. The frustrations John once experienced are now alleviated and he finds himself thinking and planning where he will go when his family accompany him. We allow the family to bring their concerns to us and give advice how to approach different situations.
Related Topics