Interesting Observation of Two People at My Local McDonald's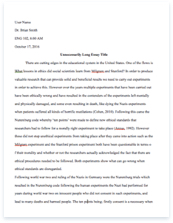 The whole doc is available only for registered users
A limited time offer! Get a custom sample essay written according to your requirements urgent 3h delivery guaranteed
Order Now
In this assignment, I needed to observe nonverbal communication, which regardless of whether we know it or not, are used in day to day life as a way of interacting between one another. There are numerous ways that people are equipped for communicating without even having to say a word and nonverbal communication utilizes a wide range of parts of life to depict meaning. There are 5 classifications of nonverbal communications: emblems, illustrators, regulators, affect displays, and adaptors. An emblem is a gesture that can be directly translated into words, an illustrator is a gesture that complements our words, a regulator is a gesture that may prolong or terminate the conversation, affect display is a facial expression motivated by emotion, and an adaptor is a gesture that makes a person feel more comfortable in a communication.
As a result of this assignment, I found that using nonverbal communication was a lot less demanding than verbal, however I found it and additionally felt curious about why us, humans, use nonverbal gestures between one another when we are trying to send out a message. The objective for the task was to go to a public place and take a look at a conversation between two individuals without having them realize this was being done.
On September 26, I observed two people; person one was called, for the purpose of this assignment, Veronica, and person two was called Albert. The observation took place at my local McDonald's, beginning at 5 p.m. and ending at 7 p.m. They were sitting down on the right corner of the restaurant, while I was sitting down 3 tables from them. The restaurant didn't have many customers inside, which was better for me because I was able to get an excellent view of the couple. It was semi-easy to overhear what they were saying because the background noise was very quiet, just filled with a light noise coming from other people's conversations which made it a little bit more difficult to clearly understand the conversation between Veronica and Albert.
As an outsider, I could tell that Veronica was profoundly involved in the conversation with Albert at all times since she was smiling a lot. She seemed very interested because I would see her leaning over the table to be able to hear Albert better, but at the same time she seemed shy because she wouldn't speak much. At some point she gave the thumbs up, I'm guessing to say OK to something that Albert had asked her. Looking at Albert he was laughing almost the whole conversation, clearly enjoying himself, but at some point, I noticed he frowned, possibly because Veronica said something that upset him.
Along the lines of laughter, another observation I observed was Veronicas hand gestures, which she seemed to be using a lot. At one point it looked as if she was trying to describe a house because she was moving her hands in the shape of a house. I'm guessing she was talking to him about her house, possibly describing what it looked like. Right after she did that, he made it seemed as if what he was describing was how to get somewhere. When he was doing that, I noticed that Veronica on the other side of the table was twirling her hair as if she was comfortable speaking to him. After some time had passed, I realized that Albert kept looking at his watch as if it was getting late and had to leave. Veronica started tapping her fingers on the table, most probably because she was impatient at the fact that Albert kept looking at his watch and wouldn't pay attention to what she was talking to him about.
Veronica and Albert started to say their goodbyes, they hugged and kissed each other on the cheek. As they were hugging I realized that he told something to Veronica because she nodded. This might have been that he asked her to go out again, who knows. They both walked away waving at each other, smiling.
Related Topics