Insecurity an Issue in Kibera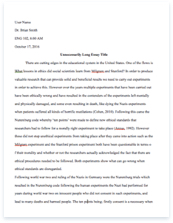 The whole doc is available only for registered users
Pages: 9
Word count: 2119
Category: Security
A limited time offer! Get a custom sample essay written according to your requirements urgent 3h delivery guaranteed
Order Now
1. SECURITY AN ISSUE IN KIBERA
"There can be no security without development and no development without security, and neither can be sustained in the long term without being rooted in the rule of law and respect for human rights." (Former Secretary General of the UN, Kofi Annan) [1]
There is increasing recognition that without security there can be no development. Insecurity hinders socio-economic growth in different ways: threats to physical security, the absence of safe living environments, dangers that prevent people from achieving sustainable livelihoods, and the impact upon health and education services. As one of the main providers of security, the police play a vital role in creating the conditions in which development can take place. However, all too often those who are most affected by insecurity have little opportunity to engage constructively with the police. This can result in feelings of mistrust between the police and the communities they serve.
2. COMMUNITY BASED POLICING (CONCEPT)
Community-based policing (CBP) is an approach to policing that brings together the police, civil society and local communities to develop local solutions to local safety and security concerns. This helps to improve community safety, reduce crime and the fear of crime, enhance access to justice and create more peaceful communities. Community Based Policing , whilst a policing style, is also an attitude of mind, both for the police and for the public. It involves a profound shift in police and community thinking about policing.
In Kenya, police reform is a critical issue not only for community safety and economic development, but because there is intense popular demand for reduced crime and better police performance.
3. KIBERA
Situated to the south-west of Kenya's capital, Nairobi, Kibera is one of the largest slum dwellings in Africa with an estimated population of 900,000 who suffer some of the worst living conditions of any urban community. There is very limited access to basic services such as health, water and education for Kibera residents, who come from every corner of Kenya in search of employment and a better life. Poverty forces many of Kibera´s youth to engage in petty crime to supplement their household's income.
Although there is a strong sense of community – many people settle in villages made up of members from their own ethnic communities – external factors can create tensions between these different communities, leading to increased insecurity, vulnerability and violence. However, the main causes of crime are the economic and social conditions in Kibera. The rapid growth of the population has put pressure on resources like food, shelter and water and people are forced to compete to meet their basic needs.
4. PILOTING COMMUNITY- BASED POLICING IN KIBERA
Consultations with the local community (including members from the business community, religious leaders, tenants and landlords) and local police produced a detailed analysis of the factors fuelling crime and insecurity in the area. These were identified as poverty, a lack of employment opportunities, breakdown of social relations and anger related to living conditions.
5. STEPS IN ADRESSING SECURITY ISSUES IN KIBERA
According to Tearfund, (2005), [2] the steps in community participation is as follows:- a) Awareness- raising:
The aim is to help communities understand the idea of community policing. Raising people's awareness will help people to:- • Understand what is happening in their village and surrounding district. • Understand that preventing crime is useful and worthwhile. • Begin to have a clear sense of ownership of their resources so that they improve their own security. • Understand that the community is responsible for security and organising activities. • Understand the different roles of security committees, the police and community members themselves. • The process of raising awareness takes a long time and there are no short cuts.
First I would do consultations with members of the community to find out the different security issues they are facing and whether they feel they can be part of making their homes and neighbourhoods safe. And this will be done by calling for seminars and workshops and it will involve the police and community members coming together and addressing the security issues, talking to the slum dwellers by walking around and conducting interviews asking them their views regarding insecurity in their community and how best they think this matter could be tackled.
b) Training:
Training will be done both at the district level and the community level. At the district level the security leaders that's the police will be trained in ways of engaging with the community without showing any form of hostility and at the community level, the community members will be trained on how to relate to the police as they will both be working together. The community members will be trained on security issues, how to detect a threat and how to engage the police in that matter. Training will equip the committee with the understanding of the principles and practices of community based policing. Some of the principles of community based policing are:- • Practise policing by consent and not by coercion. • Be part of the community and not apart from it. • Find out together with the community what their needs are. • Work in partnership with other agencies and the public. • Tailor the business of policing to meet the community needs. • Be accountable for its service.
• Provide a quality service.
And for the police they need to know:-
• The police needs to be a service and not a force.
• They are to be accountable to the law and the public.
• They are to be open and identifiable.
• They are supposed to be professional at all times.
• They are meant to be people – centred including for instance, sensitivities around gender, age and group identities.
• They are to deliver a quality service efficient and effective, visible and accessible, consultative and participative, proactive and preventive.
c) Identifying if there are any security groups and police posts in Kibera: This, again, is done at a variety of levels. At the district level – discussions with the various government and security departments about insecurity and practical activities that would improve things in the communities. At the Local level – obtaining the support of community leaders. Repeating the awareness-raising process. Agreeing on the practical ways to introduce police posts. At the community level – Meeting with community leaders to introduce these ideas and begin to raising awareness through home visits. Calling a community meeting and selecting a security committee.
d) Helping the community start its own community policing:
• Continuation of the process of awareness raising. Out of this process will come an agreement of partnership between the community the police and the programme.
• Identifying the main problems and practical solutions to them. • The selection of committee members to lead the community-based policing project. Creating a steering committee of stakeholders, including community based organisations, women, youth, elders, and religious leaders, the officer commanding police stations and the officer in charge of police administration in Kibera. The main aim of this committee is to prevent crime, increase safety and reduce the proliferation of small arms by building trust between the police and the local communities. The community members are also supposed to act by reporting any person in their community who has access to small arms and weapons to the police. And this also includes family members. They should not be in any position to protect these people because it was noted that families tend to protect their own when it comes to crime matters. The objective of this committee:-
• Will be to promote long term conditions for development and community safety. • To strengthen the co-operation and the partnership between the police and the public. • To build the capacity of local institutions and people in the co-ordination and implementation of community based programme. • To strengthen interaction between the civil society, government and institutions with an interest in promoting culture of peace, community safety and democratic policing.
e) Understanding the present situation:
Training of the security committee and other resource people in gathering information about the present situation and understanding of insecurity. For example, villages could be visited and encouraged to talk about the cases of crime and their solutions. Their hopes and needs have to be understood before the community policing programme is begins.
f) Action and monitoring:
Once the community policing programme is in operation:-
• Il make regular follow up visits.
• Il bring communities together to share experiences and plans. • Reinforcing links with the local security units and with the community members. • Providing refresher training.
• Establishing a joint police – community forum which meets monthly enabling members of the community, civil society and the police to identify appropriate strategies to tackle uprising crime in the area. Giving citizens in Kibera greater confidence to openly discuss safety and security issues that confront them in their day- to- day lives. This could be a source of empowerment to local communities to demand more support from their local political representatives. • Creating police medical camps, where police provide free medical check ups and other services to help build trust and give community members and the police an opportunity to interact. This is also to help create a positive relationship between the police and the public because it was noted that the public are usually afraid of the police and that they could not be seen to have a normal conversation with the police. • Reaching out to younger members of the community who are both victims and perpetrators of crime in Kibera, by involving them in efforts to improve safety for example through theatre. Also by launching campaigns to create awareness of dangers of drugs.
• Utilising the local resources so as to put up high masts of flood lights in Kibera to light up the dark alleys of kibera frequented by criminals. This would reduce incidents of mugging by lighting crime hot spots and will reduce the fear of crime among residents. • Setting up a taskforce including community organisations and the police. This taskforce is to develop a local strategy to take forward community policing in Kibera. One of the strategies is to create small police structures which would act like small offices and community members could go and report crime related issues around them. Another strategy is patrolling during the night in the slum area and this is done by both police and some of the community members. This is to discourage the criminals from operating in the night and to arrest the law offenders and the people who will be walking late at night without any sort of identification documents. g) Evaluation:
Together with the security committees, sponsors and community members, discussing how well the original objectives have been met. Based on these findings and the lessons learned, encouraging the development of new ideas and plans for future security work.
6. BENEFICIERIES OF COMMUNITY POLICING
Ideally everybody in the community will benefit from community policing. This is because insecurity is a matter that affects every member of the community and the process is a very inclusive one. It doesn't matter whether one is richer than the other or much older, it's an issue which affects everyone. When the security of an area is taken care of then everyone in that area will feel safe.
7. OUTCOME OF COMMUNITY POLICING
• Makes safety and security everybody's responsibility, not just that of the law enforcement agencies. • Enables the community to have a say in safety and security issues as they understand the issue. • Maximises resources within the community through shared responsibility and joint efforts. • Improves police accountability to the community by providing mechanisms for addressing complaints. • Mobilises the community to address pertinent issues beyond their immediate security, e. g. development.
• Contributes to safer societies leading to enhanced economic development.
• Encourages networking, constructive social relations and greater cohesion within the community.
• Improves trust and confidence between community and the police.
8. CONCLUSION
Across the world, there is increasing recognition that without security, there can be no development. As one of the main providers of security, the police play a vital role in creating the conditions in which development can take place. It is important to respect the police and to provide them with better working conditions, better housing and a salary increment. This would motivate them to work for us and to provide a better service to us.
REFERENCES
(1) http://www.un.org/largerfreedom/ (Annex, para. 2)
(2) http://tilz.tearfund.org/Publications/Footsteps+11-20/Footsteps+18/Who+expects+what+in+community+participation.htm, (2005). Retrieved on the 14. 02. 2013 at 4pm.
Related Topics