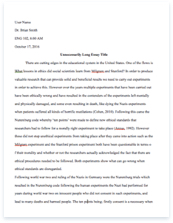 The whole doc is available only for registered users
A limited time offer! Get a custom sample essay written according to your requirements urgent 3h delivery guaranteed
Order Now
Intercultural Communication: I completely understand this topic Intercultural Communication is the communication that aims to share information across different cultures and social groups. Global mindset
Example: I am a bilingual person I can relate to this topic. Intercultural communication is not an easy thing. It is very stressful, it needs to be very patient with it because when you trying to have a conversation with someone who does not speak your language or does not understand your culture it could go wrong very easily but after you learn the culture and the language you will become a very advanced person because you will have multiple ways to receive information. The reason I say this I know from my own experience.
How to Understand Intercultural Communication: do not rush to speak from your mind. Evaluate before you speak in another word think before you speak because the way says things it could offend the other person to due to different cultures.
Example: I remember me working the first time as a sushi chafe at Japanese restaurant own by Korean the first two months I work night shift so no one told me the opening system within two months i notice that their greeting system is different than American but a lot like similar to my own culture and it wasn't that hard for me to fit in but then one time my schedule change and I had to open with new team so after everything set before we start serving all co-workers told me to go outside with them and bow facing toward sun. I thought they were worshiping the sun and I told them no I'm not going to do it and the manager came and told me its a culture it is not religion I did it but it takes a long time for me to become natural just that part. So my point is to be open minded and tries to view it there perspective not just seeing it on your point of view.
Common Cultural Characteristics: Most cultures have similarity, commencements, customs, history, qualities and standards, reason, images, and limits.
Example: when you go to a new place you won't be absolutely isolated because you will find that make you comfortable that is most likely similar to the one you use to. I like I said earlier when I use to work at the restaurant. There was a similarity with my culture but not all of it, it did not take me whole a lot to be fit in.
Divergent Cultural Characteristics: a person or a group of people who has a very different way of communicating or culture.
Example: Some of the time social contrasts emerge among gatherings and this may prompt clashes. This social uniqueness happens because of numerous reasons, for example, a distinction in assessments between individuals. A few qualities of this social difference are the district, age, religion, language and so forth. While working in a gathering no two individuals will be similar and they have distinctive sentiments. One some theme they may contrast in the conclusion and this single distinction makes the entire group go into disrepair influencing the work and efficiency of the gathering likewise diminishes. The part who is senior probably won't be prepared to tune in to individuals who are more youthful to them. This ascents disparity problem which will change the general result of the group. At long last, the district and language of individuals will likewise wind up dissimilar variables since they may restrict different dialects or convictions of different areas and societies shift from locale to area. These outcomes in solidarity separation among the colleagues and henceforth the efficiency of the gathering diminishes.
International Communication and the Global Marketplace: when marketing managers use a global plan to effectively market their goods and services on an international basis.
Example: the company's manager comes up with to present their products and with effective wording and action without offending or misrepresenting. the global marketplace is very competitive, and the shrinking of the world through technology has made it easier for companies to reach global markets. U.S. companies now have to deal with not just domestic, but also international, firms for control of a global market share. In this lesson, we will examine how a diaper company called Diaper Sponge Pants has learned how to identify international opportunity via the global marketing world.
Styles of Management: the manner in which an organization manages its employees and their work activities and will vary depending upon factors such as the characteristics of employees, the work activities engaged in, and the culture of the organization. A successful management style should effectively build teams and be able to motivate.
Example: there are a lot of styles of management but to me i like if I become a manager I will make sure that you share important information with employees and let them participate in the decision-making in matters that directly affect them, then you are using a participative management style. In order for participative management to work, employees must have the knowledge and ability to effectively participate and the company's culture must support the approach. Participative management is a good choice in organizations that are not concerned with a strict hierarchy of power and employ educated and skilled workers. An example of a business that may work well with participative management is an engineering firm.
The International Assignment: if I understand fully this section I think it means like sanding company worker overseas for long term or shout team.
Example: sanding company worker oversea can be fairly complicated. There are many tax and reporting burdens on both the company and the expatriate. However, being aware of these requirements allows for successful pre-planning meetings to facilitate the assignment, which leads to reduced stress for both the expat and the company and allows the expat to focus on the assignment rather than feeling overwhelmed or financially burdened. 
Related Topics