Identify the current legislation, guidelines, policies and procedures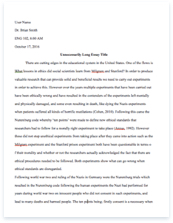 The whole doc is available only for registered users
A limited time offer! Get a custom sample essay written according to your requirements urgent 3h delivery guaranteed
Order Now
TDA2.2 – 1.1 – Identify the current legislation, guidelines, policies and procedures for safeguarding the welfare of children and young people, including e-safety. Within my workplace I am aware of the statutory and regulatory health and safety requirements for pupils, staff, families and visitors in the school. Health and safety legalisation places overall responsibility for health and safety with the employer. However, as an employee working within a school, you also have responsibilities with regard to maintaining health and safety. All employees have the following responsibilities under the Health and Safety at Work Act 1974: . To take reasonable care for the health and safety of themselves and of any person who might be affected by their acts at work. . To co-operate with the relevant authorities (e.g. Ofsted) in meeting safety requirements. . To not interfere with of misuse anything provided in the interests of health, safety and welfare. . To make themselves aware of all safety rules, procedures and safe working practices applicable to their posts.
To ensure that tools and equipment are in good condition and report any defects to the delegated person. . To use protective clothing and safety equipment provided and to ensure that these are kept in good condition. . To ensure that any accidents whether or not an injury occurs, are reported to the delegated person. . To report potential hazards or any possible deficiencies in health and safety arrangements to the delegated person. Safeguarding the welfare of children and young people involves more than just protecting children from abuse, it also includes promoting their interests, keeping them safe and protecting their rights. Young children are extremely vulnerable and rely on adults to meet their basic needs including providing food, warmth and shelter, as well as protecting their security and keeping them safe from neglect or harm.
The main points of legislation that support the safeguarding of children are: Children's Act 1989 – The main concepts of this act is parental responsibility, the welfare of the child and partnership and cooperation from all associated services. In summary the act states that the mental and physical well-being of the child is above all else and appropriate steps need to be taken to ensure this. The Children's Act 1989 has two very important sections which focus's entirely on child protection. It is also the act that identifies the parents and professionals responsibilities to work together to help to ensure the safety of the children. Section 17 states that the local authorities must put in place the services to safeguard and also the services must promote the welfare of children and young people within their area who are in need.
The other section is section 47 and this states that the local authorities have the duty to look further into a situation, when they have a reasonable cause or suspect that a child or young person who is either living or found in their area has suffered from or is suffering from significant harm. Children's Act 2004 – This identifies the requirements for earlier support to parents and families who are experiencing problems or difficulties, which also links up with the 'common' assessment framework. This is used to help the early of earlier identification of need. The act also requires the local authorities and services to work more closely with each other, and have a database which is shared together, to hold the required information this is relevant for the welfare and safety of children and young people. Therefore this forms an integrated service. This is all incorporated in the legal framework of Every Child Matters.
Education Act 2002 – This sets out the responsibilities of all those who are working in schools or with children and young people, the governing bodies, the head teachers and the local education authorities (LEAs), to all work with one another to help ensure that all the children are safe and free from harm. Data Protection Act 1998 – This gives the significant rights to the individuals that have had a personal data collected from them and held by the data controllers. This act applies to anything that has been done to personal data including the following: processing, including and collection, use and disclosure, destruction and simply just holding of the personal data.
Schools have the responsibilities and duties to develop policies that are used to help ensure the safety, welfare and well-being of the children and young people within their schools. The policies must set out the procedures that all the staff must follow whether they are paid of volunteers. It will also provide some information on the responsibilities of all the staff. Some of the policies and procedures that the school may follow are: Working together to Safeguard children 2010, this policy gives the guidance to help set out the responsibilities and duties of the organisations and authorities and how they must work together to help safeguard children and young people.
St Joseph's school provides a range of their own policies that they incorporate into one policy which is primarily known as the health and safety policy, although they may incorporate these into one policy the school include sections which cover the following issues: Safeguarding and protecting, including the procedures for reporting, e safety and bullying. Every school should have its own E-safety policy. In 2008 the UK council for child internet safety (UKCCIS) was launched due to concerns about internet safety. The role of the UKCCIS is to safeguard children and young people in relation to the above issue. 'E-safety encompasses internet technologies and electronically communications such as mobile phones and wireless technology'. The E-safety policy covers a range of topics such as why is internet use important? How does internet use benefit education? Authorised internet access Filtering, Assessing Risks and E-safety rules and many more.
It also has a section on how the school deals with e-safety complaints. E-safety policies in school are also used to help protect children and young people whilst using the internet to ensure that they do not view inappropriate material or sites by a having restrictions on what can be viewed in school. The internet is a very useful tool, but can be used as a vehicle for child pornography. Children and young people can also be exploited through social networking sites and need to be aware of e-safety measures. Professionals have a duty to protect children by making them aware of the dangers and supporting them to deal with situations they are not comfortable with. Parents and carers may also need advice about how to supervise children's internet use of how to control access to certain material.
Text messaging, emailing and social networking sites can be also be potential avenues for bullying. This can be an extremely destructive process and adults need to be aware of procedures to support children and young people who may be at risk. It is very important for anyone who works with children or young people to be aware of safeguarding procedures and to know how to respond to any evidence or concerns about children's welfare and safety. All children and young people have a right to grow up in safety, and adults have a duty to protect them from being harmed or abused in any way.
TDA 2.2 – 1.2 Describe the roles of different agencies involved in safeguarding the welfare of children and young people. The different agencies involved in safeguarding the welfare of children and young people all have a vital role to play alongside the schools. Schools also have the responsibility to monitor and keep records and then to share any relevant information with other agencies or authorities. School also help to develop children's and young people's awareness and knowledge of what is acceptable behaviour and non-acceptable behaviour inside and outside the classroom, and the school. This cannot only be done in school though as parents and carets also have a responsibility to do this as do other agencies. There are many agencies involved in the safeguarding and welfare of children and young people. The agencies such as are as follows: Social Services – Social Services are there to help and support children and young people who are at risk. Social Services have a key role to safeguard and promote the welfare of children and young people who are in need.
In order to do this they must be able to work closely together with parents, carers and the other agencies. If concerns are raised then Social Services have a responsibility and duty to determine what the course of action should be. If it is found that the concern raised is causing a child or young person to be at risk or ham then they are also able to carry out an initial assessment to find out things like the needs of the child or young person who is thought to be at risk, the ability of the parent, carer or foster home to meet those needs, and the surrounding family and environmental factors surrounding the person who is thought to be at risk. Social Services can then meet and undertake the interviews with who they feel is needed, then meet up with and gather more information is available about the child or young person's circumstances from other agencies. Once this has been done Social Services will then take the leading role during what is called a Child Protection Conference. But a vital role that is provided to Social Services is that they can take immediate action if they feel the child or young person is to be in immediate danger.
Child Protection Investigation Unit (CPIU) – Unit run by the police who have the powers to investigation, who have the powers to investigate, interview and arrest anyone who is suspected of abusing a child. The CPIU has to make
a decision on whether a crime has been committed and if so to begin a criminal investigation. They also have to gather evidence from Social Services and other agencies thought to be involved with the child or young person's wellbeing. The CPIU must take immediate action if a child or young person is thought to be in any immediate danger which may involve removing the child from harm or removing the perpetrator and attend any court hearing to give evidence when a crime has been committed.
Health Visitors – Health visitors can sometimes be the first person to see signs of abuse, especially physical. They have a duty of care to refer such information to Social Services. Health visitors must carry out a full medical examination or observations of any child or young person who is thought to be at risk of abuse or is/has suffered from abuse.
The Police – The Police are another agency that works closely with Social Services in protecting and supporting children and young people who may be thought to be at risk. Their role is to investigate any allegations of abuse and to gather as much evidence as possible to support the case for prosecution. All the forces have a special Child Abuse Investigation Unit also known as the CAIU. Other responsibilities and duties that the police have are very important such having the responsibility to make the decision whether a crime has been committed, and if this is the case then they shall then proceed and begin a criminal investigation. The police don't just work closely with Social Services they also work closely together with the other agencies, and this then allows them to retrieve the relevant information from where it is needed and others that are involved. They work very close with Social Services on the regards of taking action if they think the child or young person are in any immediate danger by removing them if they think it is needed or if removing the person who committed the crime (perpetrator). Then with all the evidence that they have obtained they then have the duty of attending court to give evidence when there has been a crime committed
NSPCC – Information can be passed anonymously to the NSPCC. The NSPCC have a duty of care to refer information to Social Services. The NSPCC is the only charity which has the power to take action when children are or are thought to be at risk of abuse. The NSPCC also provide support to families and children, provides a helpline for people to call if they are worried about a child as well as a child in distress or in danger. The NSPCC raise awareness of abuse through the advertising and training materials they have regularly available.
TDA 2.2 – 3.1- Identify the characteristics of different types of child abuse.
Child abuse falls into one or more of four categories: physical abuse, emotional abuse, sexual abuse and neglect. It now also includes bullying.
Physical Abuse
Physical abuse can involve hitting, kicking, shaking, throwing, poisoning, burning or scalding, drowning, suffocating or otherwise causing physical harm to a child. It may also be caused when a parent or carer fabricates symptoms of, or induces illness in a child.
Emotional Abuse
Emotional abuse is the persistent emotional ill treatment of a child which effects on the child's emotional development, and may include making a child feel that they worthless, unloved, inadequate, or undervalued. Having inappropriate expectations e.g. interactions beyond the child's developmental capability, being overprotective, preventing a child from taking part in social interaction. Causing a child to feel frightened or in danger e.g. witnessing domestic violence, seeing or hearing the ill treatment of another. Exploitation or corruption of a child.
Emotional abuse may happen alone, but often takes place with other types of abuse
Sexual abuse
Sexual abuse involves forcing or enticing a child to take part in sexual activities, including prostitution, whether or not they are aware of what is happening. Activities may involve physical contact, including penetration and touching. Sexual activities can include non-physical activities, e.g. involving a child in looking at abusive images, watching sexual activities or encouraging them to behave in sexually inappropriate manner. It may include use of photos, sounds, recordings, internet, books or magazines. Children under sixteen years of age cannot lawfully consent to sexual intercourse. A child of under thirteen is considered in law incapable of providing consent.
Neglect
Neglect involves the persistent failure to meet a child's basic physical and/or psychological needs. Neglect may occur during pregnancy as a result of substance misuse. Once the child is born, neglect may involve failure to: Provide adequate food, clothing or shelter.
Protect from physical and emotional harm or danger
Meet or respond to basic emotional needs
Ensure adequate supervision.
Ensure access to appropriate medical care or treatment
Ensure that the child's educational needs are met.
Bullying
Bullying is a form of abuse. Reports of suspicions of bullying should always be taken seriously, it ranges from simple one on one bullying to more complex bullying, which the bully will get others to assist in his bullying activities. Bullying can occur in school, the workplace, home and neighbourhoods, it can exist between social groups and social classes. It involves repeated acts of intimidation over time, attempting to create or enforce one person's power over another person .Bullying consists of three basic types of abuse which are emotional, verbal and physical. Emotional and Verbal can include name-calling, not talking to someone, taking or hiding personal items, humiliating, spreading rumours or teasing, racial taunts or gestures, inappropriate physical contact, sexual comments and homophobic taunts. Physical abuse can include, pushing, kicking, hitting, pinching or threatening physical force. Cyber Bullying
Cyber bullying is a serious issue. It is harassment caused over the internet or mobile phones. Cyber bullying occurs when a child torments, harasses, or threatens another child. This is never involved with an adult or that is known as cyber stalking. There is actually a law against cyber bullying. Students think it's so cool to bully others when they are just playing around but the victim will most likely take it offensive. One way to prevent cyber bullying is by telling others to never pass on harmful or hurtful messages about someone to others. That person could be really embarrassed about it. You can also step up to friends and tell them to stop cyber bullying only if they are. Another way is by letting parents watch what their children are doing on the internet. That way the parents know if anything is wrong with their child. Self-Harm
Over the last couple of years, more young adults are pulling out razor blades and lighters, in order to self-harm themselves. Their purpose isn't to die, but to feel the pain that comes with it. Self-harm is a way to deal with many stresses that the young adult may have. The average age for cutting usually occurs after the age of eleven, though cases of younger children have been reported. Females will do or try self-harm more often than the male gender. The act of self-harming is very dangerous and should come to an end.
The reason many come to this life-threatening act is due to bullying. Young adults trying to deal with daily bullying, most likely will turn to self-harm as a way out. Family problems also play a big role of self-harmer's. Not liking the way you look, not the best grades, friend problems, are also reasons for this deadly act. Knowing that people will hurt themselves to just feel good is horrible. It's an addiction to many, and it's a very sad addiction. Signs to a self-harmer include, always wearing long pants and jackets during the summer time, wearing lots of bracelets, unexplained cuts and burns, and not as outgoing as they us to be. If someone has one of these signs, don't jump to the conclusion they self-harm. Many people like to wear bracelets and someone may not feel comfortable in summer time clothing. Resolving this problem could be as easy as just talking to the person who self-harms. If you know someone who self-harms don't get angry with them, many can't help it. Ask for help from a trusted adult, or have them talk to the school guidance consular.
Child Abuse – Signs and Symptoms
Although these signs do not necessarily indicate that a child has been abused, they may help adults recognise that something is wrong. The possibility of abuse should be investigated.
Physical abuse – Unexplained grasp marks, bruises, fractures, scalds or burns and bite marks. Excuses or refusal to explain injuries Marks showing the outline of an implement. Refusal to undress for PE Bald patches. Running away
Aggression towards others
Fear of physical contact – shrinking back if touched
Fear of medical help or examination
Self-destructive tendencies
Fear of suspected abuser being contacted
Emotional Abuse – Delay in physical, mental and emotional development. Self-harm. Speech disorders Self-depreciation ('I'm stupid, ugly, worthless, etc.') Overreaction to mistakes
Inappropriate response to pain ('I deserve this')
Rocking, hair twisting, thumb sucking.
Aggression
Poor concentration
Poor school attendance record
Low self-esteem
Sexual Abuse – Love bites, Medical problems such as itching, pain in the genitals, bleeding, vaginal discharge knowledgeable in a sexual way inappropriate to the child's age Headaches Being isolated or withdrawn
Difficulty in walking or sitting Inability to concentrate
Stomach problems. Sexual vocabulary
Starting to wet the bed again Become worried about clothing being removed Nightmares Lack of trust or fear of someone they know well, such as not wanting to be alone with a babysitter or child minder. Regressing to younger behaviour patterns such as thumb sucking or bringing out Depression, self-harm, suicide attempts, running away, and overdoses. discarded cuddly toys Personality changes
Sudden loss of appetite or compulsive eating
Drawing sexually explicit pictures
Neglect – Constant hunger No social relationships
Poor personal hygiene Destructive tendencies
Constant tiredness Poor school attendance.
Under or over weight.
Poor state of clothing
untreated medical problems
frequent illness
Children may suffer more than one type of abuse e.g. a child who is being physically abused may also be made to feel worthless, unloved, inadequate, or undervalued.
TDA – 2.2 – 3.3 – Describe actions to take in response to evidence or concerns that a child or young person has been abused, harmed (including self-harm) or bullied, or may be at risk of harm, abuse or bullying
If a child tells you about abuse:
Stay calm and reassure the child that they are not to blame. Find a quiet place to talk.
Take notes, including the date, time, location.
Record everything that is being said and tell the child you are doing this. Believe in what you are being told and take it seriously.
Listen, but do no press for information.
Say that you are glad that the child told you, but tell them you will have to tell someone who will be able to help them. Say that you will do your best to protect and support the child but don't make any promises. If your child has told another adult, such as a teacher or school nurse, contact them. Liaise with the schools child protection officer.
Only report what you have noticed or have been told.
You must never make promises to children and you must not promise to keep the information a secret. Try not to appear shocked or sickened or ask questions to draw conclusions.
TDA 2.2 – 3.1 – Describe the risks and possible consequences for children and young people using the internet, mobile phones and other technologies
The internet and mobile phones can provide an anonymous method for bullies to torment their victims at any time day or night. Children may receive emails, chat or text messages from a bully that could make them feel embarrassed, upset, depressed or afraid.
Illegal Behaviour
Some young people may get involved in inappropriate, antisocial or illegal behaviour while using the internet, mobile phones and other technologies. As in the real world, groups can form online, and activities that start out as harmless fun, such as voicing an opposing opinion to another member of a chat room, can quickly escalate to something much more serious.
Illegal Activity
Some children and young people may become involved in other serious activities. Possible risks include involvement in identity theft or taking part in hate or cult websites, involvement in buying. They may sell or buy stolen goods. The ease of access to online gambling, suicide sites, sites selling weapons, hacking sites, and sites providing recipes for making drugs or bombs, are also of great concern.
Divulging Personal Information
Children and young people who go online can give out personal information such as their full name, age, address, email address, phone number, hobbies, name of their school etc. to someone they met on the internet without thinking of the possible risks and consequences. The Internet offers many positive educational and social benefits to children young people, but unfortunately there are risks too. Children and young people may expose themselves to danger, knowingly or unknowingly, when using the internet, mobile phones and other technologies. Children and young people may find themselves involved in activities which are inappropriate or possibly illegal.
Inappropriate Material
One of the main risks of using the internet, email or chat services is that children and young people may be exposed to inappropriate material. This could be pornographic, violent, and hateful; it could encourage activities that are dangerous or illegal; it maybe that it is inappropriate for the child's age, it could be biased, they may view extreme political, racist or sexual views. In the case of pornography and child abuse images, there is no doubt that the internet plays holds a large amount of illegal material.
Physical Danger
A criminal minority make use of the internet and chat rooms and social network sites to make contact with children and young people with the intention of developing relationships which they can progress to sexual activity. Paedophiles will often target a child, posing as a young person with similar interests and hobbies in order to establish an online 'friendship'. These relationships can develop to the point where a paedophile has gained the trust in order to meet in person. This is known as grooming.
TDA 2.2 – 3.4 – Describe the actions to take in response to concerns that a colleague may be: . Failing to comply with safeguarding procedures . Harming, abusing, or bullying a child or young person
all organisations which work with children have a responsibility to recruit staff that are suitable to work with children. I had to complete a CRB check to work at St Joseph's junior School; all people that work with children have to have a CRB check in place. However even with these checks in place abuse can, and has, happened within schools. This is called institutional abuse.
All staff has a duty to comply with policy and procedures. Failure to comply may put children at risk of harm or abuse, so concerns should always be reported to the designated person for safeguarding or the head teacher. If you have concerns that a colleague is abusing a child, your actions should be exactly the same as if the abuser is a parent, family member or stranger.
In St Joseph's School the policy is as follows:
The head teacher or in their absence the deputy head teacher Denise Coe, should be informed immediately. All suspected or alleged abuse must be reported to the Child Care Assessment Team or the police without delay. The local education authority designated person for child protection should be informed In the event of the allegation being made directly or indirectly about the head teacher, the deputy or the designated member of staff for child protection, the staff member should promptly report the allegation to the Child Care Assessment Team and/or the police.
These are difficult situations but your first priority must always be to the child. It is important that you do not discuss what has happened with others, although you may need to seek support for yourself. St Joseph's School ensures that all staff and volunteers are aware of the need for maintaining appropriate and professional boundaries in their relationships with pupils and parents as advised by the Local Authority's Code of Conduct.
Bibliography:
Supporting Teaching and Learning in Schools by Louise Burnham St Joseph's Schools policies
Related Topics