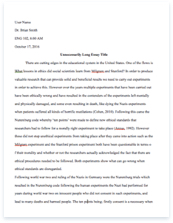 The whole doc is available only for registered users
A limited time offer! Get a custom sample essay written according to your requirements urgent 3h delivery guaranteed
Order Now
The purpose of Allan Hall's article, 'I See a Killer Die', is to inform readers about one of the many convicts who have died from capital punishment in America. Hall wrote about a man, Robert Harris, who killed two innocent boys; he used a shotgun to 'blast to death' two teenage boys in a robbery. Harris did not show any remorse after the murders. In my opinion this is an important subject, because many people disagree with this method of punishment. They believe that capital punishment is pointless and unpleasant. Others believe that it acts as a crime deterrent and helps society by protecting people from killers, psychopaths and the mentally insane. Harris was not loved by everyone; in fact some people may have even hated him including his fellow prison inmates who believed that, 'The man is a total misery, a scumbag, and we're going to have a party when he goes'. The word 'misery' illustrates that Harris was a negative person; the word 'scumbag' indicates that he was not liked and not well thought of by the other prisoners on Death Row.
I believe that Hall is trying to influence the reader to make them think badly about Harris and he succeeds. This description of him was harsh, but he still killed two teenagers and no amount of hatred (by the prisoners) would make any reader feel sympathy for him. One of the parents alleged that their child was, 'executed by the Beast'. The word 'beast' is a very strong expression. Another word for 'beast' is a monster, an animal, or a creature; it has connotations of the devil or Satan. This could mean that the parents believed that Harris would kill again and not be affected by what he had done. Some people may even consider that he had no morals. The parents may have described Harris harshly, but they had just lost a child due to his actions and they may never be able to forgive what he has done. In this article Hall demonstrates that Harris did not show any emotion when killing the boys.
Hall writes that one of the boys, 'lay pleading for his life', while Harris sneered, 'quit snivelling and die like a man'. By using the word 'pleading', Hall shows that the boy was not ready to die and begged to live, which was understandable. When Harris said, 'die like a man', it shows that Harris did not see him as a boy, he just saw him as someone in the way of another crime he was committing. This quotation makes me feel like Harris wasn't human; he showed no emotion or hesitation. Because of this it makes me feel that Harris deserved execution because nothing would stop him from killing again. Whist Harris was taking his last breaths it is implied that he was struggling, "He breathed the way a woman might in labour". When a woman is in labour she takes short and fast breaths so that it is less painful and the process seems quicker. This indicates that Harris was struggling to stay alive and trying to make it as least painful as possible. To some people it may look like Harris was more scared than what he had presented to his family. Some people may believe that Harris' death was "not a clean, humane way to die"; he was executed by cyanide.
This gas was used in the concentration camps to kill millions of Jews. By using the words 'not a clean humane…' this suggests that even though he deserved to die, Hall believes that Harris didn't deserve to die like that. I believe that Harris did deserve to suffer, because it is the suffering that makes prisoners realise what they have actually done to their victims. During Harris' execution the article says that 'he was trying to deny his victims families from seeing him suffer'. This proves to me that Harris was a fake and trying to hide his emotions; Harris only got emotional when it was him who was dying; this tells me that he only cares about himself. Harris must have thought that if the families were there to see him die then they might have forgiven him. Instead, by using the word 'deny' it shows that he hasn't realised how much pain he actually caused. I believe that the families had the right to watch him be executed because they needed the justice for the death of their children.
Some people may say that everyone has the right for a private death because they believe it is more enlightened. I think that not everyone deserves to die privately because not everyone is civilised; Harris was not a civilised man. Harris said "You can be a king or a street sweeper, but everyone dances with the reaper"; these words were Harris' last before he was taken to death. I believe that Harris is saying, no matter what you made of yourself, everyone is going to die in the end and it doesn't matter how. He might have said this to the guard to tell him that he was not sorry for killing the boys and that they were going to die in the end anyway. In my opinion Harris says this as an excuse for the crimes he has committed, this makes me feel like he still hasn't realised that killing is wrong. In conclusion, Harris has paid for his crimes. This article has not changed my opinion on the death penalty because I believe that it is the best way to deal with criminals who cannot change their ways, it protects the society from these offenders.
Related Topics