"Hunting for a job" by Mc Clure Samuel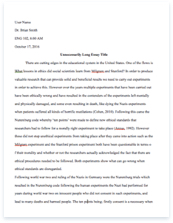 The whole doc is available only for registered users
A limited time offer! Get a custom sample essay written according to your requirements urgent 3h delivery guaranteed
Order Now
Sidney McClure (1857-1949) created the first literary syndicate and developed "muckraking," which established him as one of America's notable editors. He was born in County Antrim, Ireland, and emigrated with his widowed mother to Indiana when he was nine years old. He grew up nearly impoverished on a farm and graduated from Valparaiso High School in 1875. He worked his way through Knox College, where he co-founded its student newspaper, and later moved to New York City. In 1884, he established the McClure Syndicate, the first U.S. newspaper syndicate,[1] which serialized books. McClure created a whole new form of writing for his journalists that we still use today. Instead of demanding that his writers give him articles for his paper immediately, he would give them all the time they needed to do extensive research on their topics.
The author reached Boston, he wanted to apply for a job. When he published his first work "History of Western College Journalism" the Pope Company had given him an advertisement, he went to the Colonel Pope to ask a help with a job. The Pope said he was sorry, but they were laying of hands. "Willing to wash windows and scrub floors?" he asked. The author agreed. The narrator could learn to do everything as he went along. The text under analysis is a piece of narration. The rhythm of the narration is energetic. The arrangement of the sentences in the paragraph is by no means accidental. It is informative. The tone is optimistic. We feel a ring of irony towards the author, when he was offered to wash windows and scrub floors. The speech characterization is managed with great depth of insight. The speech is full of colloquial phrases, such as "would be all up with me", "get the words out of my mouth".
The use of direct address as the use of the second person pronoun involves the reader into the vents of the book and lends a greater generalizing tone to the passage. The story presents a simple spoken English with its main peculiarities: elliptical sentences, direct word-order in interrogative sentences, contractions, composite verbs, ready-made formulas of agreement, disagreement, surprise, etc, an abundant use of colloquialisms. The title of the story is highly symbolic and shows the author's attitude towards the main character. The main character is a young man, who had been a College editor and out of a job. The author has a firm grip on the reader's interest.
Related Topics