Human rights dilemmas facing social workers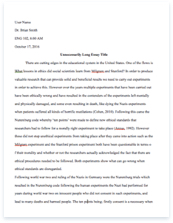 The whole doc is available only for registered users
A limited time offer! Get a custom sample essay written according to your requirements urgent 3h delivery guaranteed
Order Now
The primary objective of social work is to improve the living conditions of human beings and help them in meeting basic human needs, with special focus on people who are oppressed or those living in poverty. Social workers relentlessly work towards ending various form of social injustice such as discrimination, oppression and poverty through a coordinated effort that includes consultation, administration, policy, advocacy, social and political action, policy development and implementation, education, research and evaluation. Ethical dilemmas are quite commonly encountered by social workers during their interactions with clients, agency policies, procedures, colleagues, administrators, and organizational systems. An ethical dilemma is a predicament where a person must decide between two viable solutions that seem to have similar ethical value. An ethical dilemma can occur when a social worker has to take a moral course of action depending upon two different moral philosophies that conflict with each other.
To make changes in their lives, people assess how to meet need, recognise and manage risk to themselves and others and do this in the context of balancing often competing rights and responsibilities. Through their relationships, social workers help people analyse where they are, work out where they want or need to be, and can be the catalyst for change. The situations where social workers face some of the most complex ethical dilemas are where, for example, an intervention has to be considered that might result in a person being detained in a mental health hospital for the safety of themselves or others, advice to a Court about whether society may need protection from an offender, or where a child and parent should live apart to prevent harm. In each of these situations the social worker has responsibility to the person, their family and the community, the legal system in which they work, their employer, and to themselves as a professional with values and integrity.
Moral Dilemmas
DASARTHA'S CHOICE
"'You have promised me the granting of two boons, and you have sworn to it in the name of Rama — your darling son Rama. And now I'll speak out my mind. If you reject my demand, you will be the first of the Ikshvahu race, proud descendents of the sun god himself, to go back on a promise for the sake of convenience.' She took breath and demanded…" (from Valmiki, trans. R.K. Narayan) Moral Dilemmas
The Role of Dharma
Definition
Dharma is defined as:
good and righteous conduct in performing your life's roles performing your role correctly given a certain situation and time Dharma is a major concept in Hindu culture. It is a complex idea of cosmic moral order underlying all existence. Correct actions reinforce this moral order, are acceptable to the gods and bring auspicious consequences. Actions that are not right violate dharma and bring personal, and sometimes cosmic, suffering. Therefore, the moral choice for a Hindu is doubly important. Bad actions (incorrect choices) can not only harm those who make these decisions, but they can actually trigger cosmic tragedies like floods and droughts. Good actions bring cosmic harmony; bad actions bring cosmic suffering.
Introduction
The following five lessons will give substance to the discussion of moral dilemmas in the Ramayana. Each character faces a distinct dilemma in which he must make choices most in line with righteous behavior. The correct choice depends on principles, circumstances, and individual personality. It is not easy to act according to dharma; thus the dilemmas the characters face present thought-provoking problems. Dasaratha's Choice
Dasaratha, king of Ayodha and Rama's father, has to choose between a promise he has made to his son or a promise made to his wife. >> go to this lesson
Lakshmana's Loyalty
Lakshmana, brother of Rama, must decide to stay and protect his sister-in-law or to save his brother's life. >> go to this lesson
Rama Chooses Sides
Rama has to decide whether to follow through on a hasty promise to support the younger brother, Sugreeva, against his older brother, Vali, in a battle to the death. >> go to this lesson
Hanuman Burns Lanka
Hanuman, monkey general and devotee to Rama, is faced with the decision to punish the city of Lanka, both the innocent and the guilty, or to flee without harming anyone. >> go to this lesson
Sita's Ordeal by Fire
After Sita returns from being held captive in the home of the evil Ravana, Rama must decide whether to accept her back or to put her through a trial by fire to prove her chastity. >> go to this lesson
Ethical Dilemma – GitaaHelpline A-Z
BY
SOWMYA
– APRIL 28, 2010POSTED IN: HELPLINE
What is an Ethical Dilemma? Any situation where we need to make decisions which put us in a "Catch 22″ situation with respect to our need to act Vs our moral / ethical values can be called an Ethical Dilemma. How does one deal with Ethical Dilemmas in life? Is there a way we could resort to the time tested wisdom that is embedded in the teachings of the Bhagavad Gita to deal with this? Let us step back a bit to see what Ethical Dilemma is all about.
Examples of Ethical Dilemma..
Is Honesty a Best Policy? – If you have to break the news to an ailing mother that her son had a serious accident – Is Honesty the best Policy? Or, if you are a salesman who has to make a living plugging a product that you are not too sure is good, can you expect to sell anything by telling your customer the truth? Can I put others before Myself? – If I am a Pilot of an aircraft that I know is going to crash and there is one parachute and very little time, do I make an announcement or try and jump out? Or, does the CEO of a company that is losing big time sell their stock options before the markets get to know and tank?? Is All fair in Love & War? – In many movies we see the hero and his best friend are in love with the same girl – What should the hero do? In real life, should some one sacrifice his love or his friendship? Can there be a free lunch? – If you are the waiter in a restaurant and a poor kid comes and eats there but doesn't have enough money to pay the bill, should you let it go unnoticed if no one else has seen it?
Impact of Ethical Dilemma
Not all Ethical dilemmas need to lead to severe emotional stress. However, in some situations, depending on the type of dilemma and the seriousness of the impact, these can lead to very severe mental trauma. One has to accept that ethical dilemmas are per se inevitable and a part and parcel of life. However, emotional trauma can be reduced or eliminated in the way one deals with Ethical dilemmas. Insights from the Gita..
The very first chapter of the Bhagavad Gita can be called "Arjuna's Ethical Dilemma" since Arjuna the warrior was confronted with two choices in the battlefield, neither of which was acceptable to him. He could not reconcile to the fact that his cousins and his elders and teachers who had been unfair to his family needed to be killed at all. He asks Krishna in anguish "What use is the kingdom and the pleasures of this world, if the price to pay is so high?" The rest of the Bhagavad Gita lays out to Arjuna how to deal with this Ethical dilemma.. Defining the Role: Arjuna is made to realize that his role was that of a warrior in a battlefield. Just as a policeman cannot have compunctions if he has to kill a dangerous terrorist, even if he was his own brother, Arjuna too was required to play his role for the better "social good". Cutting to Size: Krishna puts Arjuna's task in perspective and cuts him down to size, so to say!. Arjuna is shown that he is no more than a cog in a wheel which would anyway roll and it was upto him to either be part of it or not. Often times, our problems assume larger proportions because under a cloud of megalomania, we give ourselves far too much importance in our ability to change fate.
In reality, we realize very little is under our control. An IPL without a Lalit Modi or the USA without George Bush as its president may have seemed impossible at one point in time but a stark reality at another! What really matters:When evaluating options, one needs to size up what is the impact of the choice. A pilot who is entrusted with his passengers should trust his expertise to land the plane and save the lives. The picture in this post is that of the "miracle" flight that Chesley Sullenberger landed on the Hudson river and saved 150 lives. The "miracle" is a testimonial that the Lord often provides the wind beneath the wings of a person that is doing their duty without selfish motives. In conclusion, Arjuna's Ethical dilemma of whether or not to kill his relatives caused him immense trauma. However, when he understood that his was not a war against people but against evil and injustice and was for the greater social good, it changed the situation around. So too, understanding the dilemma and seeing it in perspective and taking the guidance of an impartial counsellor or friend, can often save a person from substantial stress and mental trauma!
Related Topics