How to Write a Photo Essay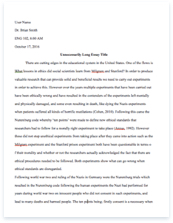 The whole doc is available only for registered users
A limited time offer! Get a custom sample essay written according to your requirements urgent 3h delivery guaranteed
Order Now
A photo is a captured moment of one's life. It is a preservation of emotions, feelings which you can understand by knowing or guessing the context. Describing a photograph in an essay is a creative task which requires student's active imaginative thinking and inspirational mood. Although this assignment is not very difficult from one side, on the other one, it can be confusing even from where to start the paper. At this article, we will help you concentrate on the photo essay and understand which information to use to make your audience interested.
What is a Photo Essay
Before you begin writing something, make sure your teacher asks you to prepare a photo essay and not something else. For this, you need to read the task description carefully and underline the keywords. There should be the words like "photo," "describe," "picture." There can be a photograph itself included in the assignment explanation. If not, the teacher may ask you to choose the picture for description.
The structure is a significant part of any photo essay. Here you have to stick to exact rules of giving the readers information at a particular paragraph. If you have never written this type of writing, our topics examples and the detailed guidelines will help you prepare a top-notch work.
Photo Essay Topics
Sometimes teachers give open tasks where students can select the topic. It is an excellent opportunity to show your talent and creativity. The primary thing is to stick to the subject which you have been studying during that course. It should have a relation to this aspect. For example, if it is Literature, write about your favorite writer or book. It will show the teacher that you know how to relate your personal experience with the new materials.
If your task is not related to the exact subject, you can take any topic. Look through the following options and choose what is the most interesting for you:
The scariest moment in my life.
A day which changed my future.
The person I cannot imagine my life without.
Two contrary emotions which mix up in a photo.
The talent to capture the moment.
Finding something positive in a bad situation.
Nature is a real beauty which surrounds us.
We need to protect our world from pollution.
Keep moving on to gain success.
Family relationship is what makes us who we are.
Guidelines on Writing Photo Essays
Depending on your topic, you will be able to prepare an outline with a plan. Before you do this, examine the following guidelines which will help you structure your thoughts logically. Each paper should begin with an introduction, the main body, and ending. However, topics and subjects of discussion may slightly change this outline. That is why you have to select the problem and then begin structuring the future work.
How to Start a Photo Essay
Each beginning should be engrossing for the reader because the introduction can be compared with the first impression. You should think about the introductory sentences as if inviting your target audience to read about something special. It should motivate people to examine your paper till the end. Here you need to introduce the photo and mention what you are going to focus on. Although it is creative writing, you need to make a logical and detailed thesis statement. For example, if the picture under investigation is about something negative, you need to tell the reader that you will prove why this photo invokes such feelings. Doing this will help you be more structured and cohesive in proving arguments.
It is a good idea, to begin with describing the picture as if you are standing there in real life. This will make readers involved in the story which you will have to unfold throughout the whole paper. Make it exciting and not annoying for the target audience. Your beginning should hook the reader from the introductory sentences.
Essay Body Paragraphs
Each body paragraph should be focused on one idea which in combination with other sections prove the thesis statement. It means that you need to divide the tentative objective into several views. It is significant to devote one chapter to describing the photo in details. It should show the reader which objects and people are pictured. The next paragraph can be focused on a specific emotion which people experience when looking at the photo.
Pay attention to the inside structure of each paragraph of the main body. It should consist of a topic sentence, explanation, relevant examples and evidence. You should end with transition words which have the relation to the following idea.
Photo Essay Conclusion
When you reach the conclusion of your photo essay, you need to prove the reader that you have managed to fulfill the expectations. Do not start adding new information or description. You should paraphrase or enumerate the mentioned above examples and ideas. If you end the last sentence with some thought-provoking words, it will be a huge plus. A reader should have the impression of receiving food for thought.
Photo Essay Outline
Here we can show you an example of the simple photo essay where you can see a family.
Introduction
Short description of the people in the pic.
Explaining how pictures can show people from different emotional sides.
Thesis statement.
Main Body
Paragraph 1. A detailed description of each person.
Paragraph 2. Focusing on mimics and gestures of people.
Paragraph 3. Writing about emotions and relationship which unite this family.
Conclusion
A picture can transmit different emotions of people from the same family.
By taking pictures, people capture moments.
Photo Essay Examples
The following paragraph is an abstract from the sample written according to the prepared outline. It is a part of the third paragraph where the writer describes emotions and relationship.
By analyzing people's mimics and gestures, it is possible to identify their true feeling to each other or current mood. It is noticeable that the boy on the left is dangerous and calm meaning that he can be an elder son who takes lots of responsibility. The mother is standing between two men which explains that she feels secure in this family. Her husband holds a small daughter, and they are hugging each other tightly. It goes without saying that the father-daughter relationship is always special, and this picture proves the uniqueness of this spiritual bond between people. The family is sincere in the picture because their eyes are open and smiling. It can only determine that their relationship is close-knit and friendly.
Related Topics