How To Write A Formal Essay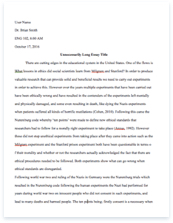 The whole doc is available only for registered users
A limited time offer! Get a custom sample essay written according to your requirements urgent 3h delivery guaranteed
Order Now
Formal Essay Definition
Every student knows that completing formal essay is one of the most popular assignments at school or college. To put it simply, the main goal of such type of writing is to inform or to persuade a reader about something. The majority of formal essays are rather short and impersonal. It is essential to keep in mind that in the formal essays, first-person pronouns are usually avoided. In addition to this, phrasal verbs should always be replaced by their simple synonyms, and full words must be used instead of the contractions. It is also better to use technical words and definitions in formal essays.
Formal essays usually explore certain subject deeply. That is why, while completing formal essays, there is a need to provide high quality peer-reviewed credible articles and other sources that could serve as a foundation for the research. Consequently, it should not be difficult for a student to write a high quality formal essay on any possible topic in case he or she remembers all essential elements that should be included in this writing.
Formal Essay Topics
Since writing formal essays is one of the tasks every student faces very often,  the topics for formal essays are endless. To come up with a good and interesting topic, students should consider many factors. First of all, the author has to understand who will read his or her formal essay to decide how to present his or her message.  For example, if a formal essay is prepared for administration of the university or a special committee, a student should pay special attention to the tone of the writing, its structure, and, of course, to grammar and punctuation.
On the other hand, if such formal essay is written for other students, it is better to decrease the number of definitions and special terminology to make the writing clear for everybody. At the same time,  to select a good topic, it is necessary to evaluate whether it is interesting and relevant. Choosing a topic that is too controversial or that suggests working with unreliable sources could result in numerous issues.
Formal Essay Structure
To complete a high quality formal essay, it is very important to follow an appropriate structure to make the writing easy to read and understand. Structuring a formal essay is one of the fundamental aspects every student should remember to complete a high-quality writing that could guarantee him or her a high mark. A good structure of the work shows whether the student is able to present his or her thoughts in a logical manner, not trying to confuse the reader.
On the other hand, if a professor or a teacher sees that the writing lacks an appropriate structure, the chances that he or she will read it are quite low because it will be impossible to check the work that does not have any logic. Consequently, every student should keep in mind that in case he or she is interested in impressing his teachers or other readers of the work,  one must prepare a good structure for a formal essay.
Formal Essay Introduction
There is no essay without an introduction. It is the first and one of the most important aspects of every formal essay. Its main function is to present the topic in an engaging and logical way. In this paragraph, the students often provide some background information for a reader to understand the next parts of the work. An introduction also highlights the main points that will be described in this formal essay and indicates the main goal of such work.
The student should clearly describe the topic, explain why it is important in general, and why the reader could find this piece interesting. At the same time, it is better to indicate what sources did the write use while writing a formal essay to show that the analysis is based on credible references. By understanding the topic and seeing how the analysis is conducted, the reader will be more likely to read the whole paper because he or she will be interested in checking the conclusions indicated in this formal essay.
Essay Body Paragraphs
When introduction should be presented in the first paragraph of the formal essay, it is important to complete several body paragraphs to provide all necessary information within the paper. In order to understand how many body paragraphs should be added, it is essential to follow an outline the students have to come up with. Based on the topic that was selected, it is possible to understand what should be described in this paper and how many points the analysis will require. It is essential to remember that the more the better is not always the right approach.
Not all well-structured papers should be long. Here, the students should be interested in providing high quality paper and that is why writing two or three body paragraphs can be enough to explain all the important aspects of an average paper. For instance, if the topic is connected with comparing and contrasting of certain items, the students should compare something in the first paragraph, and contrast in a second paragraph. On the other hand, if the student has to examine certain work of art, particular article, or any other item, he or she needs to understand the elements of analysis that could be used to focus on each aspect in a new paragraph.
Formal Essay Conclusion
The last but not the least important part of the formal essay is its conclusion. It is essential to remember that the main goal of the conclusion is not to introduce one more point in the work but to summarize everything that has been presented before. In this part, a student has to restate the idea of his or her essay and to explain why this topic was worth analyzing. It is also possible to leave the points that could be examined in the future formal essays, dedicated to the same topic.
Formal Essay Outline
To write a good formal essay, it is very important to come up with an outline that should be carefully followed. Depending on the topic, the student needs to design a plan that will help him or her to make a good structure of the formal essay and include all the important elements that should be covered within this writing.
Formal Essay Examples
It is easy to see that every formal essay example covers all aspects described above. Every formal essay should be well-structured and have an introduction, several main body paragraphs, and a solid conclusion. It is important to remember that such structure can be applied to any topic that is required. For instance, if a student has a task to complete a research explaining the advantages and disadvantages of social media usage, he or she needs to develop a great outline first. Then, based on this outline, it will be easier to create a good introduction to present a thesis statement.
Likewise, if a student needs to describe advantages and disadvantages for a particular topic, he or she has to present them in different paragraphs. To illustrate, it is possible to list and explain the advantages first, and then highlight all the disadvantages. After these paragraphs, the student should also provide his or her point of view and to explain it. In the end, of course, there is a need to develop a good conclusion that would summarize the whole paper, mentioning the most important points.
Related Topics