How to Write a Diagnostic Essay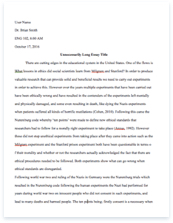 The whole doc is available only for registered users
A limited time offer! Get a custom sample essay written according to your requirements urgent 3h delivery guaranteed
Order Now
If you have just started a new course and teachers give you an assignment saying that it is only a diagnostic essay, you may begin worrying because you don't know what it is. Indeed, there is nothing to be afraid of. It is a type of writing that will not be evaluated with grades for the course. It is much easier than that which you need to prepare during the educational curriculum. At this article, you will get all the most significant information about what it means and how to write this diagnostic essay. Moreover, you can read free samples which you can use as a template for your paper.
What is a Diagnostic Essay
Before we give the definition, think about the following situation. When a new course begins at university or college, teachers don't know the educational level of pupils. Professors want to structure their presentation and the entire course depending on the amount of information which students already know. That is why they give them some tasks to see which themes are familiar and which are unknown. This information helps professor to get acquainted with students and prepare the material for the next classes.
A diagnostic essay is a type of evaluating student's level of knowledge in the specific theme or course. The main unique feature of this writing is that you don't have to perform better than usual. You need to show your real knowledge. Nobody will put you marks for this task because it should explain what you have learned. Don't try to make an impression of the most intelligent student because your teacher will find out your real level of knowledge sooner or later. Showing your actual scale at the given moment of time is your primary task.
Diagnostic Essay Topics
The easiest way to evaluate student's level of knowledge is to give them a diagnostic essay. It can be a simple topic about general things related to the theme of the course. By giving students an assignment to answer the prompt, they can show their real level of knowledge. You may receive this task on various subjects, that is why there can be lots of themes. Some can be general, while others are more specific. Here are the topics of multiple types:
What are your expectations for the course?
Can you name three rules for effective communication?
The most exciting thing to do in your local community.
Migration — problem or solution?
The most influential technological break-through in XXIst century.
How to bridge current generation gap?
Ecological disaster is a problem for each of us.
Changes of moral values in contemporary family relationships.
Art or science?
What is your motivation for studying?
Good Topics for Diagnostic Essay
Describe what you have learned from the most exciting lesson you have ever had in the university.
How is our education changing?
Theory or practice?
Describe an ideal lesson which you had in the higher educational institution. Why was it special?
What is going on the market scale right now?
What do you think about the blockchain technology?
The significance of Human Resource Management in the contemporary IT companies.
What is the next step towards new technological revolution?
What do you know about the phenomenon of blockchain?
Name three factors which influence your success at university.
Diagnostic Essay Samples
There is an abstract of a sample about reading and the influence of this activity in student's life. By giving this diagnostic essay, the teacher will understand how students are interested in reading literature and other scientific materials.
Essay prompt: "Explain why you like reading or why not."
"I adore reading because it enables me to focus on the unfolding plot and get away from the difficulties and hurdles which surround us in the real world. Criminal stories, fiction, action, and adventure are in the list of my favorite types. They make me involved in the interwoven plots and unusual events that I virtually picture myself as a protagonist or somebody important among characters. Moreover, reading is an excellent means of getting away from it all. I unwind from problems, routine, and this gives lots of precious inspiration, energy, and motivation. I usually compare my behavior with the characters' deads. I think about what I would do if I were in their shoes. This develops my imagination. Their deeds often inspire me because there is always something meaningful and lively in what characters do.
From my perspective, reading is something like traveling. I get involved in a new previously unknown world and get acquainted with new people. Although I don't know this characters and they can be even fictional, they become my friends just like natives walking along the streets and waving me hello. Reading is my hobby and escapism. I feel refreshed after finishing analyzing stories because they are like people — lively and inspiring."
Related Topics