How to Maintain a Healthy Lifestyle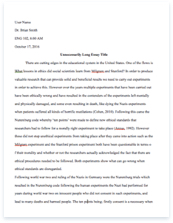 The whole doc is available only for registered users
A limited time offer! Get a custom sample essay written according to your requirements urgent 3h delivery guaranteed
Order Now
The problem with maintaining a healthy lifestyle is not having the right resources and or not keeping up with a plan to stay healthy. Maintaining a healthy lifestyle is important because it can create a longer lived and more fulfilled life. Paying close attention to your health starting out at a young age will have major effects on your health in the future. It should be a top priority when it comes to how you live and everyday life. The problem in today's world is that we have too many unhealthy options. Whether it being food or the decision to drive somewhere instead of walk. There are many ways in which we can change our daily lives to facilitate change. Parents play a large role in the lifestyle of their children. They impact the way we live our daily lives. We tend to pick up the same habits our parents partake in. Talking to our parents about change should not only create a healthier lifestyle for them, but us as well. When sending us off to college they could teach their children to cook healthy meals. Another factor played in the healthy lifestyle is learning to exercise properly. Many parents send their kids to school with a car. If a parent were to send their child to college with a bike, it would have a positive impact on the desired healthy lifestyle. Another action that could help the road to a healthy lifestyle is exercising with friends.
Everyone has a competitive side to them. Friends help bring this competitive side out. When trying to live a healthier lifestyle one may say that joining a competition may help this process become easier. When competing with friends, it not only make the results more pronounced, but adds fun to the process. Another action that us students can take part in is creating a community garden. This would allow for social time, along with a healthier eating option. If we take the initiative and talk to our parents and friends, we can help each other become successful at living a healthy lifestyle. People we see every day play a large role in our lives. One way of creating a healthier lifestyle for college students is not by educating only the student, but the individuals that interact with them. We have had our parents raise us into who we are today. Through the years we have created a lifestyle of our own, picking up many others qualities along the way; both positive and negative. We can implement some of these positive actions into our daily lives. For example, parents talking to their children before leaving for school.
It is important to begin practicing healthy lifestyle changes as a young college student because down the road these lifestyle points will play a large role in our health down the road. If parents were to sit their kid down and explain to them how important it is to practice a healthy lifestyle now, they may have more success down the road. Parents should take control of the situation in their hands without having too much control. Instead of buying their child a car for school they should buy a bike. This would encourage the average student to ride a bike to class rather than drive. This solves multiple problems. The student will get more exercise throughout the day. Parents can also influence their child by sending healthier care packages to their children. Many parents send care packages to their children throughout the year. Instead of sending the normal candy, chips, and junk food in the care packages they can send healthy snacks. There are plenty of healthy snacks available today such as granola bars, trail mix, or even fruit. Healthy options can be unappetizing sometimes but there are plenty of healthy, delicious options available.
College life, for resident students, is a life that students live together in dorms and share their music, their ideas, their belongings, and habits. Living in a dorm is not the ideal place where healthy lifestyle habits may take place. This is where the resident advisors (RA's) can take a role in recruiting and educating the students on the importance of exercise and healthy eating while being away from home. One simple solution can include having a group volleyball match at the volleyball courts outside the dorms. It does not have to be volleyball, any physical activity can be done to encourage students to go outside and be active. This is a great way for students to take a break from studying and to move around. RA's are important, because they work with the university or college you attend and they can help advertise such activities for more involvement. Along with parents, friends equally impact our healthy lifestyle habits. As students, we have all been a part of a group activity at one point in our schooling career. Most can honestly say that group activities are more beneficial than individual activities. Everyone likes some sort of challenge.
When creating a challenge with your friends it allows for a greater result. You can encourage others to come to the gym, or diet with you. Having an individual by your side will help influence you to try harder. You can inspire others to lead a healthy lifestyle as well. If you are showing results from healthy eating or exercising more frequently many others will notice. They are all influenced by your healthy lifestyle. Others see your results and wish to have the same (2013, Hadzick). Another solution that could help with having a healthier lifestyle at school is creating a dorm garden. We know that dorm room space is limited, so focusing on growing vegetables and herbs in a small space outside your dorm can have a huge impact. When you grow some of your own food and herbs it's an easy and cheap way to have healthy food free of pesticides or preservatives. You can also have competitions between other dorms to see which dorm can grow the largest garden on campus. Having a friendly competition can only increase involvement and help promote a healthy lifestyle amongst others on campus. Plus, learning how to garden is a great hobby to pick up on and can be continued in the future.
As many campuses continue to grow, the need for dorms also increases. A great example is the University of Mount Union. Enrollment has increased drastically within the last few years and many majors have been added. When the university decides to build new dorms, they can take advice from the students and hear what they want added. A major addition to the dorms would be a full kitchen on each floor. Adding a full kitchen will give students another option when it comes time to eat. Instead of going to the cafeteria or getting fast food, they can now cook healthy meals on their own. This can be used in hand with the dorm gardens to help promote a healthy lifestyle. When students pick the vegetables and herbs that they grew, they now have a kitchen to take it too. This can also help build friendships amongst the students as they learn how to cook. If we did not take action or change our current behavior, it could result in higher risks of obesity and diseases causing death or illness. The earlier actions are made to finding ways to live a healthy lifestyle, the better. If we start making healthy decisions from the beginning, they will become habit.
On the opposite side, if we start making McDonalds runs a habit, it will be hard to break them because fast food can become an addiction. Also, this kind of food and many other fast food places are cheap and less time consuming which are beneficial factors for many of the population. "Studies have also shown that goals are easier to reach if they're specific ("I'll walk 20 minutes a day," rather than "I'll get more exercise") and not too numerous (having too many goals limits the amount of attention and willpower you can devote to reaching any single goal)" (Harvard Health Publications, 2014). If we chose to ride our bikes more often than driving places, the amount of physical activity from that could add up. If parents give their children the opportunity to drive around campus instead of walk or ride a bike, they will be spoiled by the idea and become lazy with the idea of simple exercise such as those. "Girls who walk or bike to school perform better on tests. Longer commutes were associated with higher test scores, regardless of how much exercise students got outside of school" (Bike Stats, 2014).
If college campuses provided more resources for students to make healthier decisions, it would be easier and more convincing to follow a healthy lifestyle plan. Things such as access to a kitchen at all times or a simple garden right around the area where students live could be a replacement for vending machines. If we don't have access to a kitchen or garden, we turn to vending machines or go to the nearest fast food place. "Factors that often contribute to a high BMI include insufficient fruits, vegetables and whole grains; diets high in meat and fried foods; consistent intake of high-calorie beverages like soda; and not getting enough physical activity" (Renee, 2014). Healthy living is a combination of many things, including nutrition, effort to be involved, awareness and a positive attitude. Taking care of your body and feeling pride in what you do with your accomplishments can improve your physical and mental health. To take the steps needed to accomplish a healthy life takes knowledge and effort, especially by the young. To start off now even if it's walking an extra five minutes or adding that fresh tomato to your sandwich everyday is a start.
By campuses being able to support and supply their students with resources as simple as a dorm garden could show exceptional results in everyday living. It would also take more than word of mouth to provide students with determination to want to be healthier. That is when campuses can promote healthy eating and awareness through social media and printed advertisements such as posters, pamphlets, or daily motivational quotes about health on a flyer. To go to a campus that supplies more than just knowledge but an option for a healthier way of life seems to be the transition that happens to be overlooked by many. But all it takes is just a little motivation to walk a couple extra minutes a day or take the long way back on that bike ride home. It's understandable that some resources are limited depending on the campus but there is always that healthier option in the cafeteria or healthier choice you could make on a daily basis. It's all in the will power to want to be a better you and to pick the healthier choice and build off each new accomplishment you make in confidence. "A healthy outside starts in the Inside." (Robert Urich)
References
Bike Stats. (n.d.). Retrieved November 10, 2014, from http://www.gethealthywashoe.com/bike-to-work/bike-to-school/stats.html Hadzick, Z. (2013, June 25). 3 Ways Your Healthy Lifestyle Influences Your Community. Retrieved November 10, 2014, from http://www.bodybuilding.com/fun/3-ways-your-healthy-lifestyle-influences-your-community.html Harvard Health Publications. New Releases. (n.d.). Retrieved November 10, 2014, from http://www.health.harvard.edu/newsweek/Why-its-hard-to-change-unhealthy-behavior.htm Renee, Janet. What Are the Effects of an Unhealthy Diet? (2014, April 6). Retrieved November 10, 2014, from http://www.livestrong.com/article/200742-what-are-the-effects-of-an-unhealthy-diet/
Related Topics