How free were Blacks in North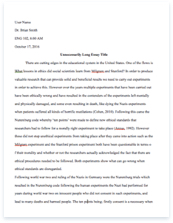 The whole doc is available only for registered users
A limited time offer! Get a custom sample essay written according to your requirements urgent 3h delivery guaranteed
Order Now
"I had reasoned this out in my mind, there was one, I would have the other." Stated by a freed Northern slave in his journal. The civil war affected the course of America and changed the World we know today. With the effect of slavery thousands of African Americans were outlawed into slaves across United States. With civil war storm clouds building, blacks did anything to be free by running to the free lands of so called "equality." Many took a route called the Underground Railroad to the North lands. People thought that the North was free and equal but wasn't so. The outcome of ex-fugitive slaves in the North wasn't great. Through segregation and inequality, the blacks were restricted in North. They had no political freedom or the right to vote or be in politics. The freedom of sociality and independence or social freedom. The freedom of business and work of such trade as economic freedom. The belief of religion and worship. The blacks in North were not equalized of humanity.
"That equality is not a choice , it's a right," stated by Abraham Lincoln. A black person's life affected by his work and business of economics, his freedom of political parties and votes, the way of praise and religion of God, but most importantly his freedom of speech and independence of society and life. The blacks in South may have faced hard times, but a question among us all in 1860s. How free were free Blacks in the North? The U.S. Constitution which was established in 1777 was very successful in the foundation of America. However political freedom conflicts of segregation tore apart politics. Blacks in North were vetoed against voting and making decisions that would affect their lives and careers.
The Constitution outlawed blacks of any role in the Senate and any part of politics as whole. As stated by Charles Mackay, "-had no right to share with us (whites) the deliberations of the jury box…" No such judiciary right was given among any black man or women. The blacks faced a prejudice of any political freedom of mankind. It was a democracy of a such republic. Many were facing a such capitalism among government in North. The restrictions of political rights and freedom changed the format of politics and the way of government across the world.
After the Industrial Revolution, economic changed the world of business. The interchange of commerce and work affected the rights upon us all. Blacks struggled in North to get work and find decent jobs. Blacks were segregated off from working with whites and could only get jobs that weren't associated with whites. Found in Charles Andrews letter; "…Why should I strive hard and acquire all the constituents of a man if the prevailing genius of the land admit me not as such, or but in an interior degree." Blacks schools were open to attend but however no businesses or economic jobs. "Drudgery and servitude then are my prospective portion. Can you be surprised at my discouragement?" With huge economic growth upon the U.S., business and jobs increased and so did money. Free enterprise would shape the world we would know today.
Thus economical freedoms contribute to a world of industry and money. "Shall religion be pronounced by the color of your skin?" Religion was one of the top reasons for migration in the 1700s. But in 1859 religion was changed abnormal and unbalanced. Religion was an important aspect to everyone in 1800s. Blacks were discriminated by tone to segregated religion. African Americans were forced to their own religion and could not attend white churches of worship. Blacks couldn't have a source of religion so they made their own community cathedrals. Worship was important but it was another inequality faced by African Americans in North. "One and god make a majority," said former president Andrew Jackson. The freedom of religion and belief of society changed the way of worship and praise of America as we know it as today.
"The freedom of self, the equality of human, the independence of mind, and the right of heart." Quoted by Thomas Jefferson in 1818. 'How free were free blacks in North' all depended on sociality. The lives of blacks were so complicated and restricted from normal human in North. Although ex-fugitive slaves in North could not be bought or sold, they were forbidden to associate with whites. "We are of another race, and he is inferior. Let him know his place and keep it." Stated again by Charles Mackay. Restrictions of blacks included not doing things with whites in such manner. The most important cassette of life and humanity. Social rights affected the phase of civil life in the America. The freedom of society commenced by a declaration would change the way of life and living forever.
The way of life changed upon the effects of freedom. "For to be free is not merely to cast off ones chains, but to live in a way that respects and enhances the freedom of others." Quoted by Nelson Mandela. Through the struggle of political, economical, religion, and the most desired social freedom, the civil war ended in 1865 and America bounded for prosperity as a whole again. After the Emancipation Proclamation, free blacks in North and South were finally free at last. The challenge brought forward and faced by Northerner ex-slaves would bring an outcome no greater. The freedom in North was limited of freed slaves and blacks all over. Which comes to say: "Is Freedom anything else than to live as a wish? Nothing Else? –Epictetas
Related Topics