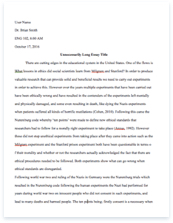 The whole doc is available only for registered users
A limited time offer! Get a custom sample essay written according to your requirements urgent 3h delivery guaranteed
Order Now
The major purpose of the study is to educate the community and provide awareness about homelessness as it ultimately has the potential to affect anyone. The study that our group would like to conduct is to examine the homeless population and the issues that surround it. As we examine the causes of homeless the possibility of preventing homelessness increases. As more is being done to get people off of the street, what is being done to prevent people from becoming homeless? Our group's efforts are to examine these issues and analyze the results through conducting a survey. Introduction
Homelessness has the potential to affect everyone and anyone. The economy continues to change and unfortunately the changes are not always for the best of individuals. These changes have the power to determine people's future for the good and the bad. It seems as though there are several programs, grants, and transitional housing available to assist those who are already homeless. As we continue to examine the homeless epidemic, it is evident that researching homeless prevention would be beneficial as it could potentially slow down the future increasing number of homeless individuals. Method
A Survey was given to 50 homeless adults, 25 male and 25 female. Among the 50 adults 16 were categorized as young adults, 18 middle aged adults, and 16 were determined elderly. The questions on the survey were determined to identify: age group, gender, last place of residence, current living status, length of homelessness, education, source of income, and substance issue. Of the 50 surveyed, the last places of residence were as follows; 6 were in the Windward area, 35 were on the West side, 8 in Central Oahu, and 2 were living on the South end of the island. The current living status of the 50 surveyed were 27 living in the streets, 11 in emergency shelters, and 12 in some form of transitional housing. The length of homelessness among the 50 were as follows: 13 were homeless for 1 to 6 months, 13 were homeless for 6 to 12 months, 17 were homeless for 1- 3 years, and 7 were homeless for more than 3 years.
Education, 10 reported having less than a high school education, 15 reported having a high school education, 23 had earned a G.E.D., and 2 had some college education. Source of income; 7 reported having no income, 12 had income from employment, and 31 reported receiving some form of government financial assistance. Substance abuse issues; 13 reported having no issues/ abstinence, 14 reported using some form of substance without impairment, 14 reported abusing some form of substance, and 9 reported a dependence on some form of substance. The survey was conducted on the island of Oahu in the four main district areas.
The areas surveyed were on the Windward, West, Central, and South parts of the island. Of the 50 surveys, 13 were done on the Windward side, 13 West side, 12 Central, and 12 on the South side. The Windward and West side both were considered to be more populated with homeless adults therefore were given an additional survey each. The surveys were issued by four of the learning team members who each surveyed a specific district. The learning team members conducted their surveys in the areas which were believed to be most heavily populated with homeless adults. On the Windward side the Waimanalo Beach Park was used as the surveyed area, Makaha on the West side, Blaisdell Park for Central Oahu, and Ala Moana Beach Park on the South side.
The following analysis was performed on the data:
Results
|Strategy (-ies) |Action(s) |Expected Outcomes |Benchmarks | |Strategy (1.1) |Action 1.1 |Gain accurate number of homeless|Help improve available services,| |Summarize available data and |Gather statewide data on target |clients |eligibility criteria, and | |resources to serve Hawaii's |population, affordable and |Find affordable and subsidized |accessibility. | |chronically homeless. |subsidized housing. |housing | | | | |Improve access information to | | | ||providers and staff. | | |Strategy (1.2) |Action 1.2 |Less people to become homeless. |With preemptive measures. | |Identify risk factors of |Agencies need to identify |Expect a large percentage of |Amend all contracts that will | |becoming homeless. |opportunities for prevention |substance abusers to be homeless|include the homeless | | |Modify reports that will include| |demographic. | | |the number of participants who | | | | |are homeless by demographics. | | | |
Strategy (1.3) |Action 1.3 |Barriers will be removed |Adopt new procedures, | |Improve access by removing all |Identify and document the |Will improve on service, |collaborate how to solve | |barriers. |barriers of accessing |resource sharing and |problem, and reach barriers. | | |information. |coordination. |Vets are taken in by Adult | | |Identify processes and share |Expand service to chronically |Mental Health Div. | | |with staff and clients on |homeless. |Job training and housing for | | |services. |More veterans will receive |homeless who are not qualified | | |Expand eligibility criteria. |services. |for other resources. | | |Increase accessibility to VA |Give timely and appropriate |Receive same day appts. For | | |services. |treatment to homeless that fall |substance treatments, medical | | |Provide standard care or more |outside of hospitalization. |clinic and mental health | | |health care need for a client. | |services. | | | | || |Strategy (2.1) |Action 2.1 |Increase rental units per year. |Obtain funding site and secure | |Housing |Develop housing projects by |Increase availability of |financing. |
|Obtain affordable housing. |county that would reduce |affordable rental units. |Submit multiple applications a | |Secure and obtain permanent |competition for funds. |More homeless are housed because|year for 50+ units. | |affordable housing. |Establish disabled or homeless |of increase funding. |Submit grant applications and | |Implement a collaborative model |rental units that are |More units are affordable |other financing tools to assist | |to secure and support services |County-owned. |because of increased resources. |workshops. | |for permanent housing. |Pursue funding for vouchers, |To accommodate the needs of the |Meet with Section 8 coordinators| | |shelter plus care, home and |clients with special needs. |on rules to create preferences. | | |
Section 8 alone with |Landlords are willing to rent to|Participate in privatizing | | |main-stream. |the homeless. |military housing. | | |Acquire information on military |More homeless will retain |Have contract signed with DHS | | |housing units for chronic |permanent housing for eight to |for private sector. | | |homeless. |twelve months. |Secure funding with private | | |Discuss discussions with HCDCH | |providers to manage the program.| | |to lease State owned rental for | |Client intervention and case | | |homeless. | |continues as needed to place | | |Provide training to staff on | |each individual in housing. | | |Section 8 properties which | | | | |include public housing with the | | | | |chronically homeless. | | |
Title: Homelessness Resolutions
Our study is to show how many people have been homeless for a year or more, what caused them to become homeless and to provide resources that can help them to find available affordable housing, a funding source to pay for housing, and maybe even training, employment or education. One of the main causes of homelessness is the lack of available affordable housing. With the prices of housing going up people are unable to afford the cost of living due to their incomes not being enough. Through a brief survey we will determine ways to help to combat homelessness in Hawaii and resources available to help people to find and maintain affordable housing.
Discussion
The purpose of our research is to gather information on what causes homelessness and resources in the community that helps people to find and maintain affordable housing. The community needs to work together to find a solution or the homelessness situation in Hawaii will never end.
Related Topics