Heart of American Values: Should DACA Have Been Touched?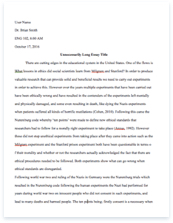 The whole doc is available only for registered users
A limited time offer! Get a custom sample essay written according to your requirements urgent 3h delivery guaranteed
Order Now
In addition, many voices were raised to say that this measure went against what makes America. The United States is culturally heterogeneous. What some consider to be true American values may be considered non-American by others. So there is, in a sense, no consensus on the values that are supposed to be the core of the American identity. In history, there has never been a conflict-free moment on the value system, or without controversy over what should be considered as truly American. However, the United States has always boasted of being the place where one realizes one's dreams and where one finds refuge. Many immigrants arrive in the United States to escape the horrors of their own country, hoping to find a better life for their family, and also to contribute to the American entrepreneurial spirit.
Removing the DACA would go against what many people see as the heart of American values, as it deprives many young Americans of the opportunity to realize their dreams. At the same time, an honest and historical reading of the United States can not ignore the role played by racism, slavery and genocide in the construction of this country. While some refuse to consider these infamous values, they are unfortunately also part of the American value system. It is not surprising, therefore, that many Americans see foreigners and non-whites with great suspicion, and that they do everything to keep them out of their country. Many Americans have fought for this since the founding of their country. We find this conflict within the Republican Party itself. Some Republicans think that DACA should not have been touched. Others believe it was necessary to get rid of it because they see it as an abuse of executive power by the Obama administration. These party members would like to see Congress take this issue to put an end to this status of 'Dreamers'.
Meanwhile, as Donald Trump claims to have contributed to strong economic growth since his arrival at the White House while making hostile remarks to immigrants, economists and business leaders warn of this policy that could have a very negative impact on the economy. With almost full employment, employers are increasingly struggling to recruit employees, particularly in sectors such as construction currently in high demand to rebuild the regions that were devastated by the hurricanes in 2017. The decision to end Daca sparked opposition from business leaders, of whom a hundred signed a petition asking the US Congress to pass a law protecting these young 'dreamers'.
Donald Trump's immigration policy, like the end of immunizing nearly 200,000 Salvadorans from expulsion from the United States, could cost the US economy by fueling a crisis in the hands of the United States. artwork. Ironically, while Salvadorans may be deported next year, the US government has warned Americans traveling to El Salvador, calling on them to be cautious about gangs, extortion, violence against drug traffickers. drugs and weapons operating in this Central American country. For Donald Trump, it's about making a commitment to his campaign. As a candidate, he promised to immediately terminate the Daca program. The businessman believed at the time that it was 'one of the most unconstitutional actions ever undertaken by a president'. But once elected, the US president seemed to distance himself from this campaign promise. He may have been sensitive to the arguments of some parliamentarians who, including on his side, have expressed reservations about a unilateral White House initiative. This is a direct consequence of the 'zero tolerance' policy against clandestine immigration introduced in April by the Trump administration. Under this new policy, any adult arrested after illegally entering the United States must now be prosecuted for a criminal offense.
Pending their appearance before a federal judge, who will decide on a possible prison sentence, the defendants are therefore detained. Hence the separation with their children who, under a 1997 court agreement, can not be detained for more than twenty days, even in the company of their parents. The decree signed Wednesday by Trump orders the Minister of Justice to seize the courts to amend the agreement of 1997, nicknamed the 'Flores settlement'. (Sean, Murray. (2018).).
Finally, the elimination of the DACA program has at least two winners. The first is Trump, who gets a small victory. He shows his supporters that he is able to keep an election promise. Moreover, the ball is now in the camp of Congress, forced to act. If he fails to find a solution, the Trump administration will be able to stick to it. The second winner is obviously the organizations that support these anti-migration policies. Research in sociology and political science shows that anti-immigrant prejudices are largely nourished as soon as one perceives cultural and political threats. Many individuals and organizations in this country cling desperately to their vision of a predominantly white, Anglo-Saxon America. They believe that immigration jeopardizes this vision. That's what makes them angry and makes them fearful.
All these people, who believe that the flow of Latino immigrants in recent decades will undermine their vision of the 'true' American culture, see the abolition of the DACA program as a victory against their designated enemy. At best, the Congress will put in place a policy that will recreate DACA broadly, and allow young people to stay in the United States. The country has recently broken its teeth on a real reform of immigration. Such changes will not happen soon, because of the growing political polarization and the legitimacy that President Trump gives to the 'nativist' movement. However, it is also likely that many local governments are fighting against the federal government's efforts to marginalize undocumented immigrants. Many elected officials across the United States are already denouncing Trump's decision and promising to protect the Dreamers.
The worst thing for these people would be that their situation is approaching the nightmare already experienced by many Latino immigrants under the Trump administration – notably because of the program 'Immigration and Customs Enforcement' which identifies and renews unauthorized migrants, including those who have absolutely committed no crime. Even though the Trump administration has publicly assured the Dreamers that only undocumented immigrants who commit crimes would be systematically targeted by deportations, there are too many cases where honest migrants are suddenly detained and deported for that this promise is taken seriously. It is clear that there are 'nativist' factions within the White House that will find it quite acceptable to deport until the last Dreamer, even though some polls show that 80% of Republicans and 75% of Trump's voters support the right to 'Dreamers' to stay in the United States.
In conclusion, the Daca has long been the target of US conservatives, who argue that illegal immigration is causing Americans to lose jobs. For the first concerned, the consequences could vary according to this new device. In the worst case, the dreamers could end up without a work permit from next year and live again in fear of the raids of the immigration services. The Daca has long been the target of US conservatives, who argue that illegal immigration is causing Americans to lose jobs. In fact, Donald Trump's policy is so opaque and disorganized that nobody seems to know if, when, where and on what conditions a child can find his family. Officially, the federal agencies involved in the process ensure that families can be reunited, either to be deported at the same time or to wait together for consideration of a possible asylum claim.
The Daca program is also vigorously defended by a broad coalition that includes the Democratic opposition, some Republicans, and many business and professional leaders. Among these supporters, Republican House Leader Paul Ryan and Florida Republican Governor Rick Scott. Both men advocate that the program be preserved in one way or another. It goes without saying that the announcement, in addition to terrifying key stakeholders, divides the country.
Related Topics