Hazards & Risk In The Construction Industry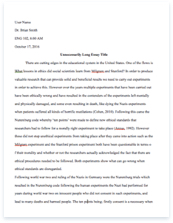 The whole doc is available only for registered users
A limited time offer! Get a custom sample essay written according to your requirements urgent 3h delivery guaranteed
Order Now
The Occupational Safety and Health Administration (OSHA) enforces regulations that aim to keep workplaces safe for employees and to also provide a safe and hazard free worksite. When you go to work each day, you should be able to trust that your work environment is safe and that you will not suffer harm. According to OSHA some jobs are more dangerous than others; however, this means that certain types of workers sustain injuries on the job on a regular basis. More than not, most work-related injuries are recorded and considered to be minor, even though sometimes they may be catastrophic or even fatal. In fact, OSHA reported that 4,405 employees were killed at work in 2014, which translates that approximately 12 workers died each day in the construction industry which translates into around 144 deaths yearly. As we are educated in SH&E training, it's understood that one death or fatality is one to many; this number of 144 deaths per year needs to and can be drastically reduced by understanding the injuries and illnesses that frequently occur on construction job sites. Some of the most dangerous jobs are ones in the construction industry.
Referring to OSHA recordkeeping an estimated 20 percent of all workplace fatalities involved construction workers. Also additional data shows that around about four out of every 100 workers in the construction industry suffers a non-fatal injury on a yearly basis. At times, these injuries occur merely due to accidents that have arose from numerous possibilities from experience, bad communication, improper training, taking short cut, using improper tools etc… these causes have been identified after countless incident investigations and educational awareness about safety. However, there are occasions in which preventable injuries are suffered due to dangerous conditions on the locations of the job site. In most situations, injured workers will have the opportunity to recover physically, mentally and financially through systems such as workers compensation and rehabilitation facilities for the losses they sustained due to their injuries. Construction workers face daily obstacles and hazardous environments such as unstable ground & structures, heights, heavy machinery, building materials etc….
The ten most frequent construction accidents include the following listed in frequency order: Falls – Workers often must work on ladders, scaffolding, on roofs, in high windows, or other significant heights. The risk of falling is high and falls are the most common cause of construction worker fatalities. Training and understanding fall protection is a good way to help reduce this type of injury. Being struck by an object – Because individuals work at various height levels on a construction site, it is not uncommon for building materials, tools, or other heavy objects to fall and hit workers standing below. This is why all employees on the worksite must wear hard hats for protection from falling objects. Caught between materials – Construction sites often have large pieces of building materials swinging from cranes or other large machines, as well as large moving vehicles. In certain accidents, construction workers can become trapped between a structure and another heavy object, which can cause serious injury or death.
Electrocutions – Many sites have electrical systems in various states of progress and this includes electrical systems that are as of yet unfinished. Exposed wiring, wires that are not grounded, and similar circumstances can cause harmful electrocutions. Motor vehicle accidents – Many construction sites exist to repair highways or roads. In such cases, there is often traffic passing by the site while workers are present and it is common for a worker to be struck by a passing vehicle. Explosions and fires – Fires and explosions can occur on construction sites due to many factors, including leaking gas, unfinished electrical systems, unfinished pipes, and more. Construction workers can suffer severe burns and other injuries in the case of a fire-related accident. Accidents involving machinery – As previously mentioned, construction workers operate a lot of heavy machinery and tools on a regular basis.
Jackhammers, bulldozers, nail guns, and other machines can cause serious injuries in the event of an accident. Ground collapses – The ground of a construction site is often unstable due to digging and lack of foundation. Large holes (excavations) or trenches can collapse as a worker is inside of them and can cause them to be buried, suffer a lack of oxygen, or even suffocate. Slip and fall accidents – Construction workers can slip, trip, or fall for various reasons, including debris on the ground, uneven or unsecured flooring materials, holes, and other hazards. Overexertion – Because construction sites are often outdoors, workers are exposed to the elements including heat and humidity. Such weather conditions combined with long hours and heavy labor can cause workers to suffer heat stroke or other exertion-related injuries.
In conclusion it's very important to understand these incidents that are responsible for injuries or fatalities in the construction industry. By knowing these hazardous and the frequency in which they are occurring, it should give SH&E professionals the necessary information needed to analysis and develop new methods in order to reduce the number of injuries that occur. It is a lot more efficient to fix or improve the consistency of a hazard at the rate a specific injury happens if SH&E professionals know what they are looking for.
Related Topics