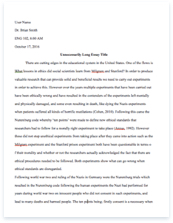 The whole doc is available only for registered users
Pages: 33
Word count: 8029
Category: Business
A limited time offer! Get a custom sample essay written according to your requirements urgent 3h delivery guaranteed
Order Now
From this information, Sainsbury's can evaluate who they can recruit and where they will place advertisements, in Job Centres, newsagent windows, local newspapers i.e. Bracknell News
Also if they want to attract students to work in Sainsbury's they can inform schools and colleges of work opportunities at Sainsbury's
The information gathered also of people's ethnic groups and religious beliefs so they operate programmes about equal opportunities.
However, Sainsbury's don't know how up-to-date this information is so they will have to be cautious when using this information when coming to decisions about recruitment for example.
Also, when designing application forms, Sainsbury's must think about different languages to appeal to people of different origin, when planning the application forms.
Labour Turnover
Employee wastage rate
Wastage rate = No. of staff leaving in a time period x 100 (%) Average no. of staff employed in a time period
Labour Stability rate
Stability index = No. of staff leaving with more than 1yrs service
No. employed 1 year ago
Supply and demand of labour
If supply exceeds demand:
* Plenty of candidates available.
* Wages will be lower
* Benefits are reduced
* Low level recruitment campaign
* Staff attracted easily
* Careful selection methods used.
If demand exceeds supply
* Few applicants available
* Higher wages offered
* Benefits increased
* Recruitment campaign targeted at specific candidates
* More lengthy interview/selection process
* Discussion of career progression.
Internal labour market
Vacancy is filled by training & promoting staff to a higher post
To fill a vacancy from external sources
Needs to assess the external climate of the market
The external climate changes and due to national and local, social and economic changes:
* Established firms close down, putting more people back on the job market
* New firms open, taking people out of the skill base in the locality
* New housing developments are completed which bring in new residents and potential employees.
The external labour market for any organisation is made up of potential employees locally, regionally, nationally who has the skills and experience required at a particular time. There are a range of factors that affect the size and nature of these labour markets.
Activity 3: Recruitment and Selection
Methods of Recruitment
Recruitment is an important part of a business' human resource planning.
In all businesses, people are a vital resource – and they need to be managed as such.
Recruitment Process:
* To attract the most suitable candidate.
* Does the vacancy need to be filled?
* Yes – proceed with recruitment.
* No – adjust staff allocation.
The overall aim of the recruitment and selection process is to obtain the number and quality of employees that are required in order for the business to achieve its objectives.
1st action;
Job description
A job description sets out the purpose of a job, where the job fits into the organisation structure, the main accountabilities and responsibilities of the job and the key tasks to be performed.
A job description has four main uses:
Organisation – it defines where the job is positioned in the organisation structure. Who reports to who.
Recruitment – it provides essential information to potential recruits (and the recruiting team) so that they can determine the right kind of person to do the job (see person specification)
Legal – the job description forms an important part of the legally-binding contract of employment
Appraisal of performance – individual objectives can be set based on the job description
Contents of a Job Description
The main contents of a job description are:
– Job Title: this indicates the role/function that the job plays within an organisation, and the level of job within that function (e.g. Finance Director would be a more senior position than Financial Accountant – although both jobs are in the "finance department")
– Reporting responsibilities: who is the immediate boss of the job holder?
– Subordinates; who reports directly TO the job holder?
– Main purpose – who is involved in the job overall
– Main tasks and accountabilities: description of the main activities to be undertaken and what the job holder is expected to achieve (e.g. in the case of the Management Accountant, this might include "Complete monthly management accounts by 10th working day of each month and prepare report on all key performance variances")
– Employment conditions
2nd Action; Personal specification
A personal specification describes the requirements a job holder needs to be able to perform the job satisfactorily. These are likely to include:
– Education and qualifications
– Training and experience
– Personal attributes / qualities
A job description describes the job; a personal specification describes the person needed to do the job. A personal specification can, therefore, form the basis for the selection of the most suitable person to fill the job.
The most common approach now used by recruiters is to use what are known as "competencies" to design the personal specification. These are then classified as "essential" or "desired" to determine which are most important.
Competencies might include some or all of the following:
– Physical attributes (e.g. state of health, aged, speech)
– Attainments (e.g. highest level of education completed, relevant market experience, ability to supervise/manage)
– Aptitudes (e.g. verbal reasoning; numerical aptitude)
– Interests (social activities; sporting activities)
– Personal circumstances (e.g. ability to work shifts; full or part time)
Personal specifications have to be prepared and used with great care. In particular, it is important to ensure that the list of essential or desired competencies does not lead to unlawful discrimination against potential employees.
3rd Action; Prepare Recruitment method
Internal recruitment
This refers to the filling of job vacancies from within the business – where existing employees are selected rather than employing someone from outside.
A business might decide that it already has the right people with the right skills to do the job, particularly if its training and development programme has been effective.
Internal vacancies are usually advertised within the business via a variety of media:
– Staff notice boards
– Intranets
– In-house magazines / newsletters (for example, E-map, a major publishing business) have a weekly staff magazine devoted solely to advertising jobs within the organisation!
– Staff meetings
Advantages of internal recruitment
– Gives existing employees greater opportunity to advance their careers in the business
– May help to retain staff who might otherwise leave
– Requires a short induction training period
– Employer should know more about the internal candidate's abilities (= a reduced risk of selecting an inappropriate candidate)
– Usually quicker and less expensive than recruiting from outside
Disadvantages of internal recruitment
– Limits the number of potential applicants for a job
– External candidates might be better suited / qualified for the job
– Another vacancy will be created that has to be filled
– Existing staff may feel they have the automatic right to be promoted, whether or not they are competent
– Business may become resistant to change; by recruiting from outside, new perspectives and attitudes are brought in
External recruitment
This refers to the filling of job vacancies from outside the business (contrast with internal recruitment). Most businesses engage in external recruitment fairly frequently, particularly those that are growing strongly, or that operate in industries with high staff turnover.
There are several ways of looking for staff outside the business:
Employment / recruitment agencies
These businesses specialise in recruitment and selection. They often specialise in recruitment for specific sectors (e.g., finance, travel, secretarial). They usually provide a shortlist of candidates based on the people registered with the agency. They also supply temporary or interim employees.
The main advantages with using an agency are the specialist skills they bring and the speed with which they normally provide candidates. They also reduce the administrative burden of recruitment. The cost is the high agency fees charged – often up to 30% of the first year wages of anyone employed.
Headhunters / Recruitment Consultancies
"Upmarket" recruitment agents who provide a more specialised approach to the recruitment of key employees and/or senior management. They tend to "approach" individuals with a good reputation rather than rely on long lists of registered applicants – often using privileged industry contacts to draw up a short list. The cost of using a headhunter or recruitment consultant is high.
Job centres
Government run agency – good for identifying local candidates for relatively straightforward jobs. The job centre service is free to employers and is most useful for advertising semi-skilled, clerical and manual jobs.
Government Funded Training Schemes
There is a variety of government funded schemes that provide potential recruits, including the New Deal and Modern Apprenticeships. The advantage of these schemes is that government funding lowers the cost of employment and the business can get to know the employee before committing for the long-term. However, relatively few employment requirements are covered by these schemes.
Advertising
Probably the most common method used. Advertising allows the employer to reach a wider audience. The choice of advertising media (e.g. national newspaper, internet, specialist magazine etc) depends on the requirement for the advert to reach a particular audience and, crucially, the advertising budget.
Advantages of external recruitment
These are mainly the opposite of the disadvantages of internal recruitment. The main one being that a wider audience can be reached which increases the chance that the business will be able to recruit the skills it needs.
Sainsbury's use CVs to get a rough idea of the person's qualifications and their personal information and also experience, before they make the decision to whether or not interview them. The letter of application will be sent to the employer with the CV and this introduces the person to the organisation, it is very important that it is very well presented because if not Sainsbury's will not even consider
Changes in HR Planning
There are many things that a HR manager has to be aware of in planning for the future.
e.g.
Changes in business size:
– growth
– Downsize; reduction in number of staff through redundancy.
– Delayering; removal of a layer of management – that reduces the cost of middle management.
Shifts in products and markets:
– Affect the balance and number of staff.
Introduction of new technology
– Machine doing jobs
– New skills needed
Regulation and Government, legislations and policies
– Need to include notes on employment laws
Economic situation
– This is applicable for changes in the UK and elsewhere the world, e.g. Exchange rates.
Sainsburys Supermarkets wanted to launch a 'Leaders of Tomorrow' cross functional graduate recruitment programme to attract high calibre graduates and fast track them through the business.
In order to position the graduate programme effectively, Sainsbury's commissioned Capital Resource Consulting to undertake a full review of the existing schemes, and expectations for the new scheme. CRC therefore assisted Sainsbury's in their graduate recruitment strategy review, helping Sainsbury's create and execute a fast-track graduate recruitment scheme.
The review focussed on suggestions to position the graduate programme effectively, both internally and externally and to create graduate brand definition and position Sainsbury's as a graduate 'employer of choice' by improving the external marketing and promotion of the scheme.
Following the research undertaken it became apparent that the current Graduate programme was not recognised equally throughout the business. There were inconsistencies across every element of the recruitment and development programme. The quality of each functional programme depended entirely on the interest of the responsible managers and the initiatives they had put in place
Activity 4 – Training and Development
Training and personal development is an important method for a business to improve the performance of employees.
Training starts with a strategy
It is important that a business provides training that is consistent with the business strategy. The main steps in developing a training strategy are to:
– Identify the skills and abilities needed by employees;
– Draw up an action plan to show how investment in training and development will help meet business goals and objectives;
– Implement the plan, monitoring progress and training effectiveness
Benefits of training to a business
The main benefits to a business of a well-trained workforce are:
– Better productivity (and, therefore, lower production / operating costs)
– Higher quality
– More flexibility – training helps employees develop a variety of skills. Multi-skilling is only possible if the workforce is well trained
– Less supervision – lower supervision and management costs if employees can get on with their jobs. This might also improve motivation – through greater empowerment
– More successful recruitment and employee retention – businesses with a good reputation for training are likely to find it easier to attract good quality staff – and then keep them
– Help in achieving change – businesses with strong training systems and culture find it easier to implement change programmes
it is tempting to think that training is the solution to many if not all business problems. However, there are some things that training can rarely solve: these include:
– Poor management (although management training might help!)
– Poor job design
– Ineffective or inefficient equipment, production organisation
– Recruitment
Ideally training should be seen as an investment in the future of the business. It takes time for the effects of training to impact business performance.
Some businesses are reluctant to spend on training because:
– They fear employees will be poached by competitors (who will then benefit from the training)
– A desire to minimise short-term costs
– They cannot make a justifiable investment case
External training – off the job
Off the job training involves employees taking training courses away from their place of work. This is often also referred to as "formal training".
Off the job training courses might be run by the business' training department or by external providers.
The main types of off the job training courses are:
– Day release (where the employee takes time out from normal working hours to attend a local college or training centre)
– Distance learning / evening classes
– Revision courses (e.g. in the accountancy profession, student employees are given blocks of around 5-6 weeks off on pre-exam courses)
– Block release courses – which may involve several weeks at a local college
– Sandwich courses – where the employee spends a longer period of time at college (e.g. six months) before returning to work
– Sponsored courses in higher education
– Self-study, computer-based training (an increasingly popular option – given that attendance at external courses can involve heavy cost)
Advantages of off-the-job training:
– Use of specialist trainers and accommodation
– Employee can focus on the training – and not be distracted by work
– Opportunity to mix with employees from other businesses
Disadvantages of off-the-job training:
– Employee needs to be motivated to learn
– May not be directly relevant to the employee's job
– Costs (transport, course fees, examination fees, materials, accommodation)
In-house training – On the Job
As the name implies, on the job training involves employees training at their place or work.
The most common methods of on the job training are:
– Demonstration / instruction; showing the trainee how to do the job
– Coaching – a more intensive method of training that involves a close working relationship between an experienced employee and the trainee
– Job rotation – where the trainee is given several jobs in succession, to gain experience of a wide range of activities (e.g. a graduate management trainee might spend periods in several different departments)
– Projects – employees join a project team – which gives them exposure to other parts of the business and allow them to take part in new activities. Most successful project teams are "multi-disciplinary"
Advantages of on the job training
– Generally more cost effective
– Less disruptive to the business – i.e. employees are not away from work
– Training an employee in their own working environment, with equipment they are familiar with and people they know can help they gain direct experience to a standard approved by the employer
– Employees may find that they have more confidence if they are supervised and guided as they feel they are doing the job right
– Employees may feel more at ease being taught or supervised by people they know rather than complete strangers at an external training course
– Managers or supervisors can assess improvement and progress over a period of time and this makes it easier to identify a problem intervene and resolve problems quickly
– On the job training is also productive, as the employee is still working as they are learning
– As training progresses and the employee begins to feel more confident, this confidence would allow them to work at a higher standard and ultimately be more productive
– Training "on-the-job" provides an opportunity to get to know staff they might not normally talk to
Disadvantages of on the job training
– Teaching or coaching is a specialist skill in itself; unless the trainer has the skills and knowledge to train, this would mean that the training will not be done to a sufficient standard
– The trainer may not be given the time to spend with the employee to teach them properly, which would mean substandard training has been achieved and learning has only been half done
– The trainer may posses bad habits and pass these on to the trainee
Induction training
Induction training is training given to new employees.
The purpose of the induction period (which may be a few hours or a few days) is to help a new employee settle down quickly into the job by becoming familiar with the people, the surroundings, the job and the business.
It is important to give a new employee a good impression on the first day of work. However, the induction programme should not end there.
It is also important to have a systematic induction programme, spread out over several days, to cover all the ground in the shortest effective time.
Devising an effective induction training programme
The induction programme should be drawn up in consultation with all those involved. Depending on the size and complexity of the business this may include:
Senior management (including directors)
Supervisors or line managers
Personnel officers
Health and Safety managers
Employee or trade union representatives
Usually induction involves the new employee meeting and listening to different people talk about aspects of the business.
Other methods include written information, audio visual aids and group discussion.
The following items should be covered in an effective induction programme:
Introduction to the business/department and its personnel/management structure
Layout of the buildings (factory / offices)
Terms and conditions of employment (explaining the contract of employment)
Relevant personnel policies, such as training, promotion and health and safety
Business rules and procedures
Arrangements for employee involvement and communication
Welfare and employee benefits or facilities
Government assistance
There are various resources available from the UK government to help businesses train their employees.
The Learning and Skills Council funds and plans training for over 16-year-olds in England – they are responsible for:
Work-based training and young people
Workforce development
Adult and community learning
Information, advice and guidance for adults
Education business links
There are two main ways in which UK businesses can get help with training employees:
Modern Apprenticeships and National Training Awards are designed by National Training Organisations to meet the special skills needed in different employment sectors and offer employers direct access to high calibre young people training towards National Vocational Qualifications (NVQ) levels 2 and 3 respectively.
These schemes cover traditional skills sectors such as engineering and construction as well as business administration, retail, banking and information technology.
Modern Apprenticeships offer people aged over 16 the chance of paid employed linked with the opportunity to train for jobs at craft, technician and management level.
National Training Organisations ceased to be recognised by the UK government in 2002, although most still operate.
The Sector Skills Development Agency (SSDA) now operates, running a network of Sector Skills Councils (SSC's). Sector Skills Councils are developed by employers in industry or business sectors of economic or strategic significance and involve trade unions and professional bodies.
The key goals of SSC's are to:
Reduce skills gaps and shortages and anticipate future needs, through leverage on the supply side, and help employers and individuals to make informed career and personal development choices
Improve productivity, business and public services performance through specific strategic actions based on analysis of sectoral priorities
Increase opportunities to develop and improve the productivity of everyone in the sector's workforce, including action to address equal opportunities
Improve learning supply, including the development of apprenticeships, higher education and of national occupational standards.
Individual employees can get financial help for training with a Career Development Loan.
A Career Development Loan is a deferred repayment bank loan which a person can take out to help cover the costs of vocational education or training.
The loans are available to everyone aged 18 or over resident in Great Britain (England, Scotland and Wales) or intending to train in Great Britain and who, on completion of their course, will work in the UK, the European Union or the European Economic Area countries of Iceland, Liechtenstein or Norway. Non-EU nationals, who are not permanent residents of the UK may also apply for a loan after getting Home Office approval to study, train or work in the UK, but they are unlikely to qualify if there are any restrictions to their stay in the UK.
A person may borrow from 300 to 8,000 to fund two years of training, or three years if the course includes work experience. During this time interest payments on the loan will be made by the Department of Education and Employment, and no repayment need be made until a month after training is completed. On completion, a repayment timetable is agreed with the bank and a fixed rate of interest charged.
The loans can be used to fund any full-time, part-time or distance learning vocational course, and if the course is over two years long, or three years with work experience, the loan may be used to fund part of it. Only the vocational education or training elements of a course are eligible for assistance.
Activity 5 – Conflict between the human resources functions
Dispute Management in the Workplace
It takes an enlightened company and HR department to understand the damage inflicted on the company by mismanaged conflict within its ranks. It is a matter of enlightened self interest for a company to avail itself of the services of a conflict resolution professional.
The Cost of Conflict in the Workplace
The problem with the cost of conflict in the workplace is that it is not directly visible. No line item on the budget will say "cost of conflict." We tend to ignore what is not explicitly visible.
Factors that make conflict in the workplace costly
People spend more and more time distracted from work by the conflict.
The number of people included and involved in the dispute expands over time, including supervisors and HR staff who spend many hours trying to resolve the issue.
Less work gets done and as stress increases, the quality of work suffers.
Morale suffers, absenteeism increases and when experienced workers leave, their absence disrupts work.
The cost of locating replacements and training them is estimated at 50% of the annual salary paid for the job being replaced.
Poor solutions, such as restructuring the work flow to keep the conflicted parties apart, undermine output.
Inevitably, most businesses (perhaps all) suffer from failures in communication. Poor businesses suffer from persistently poor communications, whether it be person-to-person or department-to-department.
Perhaps the best way to think about the way in which communication can go wrong is to think about what good communication would be like:
– It would use appropriate language (e.g. no poor use of jargon; written so that the intended recipient can understand)
– It would go only to who should receive it – not everyone
– It would use the right medium to communicate the information
– The information would get to the recipient in good time for it to be used
Taking the above list, it easy to produce a list of how communications go wrong:
– Information is omitted or distorted by the sender
– Information is misunderstood due to the use of inappropriate jargon or lack of clarity
– Information is presented using an inappropriate medium (e.g. via email rather than in a proper report, or via telephone when face-to-face is better)
– Information arrives too late, or incomplete
Barriers to good communication
Research suggests that, amongst the many reasons why information fails to be communicated, the following are the main barriers:
– Different status of the sender and the receiver (e.g. a senior manager sends a memo to a production supervisor – who is likely to pay close attention to the message. The same information, conveyed in the opposite direction might not get the attention it deserves)
– Use of jargon – employees who are "specialists" may fall for the trap of using specialist language for a non-specialist audience (e.g. the IT technician who cannot tries to explain how users should log onto a network, in language that sounds foreign to most users of the network)
– Selective reporting – where the reporter gives the recipient incorrect or incomplete information
– Poor timing – information that is not immediately relevant (e.g. notice of some deadline that seems a long way off) is not always acted on straightaway
– Conflict – where the communicator and recipient are in conflict; information tends to be ignored or distorted
Activity 6: Performance Management
APPRAISAL
Why have Appraisals?
The success of an organisation depends on the performance of all staff. Sainsbury's sees appraisals as an integral part of the quality process, the successful implementation of the Business Plans depends on individuals being aware of the part that they play in that process.
What is the Appraisal about?
To ensure staff
To understand the purpose and policies of the organisation
Are clear what is expected in their role
And their manager is able to agree how they can make a contribution
Have more regular, objectives reviews of performance
Are given an opportunity to develop their skills and realise their full potential.
Who will be involved in the Appraisal?
All staff within the organisation will be involved. The nature of performance assessment will vary depending upon the type of work being undertaken, the level of an individual's responsibilities as well as how their department operates.
What can staff expect from their manager?
He/She should:
Agree work objectives with staff for the coming year
Discuss their role in detail and their contribution to the team
Help to identify training and development goals and discuss career aspirations
Review progress regularly and provide any agreed support
Individual's Responsibility
To ensure staff
Understand the purpose and policies of the organisation
Are clear what is expected in their role
And their manager is able to agree how they can make a contribution
Have more regular, objective reviews of performance
Are given an opportunity to develop their skills and realise their full potential
Who will be involved in the Appraisal?
All staff within the organisation will be involved. The nature of performance assessment will vary depending upon the type of work being undertaken, the level of an individual's responsibilities as well as how their department operates.
What can staff expect from their manager?
He/She should:
Agree work objectives with staff for the coming year
Discuss their role in detail and their contribution to the team
Help to identify training and development goals and discuss career aspirations
Review progress regularly and provide any agreed support
Individual's Responsibility
For the process to be effective the commitment of everyone will be required.
Individual's role will be:
To understand and support all aspects of the process, in particular review meeting with their manager and to consider any support required to perform more effectively
To participate fully at all appraisal meetings
Benefits of performance Appraisal
For Staff:
Are valued, and therefore feel recognised and appreciated
Know what it expects from them
Know how they can improve
Understand how their performance contributes to team and organisational performance
Have opportunities to discuss and comment on their own achievements
For Managers:
Assessing potential and assisting in Human Resource Planning
Know how well staff are doing and making better use of the individuals talent and expertise
Have a more motivated team
Get to know team members better
Satisfaction of helping to develop others
A chance to develop own skills
A more capable team, with training needs identified, assessed and addressed
Focused approach to achievement of goals
For the organisation
Raising standards of performance and efficiency
All efforts are focussed on achieving organisational goals
Improved organisational capabilities through improved individual abilities and personal effectiveness.
Strengthening staff / management relationships and motivation
Improving communication
Manage and monitoring staff regularly, maintaining up to date records of staff capability
Development of management and staff skills
Staff taking more responsibility for their own performance and continuing professional development
Best fit of individuals to post
Appraisal Process
No
Yes
END OF CYCLE
The Appraisal Process
Appraisal will operate through a simple process of performance planning and review as illustrated below:
Performance
Planning
Annual Personal
Review Development Plan
Progress
Review
Stage One – The Performance Plan
Frequency: Annually
Purpose: To discuss and agree key objectives for the individual to work towards
For the coming year.
To agree the measures of success which will be used as a means of
evaluating performance.
To identify any support or development which will be required for the individual to achieve objectives and improve their skills.
After the The performance Plan should be completed and a copy retained by both
Meeting: the Reviewee and the Reviewing Manager.
Stage Two – The Personal Development Plan:
Frequency Initially at the Performance Planning Stage and then regularly
throughout the year
Purpose To provide an individual with a Personal Development Plan geared
towards improving performance in their current role and maximising
their contribution to the organisation.
To identify any development required for an individual to achieve the agreed objectives
It may be appropriate at this time, if individuals so wish, to discuss their career aspirations beyond their current role. This would take the form of looking approximately two years ahead and considering what role they would like to be doing then, and planning any development to help them reach that
After the The Personal Development should be completed and a copy retained by
Meeting training
Plan, and a summary of this will be forwarded to the Training Department.
Stage Three – Interim Reviews:
Frequency: Regularly throughout the year
Purpose: To jointly monitor and review progress to date against set objectives, and
The individual's Personal Development Plan to ensure agreed actions have occurred.
Stage Four – Annual Review
Frequency: Annually
Purpose: To jointly review and agree performance against agreed objectives over the entire year.
To review the individual's Personal Development Plan to ensure agreed actions have occurred, and to review the success of this development.
After the meeting
Complete the Annual Review Summary form and both the Reviewee and Reviewing Manager should sign it. The reviewer should send it to the Indirect Reviewer (normally the Reviewing Managers Manager).
Start with Competency Profile and Accountabilities
Where am I now? PREPARATION
* Strengths & Weakness
* Motivation
* Competencies (knowledge, skills, behaviour)
* Contribution to team
Where do I want to be? DISCUSSION
* Plans and goals
* Long term work aims
* Team contributions
* Development needs
How do I get there? ACTION
* Options
* Decisions
* Plans
* Help / Support
PDP plan agreed
Am I doing OK? Review Progress
On target
Keeping revisiting goals and progress
INITIAL DISCUSSION
Manager Prepares Individual Prepares
Manager sets at ease
Background and Purpose
Manager & Individual agree job role
and contribution to company values
Both agree Objectives
Both agree Personal Development
Plan
Questions and Answers
Both agree date for Interim Review
Elicit the staff members views on past events and ideas for the future. Take full opportunity to build on these views and ideas.
Ensure the staff member knows exactly what judgement is being made of his or her proformances.
Avoid asking Leading, Multiple or Rhetorical questions.
Ensure that enough open questions are asked to elicit all the relevant information.
Allow the staff member sufficient opportunity to expand on his or her views.
Test understanding and summarise regularly.
Set an appointment for the next meeting in the review cycle.
Sainsbury's Appraisal / Evaluation Form
Employee Details:
Employee Name Title
Home
Date of Joining the Company Date of Last Evaluation
Next Scheduled Evaluation
Rating Guide:
Outstanding = 5 Above Average = 4 Standard = 3 Below Standard = 2 Poor = 1
Sainsbury's use this evaluation form to keep a record of employees performance over time periods to help monitor staff
One increasingly popular method of managerial assessment is 360-degree feedback.
360-degree feedback is an assessment process used to improve managerial effectiveness by providing the manager with a more complete assessment of their effectiveness, and their performance and development needs.
The process involves obtaining feedback from the manager's key contacts. These would normally include:
The manager him/herself
Subordinates (employees who work for the manager)
Peers (fellow managers)
Manager (senior management)
Customers
Suppliers
Feedback is normally obtained by using a questionnaire which asks participants to rate the individual according to observed behaviours – usually managerial or business-specific competencies.
The 360-degree process will not suit all companies. You should assess how well it would fit with your current culture before launching a scheme and a pilot scheme is worth building into your programme.
Communicating the scheme, its purpose and benefits to all those involved will be a key factor in reducing the participants' fears and gaining their commitment to any new scheme.
Presenting the results of the appraisal to managers in a constructive way is critical to the success of the process. All feedback, positive and critical, should be presented, with the aim of highlighting and acting on areas for development.
Results can be aggregated to give you some feedback on organisational strengths and weaknesses in relation to your business objectives and training strategy.
Self-evaluation
Sainsbury's encourage their employees to establish meaningful goals and then to evaluate performance in meeting these goals.
Employees who are given work assignments to do are also often encouraged to evaluate their own performance in carrying out these assignments to the required standard. The benefits of using this approach are as follows:
* The employees take more responsibility for their own work area and for monitoring their own performance in this are. This is clearly motivational.
* The employees may have a greater understanding of their own work area and their job than an external appraiser may have. This is increasingly the case where employees are working in highly creative, individual situations, developing interpersonal relations that are not always easy to scrutinise and measure.
* Self-evaluation is cost effective. It avoids the wasteful expense (including time) of having external evaluators.
* Self-evaluation enables individuals to develop a much clearer picture of exactly what it is they are doing – which makes work definition much better.
Peer Evaluation
This used in Sainsbury's, where employees are part of a co-operative team or quality circle. Peer group evaluation makes it possible to check on how much team members are contributing to the product of the teamwork, and to the process of the teamwork.
This process can be very effective in that it creates a collaborative approach at work. People don't feel they are being judged from above. It can lead to a process of critical friendship whereby individuals will help each other to improve performance. There are a number of factors that help peer evaluation to be a success:
* Respect for each other
* Trust in each other
* Non-competitive atmosphere
* Willingness to take risks
* Confidentiality
* Listen and give full attention
* Say what you feel
* Value each other's contribution
* All members participate
* Be honest
* Don't interrupt
* Feel free to challenge
A drawback of peer evaluation is that it can often result in low levels of criticism so that performance is judged in too favourable a light. Also, peer evaluation can create an approach whereby those who work in the peer evaluation system build up a defensive position against the organisation – to justify their own decisions and performance rather than viewing things from the organisation's side.
Motivational Theories
Motivation is a decision-making process, through which the individual chooses the desired outcomes and sets in motion the behaviour appropriate to them.
How does motivation differ from "motives"
Buchanan defines motives as:
"Learned influences on human behaviour that lead us to pursue particular goals because they are valued".
Motivation can therefore be thought of as the degree to which an individual wants AND chooses to engage in certain behaviours.
For example: are you motivated to study? The answer lies in whether you
(1) Want to study – what are the reasons, if so?
(2) Choose to study? – Why are you reading these revision notes? What factors mean that you have taken the decision to study? How much effort do you put in?
Individual behaviour is at the heart of human motivation
Why is individual behaviour so important in trying to understand and then influence motivation?
– Every individual has a set of needs and a different set of goals
– Individuals behave in a way as to satisfy their needs and fulfil their goals
– Therefore, individuals behave differently!
– Businesses, as organisations, are in a position to offer some of the satisfactions that individuals seek:
E.g. – Relationships; sense of belonging; intellectual stimulation; mental & physical challenge; self-development
Why is motivation important for businesses?
It is often said that the best businesses have the best motivated workers. Why might this be important? Because well-motivated employees are usually characterised by:
– Higher productivity (i.e. they produce more for a given level of resources than poorly-motivated workers)
– Better quality work with less wastage
– A greater sense of urgency (things happen quicker – when they need to)
– More employee feedback and suggestions made for improvements (motivated workers take more "ownership" of their work")
– More feedback demanded from superiors and management
– Working at 80-95% of their ability
F.W. Taylor's principles of scientific management
Taylor developed his theory of "scientific management" as he worked his way up from a labourer to a works manager in a US steelworks.
From his observations, Taylor made three key assumptions about human behaviour at work:
(1) Man is a rational economic animal concerned with maximising his economic gain;
(2) People respond as individuals, not as groups
(3) People can be treated in a standardised fashion, like machines
Taylor had a simple view about what motivated people at work – money. He felt that workers should get a fair day's pay for a fair day's work, and that pay should be linked to the amount produced (e.g. piece-rates). Workers who did not deliver a fair day's work would be paid less (or nothing). Workers who did more than a fair day's work (e.g. exceeded the target) would be paid more.
The implications of Taylor's theory for managing behaviour at work were:
– The main form of motivation is high wages, linked to output
– A manager's job is to tell employees what to do
– A worker's job is to do what they are told and get paid accordingly
Weaknesses in Taylor's Approach
The most obvious weakness in Taylor's approach is that it ignores the many differences between people. There is no guarantee that a "best way" will suit everyone.
Also, whilst money is an important motivation at work for many people, it isn't for everyone. Taylor overlooked the fact that people work for reasons other than financial reward.
Herzberg's two factor theory
What might the evidence of de-motivated employees be in a business?
– Low productivity
– Poor production or service quality
– Strikes / industrial disputes / breakdowns in employee communication and relationships
– Complaints about pay and working conditions
According to Herzberg, management should focus on rearranging work so that motivator factors can take effect. He suggested three ways in which this could be done:
– Job enlargement
– Job rotation
– Job enrichment
McGregor's Theory X and Theory Y
McGregor developed two theories of human behaviour at work: Theory and X and Theory Y.
He did not imply that workers would be one type or the other. Rather, he saw the two theories as two extremes – with a whole spectrum of possible behaviours in between.
Theory X workers could be described as follows:
– Individuals who dislike work and avoid it where possible
– Individuals who lack ambition, dislike responsibility and prefer to be led
– Individuals who desire security
The management implications for Theory X workers were that, to achieve organisational objectives, a business would need to impose a management system of coercion, control and punishment.
Theory Y workers were characterised by McGregor as:
– Consider effort at work as just like rest or play
– Ordinary people who do not dislike work. Depending on the working conditions, work could be considered a source of satisfaction or punishment
– Individuals who seek responsibility (if they are motivated)
The management implications for Theory X workers are that, to achieve organisational objectives, rewards of varying kinds are likely to be the most popular motivator. The challenge for management with Theory Y workers is to create a working environment (or culture) where workers can show and develop their creativity.
Maslow's Hierarchy of Needs
Maslow's Hierarchy of Needs is a "content theory" of motivation" (the other main one is Herzberg's Two Factor Theory).
Maslow's theory consisted of two parts:
(1) The classification of human needs, and
(2) Consideration of how the classes are related to each other
The classes of needs were summarised by Maslow as follows:
How does the Hierarchy Work?
– A person starts at the bottom of the hierarchy (pyramid) and will initially seek to satisfy basic needs (e.g. food, shelter)
– Once these physiological needs have been satisfied, they are no longer a motivator. the individual moves up to the next level
– Safety needs at work could include physical safety (e.g. protective clothing) as well as protection against unemployment, loss of income through sickness etc)
– Social needs recognise that most people want to belong to a group. These would include the need for love and belonging (e.g. working with colleague who support you at work, teamwork, communication)
– Esteem needs are about being given recognition for a job well done. They reflect the fact that many people seek the esteem and respect of others. A promotion at work might achieve this
– Self-actualisation is about how people think about themselves – this is often measured by the extent of success and/or challenge at work
Maslow's model has great potential appeal in the business world. The message is clear – if management can find out which level each employee has reached, then they can decide on suitable rewards.
Problems with the Maslow Model
There are several problems with the Maslow model when real-life working practice is considered:
– Individual behaviour seems to respond to several needs – not just one
– The same need (e.g. the need to interact socially at work) may cause quite different behaviour in different individuals
– There is a problem in deciding when a level has actually been "satisfied"
– The model ignores the often-observed behaviour of individuals who tolerate low-pay for the promise of future benefits
– There is little empirical evidence to support the model. Some critics suggest that Maslow's model is only really relevant to understanding the behaviour of middle-class workers in the UK and the USA (where Maslow undertook his research)
Motivational theories help see what are the most important things to their employees whether it be job satisfaction, money, working conditions etc. It helps Sainsbury's to compare motivational theories with their performance management techniques like appraisals and Maslow's Hierarchy of needs:
A supervisor is urged to:
develop participative, trusting team conditions
draw upon capacity of employees to be creative and self-managing
create and maintain conditions which enable the individual to prosper.
provide and environment (stimulus and growth conditions) for independent, empowered, problem-oriented employees.
Staff appraisal as a practice is thus presented a means to embed "socially positive, individually beneficial and organisationally essential" norms into the conduct of manager-staff relationships, the creation of work arrangements, the delivery of rewards and health of social/work relationships. The practices (should) also ensure that lower needs in the Maslow hierarchy (physiological, needs for security-orderliness-predictability, social acceptance and self-esteem/status) are not chronically under-served.
Related Topics