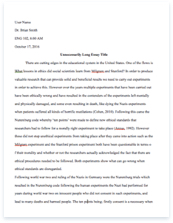 The whole doc is available only for registered users
Pages: 5
Word count: 1018
Category: Football
A limited time offer! Get a custom sample essay written according to your requirements urgent 3h delivery guaranteed
Order Now
The Football Association (F.A) is the governing body of football in England. Formed in 1863, The F.A. is the oldest football governing body in the world. Today, it exists to develop and promote the game to men and women, boys and girls, of any race or creed, throughout the country, under the overarching vision of 'using the power of football to build a better future.' They do this by making the primary and secondary schools try to get more girls and other ethnic minorities into football using the government to help them. They also use mini soccer tournaments for younger children to get boys and girls to play together. In the future the views of the children will change, such as 'Football is for boys and netball is for girls. They get funding for this by getting national companies like Coca Cola and also local businesses that want to get involved. They would fund this in exchange for the company name being printed on the equipment (Shirts, Bags and bibs).
The F.A.'s job is to lead the successful development of football at every level, with the overall aim of winning an international competition;
As well as maximising footballing opportunities for all, the Football Association plays a lead role in encouraging, promoting and nurturing the talented players of tomorrow. They do this by having different levels of teams. Every footballer has most probably started out as being in his/her school team or has gone and joined a local club in a local league. From here a scout could pick up this person if he or she meets the right standards that most likely from a local team. Then they could go on to be in a regional league and may be player for the regional team. As they get developed and improve they could be signed on to the academy of a professional team. If they get into the first team they could progress onto prepresent their country at the highest stage.
One of the Football Association's key aims is to maximise and encourage participation in the game, irrespective of sex, age or ability. Part of The F.A.'s charter for Quality has been the emphasis put on developing the best players opportunities for all players to ensure that football remains the most popular and fun- sport for all.
At grassroots level, the main vehicles for increasing participation and maximum enjoyment (increasing standards is a secondary aim) are:
* Mini-soccer (mandatory for all under 10s playing at clubs or schools affiliated to County F.A.s)
* Charter Standards programme (which aims to raise the standards of football for children provided in schools, clubs and holiday courses)
More than two million children in England play football on a regular basis through clubs, schools and holiday courses.
Ask any top footballer who ranks as the most important influence in their career and almost all of them would make reference to a coach past or present. Many would not be where they are today if not for the help of this coach. Whether a professional or just playing in the park on a Sunday, you cannot underestimate the importance of a good coach. The F.A. through its extensive training programmes for coaches, has always had as a priority improving the technical quality of coaching which would in turn reap rewards on the up and down the country. With techniques throughout the world becoming more and more sophistically, The F.A Football Division has put coaching at the forefront of its long-term strategic plan by launching, in October 1997, The FACA whose overall purpose is 'to affect positively the attitude ethics, knowledge and performance of football coaches'.
"Our goal is a better educated, informed and knowledgeable pool of football coaches," says Howard Wilkinson, The F.A. Technical Director and driving behind the initiative. (Said in a press conference in January 2001).
As the umbrella organisation for football coaches the FACA's objectives are:
* To establish and maintain high ethical standards in coaching
* To satisfy the desire for in-service training and Continuing Professional Development (CPD) for those who have attended F.A. Courses
* To communicate with, and develop communication amongst, coaches
* To improve and enhance the role of the coach and the coaching profession
* To develop and register of qualified, disciplined and screened coaches
The Football Association is a non-profit making governing body and is a major source of finance for the development of football.
Obviously much of the F.A's funding work takes the grassroots levels of the game, and concentrates on the clubs and organisations for whom developing and improving facilities is the priority.
Football draws its income from various sources such as:
* At Sunday league level every season each club has to pay a fee to join the league. Also each member of that team had to pay a membership fee to be registered at that club.
* Smaller organisations that are running a scheme could apply for a grant off the Sports Council.
* They can ask for a development grant for special events or programmes. Also they can use the money to improve their facilities at their club
Example
From new equipment like football nets and footballs to new changing rooms at the clubs playing pitch.
They can get these grants from the 'Foundation for sport and the Arts' or from the 'National Lottery fund'.
* The big clubs like in the Premier League, Division one and even Division two make a lot of money from their sponsorship deals.
Example
Liverpool signed a sponsorship deal with Carlsberg worth 50 million over 7 years and clubs in the lower divisions would be grateful to get a deal worth a couple of hundred thousand pound.
* Also all league clubs get money that is vital to their survival in football of Television rights. I know this because last season many clubs in lower divisions went bankrupt due to ITV Digital's own bankruptcy.
Related Topics