Good conversation helped someone or helped you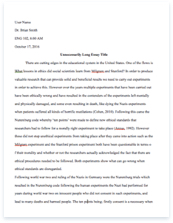 The whole doc is available only for registered users
A limited time offer! Get a custom sample essay written according to your requirements urgent 3h delivery guaranteed
Order Now
I am fortunate to experience good conversation and be able to remember those good memories. As I recalled those memories, I was asking myself, "What makes a good conversation?" I think good conversation starts when people feel comfortable talking with each other and understand each other. Surprisingly, most of my good conversations have started in America where people don't use my home language. The first year in America was tough and harsh. I could not talk nor listen to anyone and became so timid. I often went to the Loussac library by bus to read children's books and teen books to overcome the language barrier and enhance my English ability. While I was in a bus, I was quite surprised that some passengers started to talk to each other. Even though many people use the public transport system in South Korea, they usually don't approach others. They seem to refuse to talk by staring at their phone all the time.
They want to do their own things and do not want to be bothered. When a man started to approach me in a bus, I felt difficult to talk to him since he was a stranger to me at first. He started a conversation in a usual way by asking me "How are you?", "Where are you from?", "Where do you go to school?" I was not sure whether I should answer the questions from the stranger. However, unlike his unfavorable impression, I began to like him after a few minutes of our conservation. He often asked me open-ended questions such as "How do you like living in Alaska?" "What are you going to do this weekend?" Closed-ended questions like "Do you like living in Alaska?" would likely give me answer "Yes" or "No." But his open-ended questions opened my mouth and broke the wall of my language barrier. Even though I was speaking in my broken English, he didn't look down on me, listened to my stories carefully and treated me with respect. He was listening with not only his ears but also his body by keeping eye on my comfort level.
I realized that good conversation didn't have to include fancy words, or high qualities of intellect. Like Wheatley said, good listening was a part of good conversation. It created relationship of being together and connected. I was the one who talked the most during our conversation whereas I was a quite listener at first when I met him. Through this conversation, I found out that good conversation could be achieved by everyone engaged in the conversation. It is the same as sending invitation letters. Conversation flowed from him to me with implicit invitation. Breaking the line between the stranger and me was the hardest. If I didn't accept his invitation or refused to talk to him, we couldn't have a nice conversation and I could be still shy to reach out to people. I also realized that contents in conversation was not matter to create a good conversation. We introduced ourselves and talked about our background and our life. Nothing difficult or complicated was in our conversation. It was about being open minded, being willing to listen to each other and share our stories. I felt twenty five minutes in the bus was short five minutes.
From the conversation, I learned how to study English. After I stepped off the bus, I didn't go to the library. My feet led me to a coffee shop where people gathered and chatted. Now I understood learning new languages should start from a good and simple conversation, not from books. My church youth group used to visit to a nursing home at the end of each month and sang for the elders. Since all of the elders welcomed us and liked us, I thought they liked the songs we sang. One time when I was transporting an old lady in a wheel chair to the chapel, she asked my name, our church name and why we were there. I had a short conversation with her and she appreciated me talking to her. I realized that people got fewer visitors as they stayed there longer and they didn't have a chance to talk to others. I felt I could make them happier just by listening to their stories. Even though our job was to sing for them, I thought our youth group members should try to talk to the elders more and longer since our ultimate goal from singing was to help them and make them happy.
Unlike their quiet and shy attitude in the beginning, they were kind and friendly, when we opened our heart to them by listening their stories and sharing our stories. Even though they think we helped them, we thought they helped us since they inspired us to reach out to others first, to hear others' thoughts, to care about others. While we tended to focus on ourselves, they put the focus first on us. They always were generous with the compliments and supported us. I realized that we should take a step backward from ourselves and should put others first in conversation. When they were telling their old stories, they often told us about lessons they learned from their experience. For example, one lady told us how she came here. Since her family was poor, she didn't go to college and started to work in her early age. She later started to make good money from her business. She was busy with work and didn't have time to spend with her family. Her marriage life was not stable and she ended up getting divorced.
When his dad got sick and weak, she sent him a nursing home and sometimes visited him. By the time when she had enough money, she realized that she lost her family and her health which were the most important in her life. She gave us a lesson that money was not everything. The more she earned, the more she wanted. Money didn't bring her happiness but it took her life away. We really appreciated her willing to share her stories and helped us find a right direction in our life. I realized that we could not buy good conversation and it was not something only smart people could have. As I am writing my paper, I started to think about the good opportunities I had with people and realized that I was blessed with those people who shared their own life stories and invited me to their conversation. I hope I could help people more by starting good conversation in the future.
Related Topics