General Processes In Music And Civil Engineering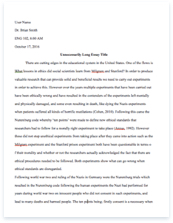 The whole doc is available only for registered users
A limited time offer! Get a custom sample essay written according to your requirements urgent 3h delivery guaranteed
Order Now
How did hundreds or thousands of individual notes make the journey from a composer's imagination to paper? How did a skyscraper go from a design concept to an actual building? Think about the complexity in the production of any kind of product. There are many stages of preparation, handovers, polishing and approval, and they typically follow some sort of design process. Both music and civil engineering share many of the same design progressions, the compartmental steps within the process just may look different. Both subjects allow and encourage innovation within a design, but also require procedural knowledge to build a successful product.
The engineer and composer have creative liberties in their design, but there are also technical constraints and aspects that must be considered. When starting a design, a civil engineer must define the project constraints. Design constraints are factors that limit the range of potential design solutions that can be adopted. In civil engineering, design constraints may be inherent in the type of building required, the existing site conditions, or specific performance requirements. These design constraints and limits also exist in music. These limits may consist of time restrictions, the range of notes that can be sung or played on an instrument, or even the type of instruments available for use.
In both engineering and music, these design constraints are actually helpful in the development of a design, as they limit the number of feasible options and help guide the designer toward a solution. In the absence of any constraints, it can be difficult to know where to start. The critical point of design constraints/limits is that you know what you don't want, and it gives the designer a starting point for their work. Once the limitations are understood, a musician or engineer can begin brainstorming the general essence or ideas for their work. This process is where creativity comes to light and requires dynamic thinking. The ideas proposed are more conceptual and lack specific implementation details. For a civil engineer, this may look like the overall site or building layout.
How can the desired functionality be met and what should the general feel or look of the design encompass? During this process musicians may evaluate the tone or feeling of music they want to create, or perhaps what instruments will be used. Will it be an ensemble or a solo, is it divided into parts, what overall feeling will be produced? In both music and engineering, designers often look at existing ideas or templates for inspiration. Musicians pull ideas from common types of musical forms, scales, and chord progressions. They may create soundboards and capture pieces from other music that represents the qualities they want to emulate in their piece. Engineers may pull the best features of existing solutions and combine them to form one highly successful design.
The creative process itself is often illusive for both civil engineers and musicians. There is often no way to systematize it, and it tends not to follow any fixed rules. The first conceptual design attempts to create solutions for questions/matters that may be loosely understood, and the outcome may not necessarily be reached by a purely logical process. Now that the basic format/ideas have been created, the designer must fine tune or complete a 1st draft of the work. This step clearly defines the idea and generates the structural details of the work. This is called detailed design — taking the goals/ideas from a conceptual stage and turning them into an actual plan. In civil engineering, this process will ultimately describe all the main components of the project and how functionality is achieved.
It may include structural plans, sections, elevations and specifications; key building assemblies and their components; requirements for mock-ups, testing, samples, or models necessary to satisfy performance requirements. In terms of music, the entire trajectory of the piece will be mapped out in this stage. A musician may select a certain rhythm form, tempo, or key signature to create a basic footprint for a passage or for the entire work. This structure helps break down the piece into manageable chunks and lets the composer visualize where specific elements are and where they may be repeated. Details will be added to create unique, characteristic material – i.e. what makes the piece sound like itself and not any other piece. Is it the rhythm? The melody? The harmony? How is the composition altered or assorted to create a unique sound? This is the arguably one of the most important steps.
Once the piece/project is structed, the designer must tie all components together to create an integrative plan. This process is a subsection of civil engineering and is called "systems engineering". It is a multi-disciplinary approach for the design, realization, technical management, and operation of a system. The system is comprised of many elements that function together to produce a solution that satisfies the project needs. In this example, the music composition and the structural building would be the "systems". In civil engineering, the system elements may include equipment, facilities, personnel, and procedures needed to produce system-level results.
It is an integrative discipline, and uses the contributions of structural, civil, mechanical, and electrical engineers as well as ergonomics. In the world of music, this can be thought of as orchestration – taking a simple harmonic structure and melodic line and dispensing the essence of the music throughout an expanded instrumental palette. The composer transforms the basic structure to a vivid picture through their choice of instrumental combinations. They have a complete understanding of the movement within a progression. This process is holistic in nature, and the contributions of many disciplines (or instruments) are evaluated and balanced against one another to produce a coherent whole that is not dominated by the perspective of a single discipline (or instrument).
Related Topics