Gender Differences in Achievement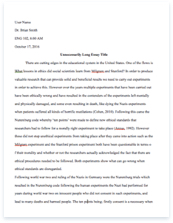 The whole doc is available only for registered users
A limited time offer! Get a custom sample essay written according to your requirements urgent 3h delivery guaranteed
Order Now
Using material from item A and elsewhere, assess the view that gender differences in achievement are largely the result of changes in the education system.
According to a source from DfES (2007) although results for both sexes have improved at all levels over the years, the girls rate of improvement has been more rapid, opening up a significant gap, particularly at GCSE level. in 1995/86 boys achievement was at 26% with girls just 1% higher at 27%. By 2006/07 boys achievement was at 56% with girls a considerate 10% higher at 66%. Reasons for such an increased gap come from both internal and external factors. Looking at changes in the education system the internal factors that are needed to be addressed consist of equal opportunities policies, positive role models in school, GCSE and coursework, teacher attention and classroom interaction, sterotypes and selection and league tables. Many sociologists argue that feminists have had a major impact on the education system. Policies such as WISE(Women into science and engineering) and GIST(Girls into science and technology) have encouraged girls to pursure careers in what are thought to be non-traditional areas. Similarily the introduction to the national curriculum in 1998 which made boys and girls study mostly the same subjects has impacted in differences in gender achievement with Alison Kelly(1987) arguing that making science part of the compulsory curriculum for all pupils helps to equalise opportunities.
However, Jo Boaler(1998) sees the impact of equal opportunities policies due to schools becoming more meritocratic as the main reason for girls improved achievement because they generally work harder than boys. In recent years there has been an increase in female teachers and head teachers who may be seen as role models for young girls showing them that women can achieve as well as men but will have a negative effect of boys due to lack of role models. Having female role models can inspire young girls to work harder which is another reason for girl achievement in education increaseing faster than boys. From 1975 untill 1988-99 there was evidence that boys and girls achievement was relatively equal untill after 1988-99 there was a sharp increase in both genders but more effectively girls. This was the year that GCSE was introduced which included coursework as a mojor part to nearly all subjects. Stephen Gorard(2005) believes that the gender gap in achievement is a product of the changed system of assessment rather than any more general failing of boys.
Eirene Mitsos and Ken Browne(1998) back up Gorard's opinion by stating that girls are more successfull in corsework because they are more consciencious and better organised that boys. Along with coursework GCSE's have introduced oral exams which are seen to be better suited to females for their generally better developed language skills. Althought coursework is thought to have mostly influenced girls increased achievement, Jannette Elwood(2005) argues that its unlikely to be the only cause. Analysing and weighting of coursework and written examinations, she concluded that exams have more influence on the final grade. According to item A Madesen Pririe of the new right Adam Smith insitute believes the modular courses and continuous assessment found in education today favour the systematic approach of girls against the rick taking approach of boys. Its seen that the way in which teachers interact with boys and girls differs. Dale Spender(1983) found that teachers interacted more with boys than with girls however this was because they attracted more reprimands according to Jane and Peter French(1993).
Similarly Becky Francis(2001) found that while boys got more attention, they were diciplined more harshly and felt picked on by teachers who tended to have lower expectations of them. This could maybe result in a self-fulfilling prophecy for boys thinking they are not as smart as girls. Teachers see girls as more cooperative where as they see boys as boisterous according to Joan Swann and David Graddol(1994) who suggested that this was the reason for boys attracting the teachers gaze more often than girls, therefore getting more opportunities to speak. However they found that teachers interaction with girls was more positive and focused on school work rather than behaviour. Marketisation policies are seen to have created a more competitive climate in which schools see girls as desirable recruits because the achieve better exam results compared with boys.
League tables are used to compare the academic achievements of different institutions and according to David Jackson(1998) league tables have improved opportunities for girls due to their increased improvement in achievement in education over boys. Roger Slee(1998) argues tht boys are less attractive to schools because they are more likely to suffer from behavioural difficulties and are four times more likely to be excluded resulting in boys being seen as 'liability students'. Text books, reading schemes and other learning materials in past years held a stereotype against women portraying them as housewives or frightened of science etc. in recent years this has been removed from texts books in order to gain gender equality in schools. It is argued by Gaby Weiner(1995) that since the removal of stereotyping in learning materials, teachers have similarly challenged stereotyping which has helped raise girls achievement by informing them with more positive images and facts of what women can do/achieve. Although there are a number of internal factors affecting gender differences in achivement there are also a variety of external factors contributing to the same fact.
Related Topics