Gain Information Is Important to Developing a More Positive Interpersonal Communication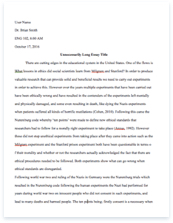 The whole doc is available only for registered users
A limited time offer! Get a custom sample essay written according to your requirements urgent 3h delivery guaranteed
Order Now
Part 1
The uncertainty reduction theory was presented in 1975 by Charles Berger and Richard Calabrese (Berger & Calabrese, 1975). This theory studies the gathering of information on another person before they actually communicate. In today's terms this may be referred to as "creeping" on the other person by "stalking" them on social media or asking a mutual friend about them. The idea of this theory is that by collecting information on a person before an interaction, anxiety or uncertainty will be reduced and a positive relationship may follow. The theory emphasizes the concept that, when interacting, people need information about the other party in order to reduce their uncertainty. It is believed that to gain information is important to developing a more positive interpersonal communication (Berger & Calabrese, 1975). Thus, forming predictions about the other person's behaviors and interests, which allows a more comfortable initial interaction and a positive future relationship (Berger & Calabrese, 1975).
Furthermore, it is theorized that when a person does their homework and seeks information about the other person before they communicate, they have more confidence and the ability to control the communication process (Berger, 1979). In other words, the information that is gained can help direct the conversation and what topics to discuss. Furthermore, Jennifer Theiss and Denise Soleman (2008) believe that uncertainty can impact an interaction between two people both positively and negatively; and that open communication can be a key contributor to a more or less satisfying relationship (Theiss & Soleman, 2008). So in essence, Theiss and Soleman (2008) believe that reducing uncertainty is crucial to continuing a positive relationship, but so is open communication and actually appreciating the other person's likes and opinions (Theiss & Soleman, 2008).
Part 2
The first time my boyfriend, Austin, asked me to meet his parents, I was petrified. I had just gotten over the uncomfortableness of developing a new relationship and we had just started to get past the awkward phase. Just the thought of trying to impress his parents gave my heart palpitations. I had to ask myself if this was even necessary to continue my relationship with Austin. Surely he would understand if I never wanted to meet his parents, right? Well, apparently I was wrong as he already made dinner plans for the upcoming weekend that was two days away.
So many thoughts raced through my head: what would I wear, do I address them by their first name, do I shake their hand, and what will we talk about? Then my natural instincts kicked in: I had to stalk them on social media. Of course, being that they were parents, my go to source was Facebook. Sure enough I found both of his parents' profiles. His mom, Donna, is a legal secretary and his dad, Cary, owns a printing business. His mom likes dogs and his dad likes sports. This was hardly enough information to start a conversation, so I started to integrate Austin. By my third question, Austin was laughing and told me to relax. Easy for him to say, but impossible for me to do as I was so uncertain of how this interaction would unfold and if we would remain a couple afterwards.
The day had arrived and I dressed up a little, but still tried to be my usually tomboy self. Austin picked me up at my house and I was a nervous wreck. We were at his parents' house within fifteen minutes, hardly enough time to wipe the sweat off my palms. As we walk to the door, his mom already flung the door open and gave me a big hug as she said "Hello, it's so nice to meet you Hailey, come on in." His dad was sitting on a couch and jumped up to introduce himself. I giggled like a little girl as my voice shook and I barely got out the words, "Hi, nice to meet you."
As warm as the welcoming was, I was still very anxious and giddy. There were a few awkward questions of what was I studying in school and how long was I in town before I made the move to Morgantown, West Virginia. However, before I knew it, we were sitting down for dinner and the focus of the conversation was about Austin. His parents felt very comfortable sharing stories of Austin as a little boy and some of his embarrassing moments in life. I chimed in as I could relate to some of his quirks and I shared the same admiration for him as his parents. When dinner was over, I found myself helping Donna clean up as Austin and his dad watched television.
When it was time for me to leave, Donna gave me another hug and Cary patted my back. They both thanked me for coming over and insisted that we have dinner again real soon. I very much agreed and I felt so calm and relaxed. As Austin drove me home, he told he could tell his parents like me. I asked him how he could tell and he said "because my parents have never ask for a second dinner with previous girlfriends." As this relieved my uncertainties of a positive relationship with his parents, I could not help but think "how many previous girlfriends are we talking about?"
Part 3
In Berger and Calabrese's Uncertainty Reduction Theory (1975) there are seven axioms: verbal communication, nonverbal warmth, information seeking, self-disclosure, reciprocity, similarity, and liking (Berger & Calabrese, 1975). The axioms are very much like stages of interactions when meeting someone for the first time. There always appears to be a degree of uncertainty with an initial meeting or introduction, as most people refer to this as making a "first impression." Depending on how important the potential relationship is to each party, the better they may behave to make a good and lasting impression. Furthermore, the more invested either side of the party may be in a future relationship, the more uncertainty they may have with their first interactions.
With each of the seven axioms acting like a checklist to either a better or worse future relationship, they are much like a "how to guide" for assessing a "first impression." For example, in my story, it is clear that I was uncertain about the verbal and non-verbal communication with my boyfriend's parents before I meet them. However, his mom put me at ease by introducing herself first and giving me a hug. Both of these jesters made me feel comfortable and started to decrease my uncertainties. Also, when his parents only asked me a few questions and then moved on to talking about the one think we have in common, my boyfriend, I did not feel interrogated and was actually able to contribute to and reciprocate information to an intimate conversation.
Finally, realizing that I adore my boyfriend just as much as his parents, made all of us certain that we had something in common, thus reassuring me that I liked them and that in return it felt like they liked me. By the time my first interaction with my boyfriend's parents was over, I could have used Berger and Calabrese's (1975) uncertainty reduction theory and the seven axioms to chart each phase of the initial interaction (Berger & Calabrese, 1975). I would have to conclude that my uncertainties were reduced to a much more certain and confident position with my boyfriend and his parents.
References
Berger, C. R., & Calabrese, R. J. (1975). Some explorations in initial interaction and beyond: Toward a developmental theory of interpersonal communication. Human Communication Research, 1(2), 99-112. Retrieved from http://dx.doi.org/10.1111/j.1468-2958.1975.tb00258.x
Berger, C. R. (1986). Uncertain outcome values in predicted relationships uncertainty reduction theory then and now. Human Communication Research, 13(1), 34-38. doi:10.1111/j.1468-2958.1986.tb00093.x
Theiss, J., & Solomon, D. (2008). Parsing the mechanisms that increase relational intimacy: The effects of uncertainty amount, open communication about uncertainty, and the reduction of uncertainty. Human Communication Research, 34(4), 625-654. doi:10.1111/j.1468-2958.2008.00335.x
Related Topics