Florence Nightingale: Leadership and Legacy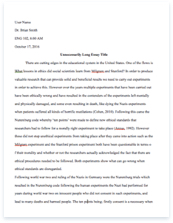 The whole doc is available only for registered users
A limited time offer! Get a custom sample essay written according to your requirements urgent 3h delivery guaranteed
Order Now
Florence Nightingale was an extraordinary mid-nineteenth century nursing leader during the Crimean War, and she left a legacy of improved hospital healthcare, a new type of modern nursing, nursing schools and programs for those who wanted to follow in her footsteps, and turning nursing into an honorable field. She defied societal expectations to become a wartime nurse, opened nursing up for women, and worked hard to achieve her goals, despite being looked down upon for her gender. Florence was born into a wealthy family in Florence, Italy, after which she took her name, on May 12, 1820. She was well-educated in religion, history, grammar, and took a particular liking towards mathematics, which fueled her interest in statistics (The New York Times). She grew up to be beautiful, intelligent, and lively, so it was expected of her to marry well, but she had other plans. As a teenager, Florence would often visit homes for the sick and elderly, and help the poor and sick who lived near her home.
She felt a strong pull towards nursing, and finalized her decision to become a nurse after nursing her great aunt, Elizabeth Evans, through her final disease. Though her parents were horrified, Florence was persistent in her following of the nursing path, despite the fact that for women at the time, it was viewed as low as prostitution. They were unhappy with her decision and Florence wanted to avoid conflict, so she traveled around Europe with her friends. One of their stops landed them in Kaiserworth, Germany, specifically in Pastor Theodor Fleidner's Hospital and School for Young Deaconesses. With her parents' reluctant permission, she volunteered in the hospital for the duration of their stay, and was extremely interested in going back and doing it again (UAB Reynolds Historical Library). There, she discovered her aptitude for organization and leadership. Florence returned there the following year and spent three months in nursing training, which enabled her to become the superintendent of London's Institution for the Care of Sick Gentlewomen in 1852. She accepted the offer under the condition that patients of all religions, not just the Church of England, would be admitted.
Though she did not receive pay and had to cover the expenses herself, she showed leadership by increasing the quality of the patient care there while cutting the costs for it. (HistoryNet). Florence used her personal funds to pay for bedding, medicines, food, and hospital clothes for the patients She spent twelve months working in that position, and during that time, she created appropriate qualifications for those who wanted to work as nurses, developed efficient administrative methods, and solidified her belief that equal and sufficient medical care was a basic human right for all people (Selanders). She felt that her nurses must have a passion for helping others and made sure that they would be provided with medical training if they had not had any before. Florence made sure the hospital ran on a 'scale of urgency', where the patients immediately in need of care were treated first. She also believed that every human, regardless of race, religion, or occupation, should have access to medical care if necessary (Nursing Theories).
During her studies of nursing, she noticed that many common treatments, such as bloodletting and the administering of infusions of arsenic, opiates, and mercury, killed more patients than they actually helped (Selanders). She believed, then proved, that caring for the basic needs of patients could help save their lives. She did so by exposing her patients to varying degrees of: ventilation, warming, light, noise, cleanliness of their surroundings, bed comfort, individual cleanliness, amounts and qualities of food, speaking of hopes and giving advice, and observation. In doing so, she confirmed her belief that patients who were in the most physical, mental, and spiritual comfort healed the best (Nursing Theories). In the March of 1854, Turkey, France, and Britain declared war on Russia, which was marked as the beginning of the Crimean War (Florence Nightingale International Foundation). Soon after, Sidney Herbert, Secretary at War, reached out to her, asking her to come to the Crimea with a few other nurses to work in one of their soldiers' hospitals.
Florence arrived at Scutari Hospital on November 4, 1854, accompanied by 37 other nurses and ready to work. The male staff treated them with hostility, but that didn't discourage her team. When Florence examined the hospital's current conditions, she was appalled. About 18,000 wounded and dying soldiers lay on straw mats in the corridors and rooms of the building, and there were no hospital gowns; the men still wore their uniforms (Gretchen). The conditions were horrific: bloody rags were used as bandages, watery soup served as their food, and lice and cholera were prevalent. For the following 21 months, Florence toiled to improve the conditions. She, along with the other nurses, bathed the soldiers, washed or replaced their linens, improved the sanitary conditions of the entire hospital in general, secured a source of clean drinking water, and provided more nutritious food. She ended up instituting a kitchen, using her own money, to prepare more easily digestible food for patients (HistoryNet).
Florence also believed that comfort was an important part of medical care, so she would travel among the patients at night with a lantern, sitting with the dying and writing letters home for those who couldn't do it themselves. This routine caused The London Times to give her the nickname "the Lady with the Lamp" (The New York Times). Due to her team's quick actions and hard work, the mortality rate among soldiers decreased dramatically, dropping from 40% to 2% (HistoryNet). Though completely unexpected of her, Florence's strong leadership and hard work saved lives and changed nursing forever. Although Florence Nightingale passed away on August 13, 1910, she is far from forgotten. When Florence entered the nursing field, nurses were stereotyped as lazy drunks, especially women (The Truth About Nursing). After her displays of leadership and her reforms in British hospitals and the Crimean hospital, nursing became viewed as an honorable job full of hard workers. She changed nursing from an occupation to a respected profession.
She was the first person to use statistics when she filed her reports about English hospitals to the government, which is a practice that is still used today. Statistics are now deeply rooted in a hospital's functioning and organization. She ended up becoming the first nurse-statistician. After improving the state of the Crimean hospital, Florence went on to establish nursing programs and schools of her own. For example, in 1860, she established the Nightingale School and Home for Nurses at St. Thomas's Hospital, London, the first of its kind. The school's intent was to train nurses who could, in turn, train others. The year after, she founded a midwives' training school in King's College Hospital (Florence Nightingale International Foundation). These buildings still stand today and continue to educate the new generations of nurses. Florence also had saw great value in sharing and spreading her methods and beliefs to other places. After teaching many nurses in England, she worked with American nurses and doctors to train them in her practice. She teamed up with Elizabeth Blackwell, the first woman with a medical degree in the United States, in 1869, and together they established the Women's Medical College (National Women's History Museum).
Florence also came up with several methods of creating a healing-promoting environment and providing care to patients that are still used today. For instance, during her time in the Crimea, she set up a new system for receiving patients, which now serves as the basis of modern triage. Her triage system would assign degrees of urgency to the conditions and wounds of each incoming patient, so that the order of treatment of a large amount of men could be decided more easily. Additionally, she created the polar-area diagram (Appendix A) which was, in described by Nightingale in her book: 'The Areas of the blue, red, & black wedges are each measured from the centre as the common vertex. The blue wedges measured from the centre of the circle represent area for area the deaths from Preventable or Mitigable Zymotic diseases, the red wedges measured from the centre the deaths from wounds, & the black wedges measured from the centre the deaths from all other causes.
The black line across the red triangle in Nov. 1854 marks the boundary of the deaths from all other causes during the month. In October 1854, & April 1855, the black area coincides with the red, in January & February 1855, the blue coincides with the black. The entire areas may be compared by following the blue, the red, & the black lines enclosing them (Nightingale)." The purpose of the chart was to show the numbers of soldier deaths from specific diseases in different months. It stemmed off the pie chart created by William Playfair. Florence ended up popularizing the use of the pie chart through the writing of her statistic documents. Another part of her legacy is the usage of her name. Many hospitals, schools, organizations, nursing scholarships, and other things are named after Florence Nightingale.
The Nightingale Pledge is one example of this. The Pledge is an adaptation of the Hippocratic Oath taken by physicians. It was written by Lystra Gretter, an instructor of nursing at the Harper Hospital in Detroit, Michigan, and was first used by the graduating class of 1893. Today, the pledge is recited all over the world by nursing students at the closing ceremony of their nursing studies (American Nurses Association). Though the oath was not written by Nightingale herself, it bears her name because it holds to some of her beliefs and she serves as a role model for nurses and physicians, and is known as the 'founder of modern nursing'. The oath reads as follows:
I solemnly pledge myself before God and in the presence of this assembly: To pass my life in purity and to practice my profession faithfully. I will abstain from whatever is deleterious and mischievous, and will not take or knowingly administer any harmful drug.
I will do all in my power to maintain and elevate the standard of my profession, and will hold in confidence all personal matters committed to my keeping and all family affairs coming to my knowledge in this practice of my profession. With loyalty will I endeavor to aid the physician in his work, and devote myself to the welfare of those committed to my care. (Miracle)
International Nurses' Day is even celebrated on her birthday, May 12th. Florence's actions and beliefs have inspired other people in a variety of ways. Her concern for the well being of her patients and her efforts to provide the highest quality care possible to them, along with the actions of American Civil War nurse Clara Barton, inspired Jean Henri Dunant, the founder of the International Red Cross, to "establish an organization concerned with the alleviation of human suffering". This organization became known as the Geneva Convention of 1864, and the International Committee of the Red Cross still stands today (Simkin). Florence's legacy is one of empowerment, healing, and knowledge, and it will stand strong for a long time to come. Florence Nightingale was a powerful nursing leader who overcame physical and mental barriers and left a positive, many-faceted legacy trailing behind her. Defying her family's expectations, she followed her dream of becoming a nurse, even when they were seen as very low in society. She greatly improved the sanitation and care quality of many English hospitals, and set up schools for hopeful nurses. She brought hope to women by showing them that they, too, can become nurses, but, most importantly, she brought honor and respect to the nursing profession.
Annotated Bibliography
Primary Sources
"Miss Nightingale Dies, Aged 90." The New York Times 15 Aug. 1910: n. pag.The New York Times. The New York Times, 2010. Web. 15 Jan. 2015. . This source gave me information about Florence's nickname, the Lady with the Lamp, and her early education. Nightingale, Florence. Notes on Matters Affecting the Health, Efficiency and Hospital Administration of the British Army, 1858. I found Nightingale's description of her polar-area diagram here. Nightingale, Florence. Notes on Nursing. Princeton: Brandon/Systems, 1970. Print. I used this source to find personal opinions and feelings written by Nightingale herself.
Secondary Sources
"Florence Nightingale." Education and Resources. National Women's History Museum, n.d. Web. 13 Jan. 2015. . This source gave me information on how Florence and Elizabeth Blackwell built the Women's Medical College. "Florence Nightingale." History Net Where History Comes Alive World US History Online RSS. HistoryNet.com, n.d. Web. 15 Dec. 2014. . I found a massive amount of information in this source. It spoke of Florence's actions in the Scutari Hospital, and of her nursing methods there. "Florence Nightingale International Foundation [Florence Nightingale]."Florence Nightingale International Foundation [Florence Nightingale]. Florence Nightingale International Foundation, n.d. Web. 17 Dec. 2014.
Related Topics