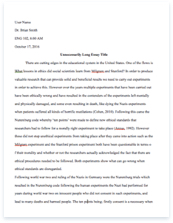 The whole doc is available only for registered users
A limited time offer! Get a custom sample essay written according to your requirements urgent 3h delivery guaranteed
Order Now
            Writing is art that is both difficult and challenging. There is always a degree of difficulty because one is taking into account many things as he/she writes or pours into a manuscript what is in his/her mind. It is communicating and when a person communicates, the message received by the receiver or recipient is influenced by the approach and other nuances of the communication.
"Our communication styles are all different but there are some techniques that can help us be the one our audience wants to listen to" (Obarski,2005)
            "First impressions count" speaks about projection and oftentimes is used when appearing first time before another person or group of people much like an interview session. People may reject you or accept you based on what they see in front of them. This phrase actually is applicable in any human experience, the whole gamut of it. In writing, the format of the paper presented will always affect its overall appearance, to a greater extent influencing the "readability" of the paper. It speaks volumes about the writer's personality: his attention to detail will be noticeable based on the paper he/she writes.
            In order to persuade or convince, the writer makes use of a combination of important elements and use these to maximize the appeal of his/her paper. In cases like the submission of a resume and the cover letter, an applicant's paper/document with a very presentable format easily catches the eye of the recruiter. There is the possibility that the employer might be curious as to who is the person behind such an attractive paper. The mind of the reader looks not just on the assemblage of words on paper, rather he/she reads with the "conveyor" of the message in mind.
Proper formatting not only arrests the interest of the reader but it obviously communicates professionalism.
Related Topics