Family Rules And Television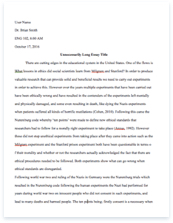 The whole doc is available only for registered users
A limited time offer! Get a custom sample essay written according to your requirements urgent 3h delivery guaranteed
Order Now
Raising an elementary child requires a great amount of responsibility from parents who must set rules and boundaries for the child. These rules are meant to teach the kid right from wrong, and appropriate behavior around others. The parent's responsibility is to make sure that the rules set for the child are not out of place. Some boundaries might include bedtime, homework time, places that are allowed to go, or television time. As a parent, I would make sure that those rules I set for my child are deemed appropriate not only by me, but other parents as well.
Most of my rules would have to be the basic ones that all parents comprise. The simplest rule is bedtime. Have the children in bed by 8:00 pm that way they can get a good night sleep and be ready for school the next morning. Because homework is important to further a student's education, I would enforce a rule that homework must be done the night that it is assigned. Outside during the night is not a place a young child should be, hence I would have my kid inside my home at least a half-hour before dark. I would also like my child to be at the dinner table with his or her father and me together as a family. After all the homework and home business is done, I would interact with my kid through artistic means such as building legos, coloring a coloring book, painting a picture, and reading books that influence my child's imagination. As a parent I would also try to regulate what my sees on television.
Because there is so much violence and sex in television it is not a far-fetched idea that parents will set rules and regulations for their child as to what they watch, and how much they watch. For example, I would block out any channels that depict violence or sex, and influence them to watch educational shows or cartoons. There will also be a time limit on when they can watch television because there would not be enough time during the day to do what needs to get done. The time limit set for my child is during school nights I would regulate it to one hour and weekends to three hours. During those times, they can do whatever they want either watching a movie, show, or playing a video game.
An active child is a healthy child. I enjoy basketball and baseball, but I prefer playing the sports, and I think it would be a better experience if I play with my kid. I would do fun activities with my child such as puzzles, which is a great way to exercise their mind and figure things out. As rewards for good behavior, I would like take my kid to an amusement park, zoo, Movie Theater, or places such as Chuck E. Cheese's. Though this may seem a lot, it may have to be done over weekends and over a length of time.
Families today usually have both parents working which leaves a child with someone else without the parents that give no room for bonding with the parents. I believe, on the other hand, that at least one parent should be at home to take care of their kid. Though this might cut into the hours of work, it still gives a better upbringing to the child. This will also enable the rules that I want to set to stay in affect.
Related Topics