Factors Affecting Communication Skills Of CTC-II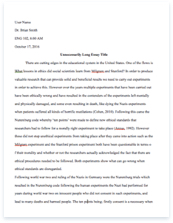 The whole doc is available only for registered users
A limited time offer! Get a custom sample essay written according to your requirements urgent 3h delivery guaranteed
Order Now
All students graduating from College must be able to communicate. This includes the Computer Information System majors. They should be able to read, write, speak, and comprehend in order to communicate technical issues to their peers, supervisors and end users. In fact employers are increasing demanding this of their entry level employees. Software programming skills are still in demand despite companies cutting back IT spending. But programmers must have strong communication skills if they are to secure work.
Communication is the exchange and flow of information and ideas from one person to another, it involves a sender transmitting an idea, information or feeling to a receiver (U.S. Army, 1983). Effective Communication occurs only if the receiver understands the exact information or idea that the sender intended to transmit. Many of the problems that occur in an organization are (Mistry, Lodge, Alton, Mericle, Frush, Meliones, 2008). Effective communication helps us better understand a person or situation and enables us to resolve differences, build trust and respect, and create environment were creative ideas, problem solving. By learning these effective communication skills, you can better connect with your spouse, kids, friends and coworkers.
The ability to communicate effectively is important in relationships, education and work Although various courses are offered in the communications intensive mode by the IT Department, many Instructors stress instruction skills in all their courses. Faculty agreed that it is essential in every course. In most cases the computer students will face daily interaction with others when on the job. Because of this, every computer courses, no matter what the topic, can contain elements that enhance and build the student's communication skills.
In Universities that believe in a liberal education, students must also take courses from the humanities, arts, social sciences, and natural sciences.
There is also a history of calls for additional "communications" or "soft skills" training in computer education. Most computer education acknowledge the need for formal training in writing and speaking. These skills are highly desired for computer students industry and by employees.
Even computer students rate the need for oral, written, and interpersonal skills a close second to technical skills. Yet many Universities do not require communications training. Technical writing and oral presentation classes are not enough. Both speaking and writing skills are ineffective if computer students cannot also succeed in their interpersonal communications and interact competently and professionally with others, especially in conflict situations. Programmers must create programs specific to client needs. The faulty were surveyed to gain their views on the importance of communication skills, specifically in the computer students. The faculty overwhelming agreed that all students should be excel in the following tasks: Speak well in a large or small group
Create and present a well-organized power point presentation Write a formal research paper
Write project documentation (pre/during/post)
Statement of the problem
This study sought to answer the following questions:
1.What is communication?
2. Importance of communication skills?
3. Importance of communication skills among the CTC-II students?
4. What are the barriers of communication skills?
5. What are the possible solution to improve the communication skills of the CTC graduating Students? Significance of the study
It is important to communicate well. Most specially to the student of QUIRINO STATE UNIVERSITY, CABARROGUIS CAMPUS, COMPUTER TECHNICIAN COURSE. It can help them understand what other person is saying. It also means that they can express their own needs and concerns. Some of these discussions may be difficult and emotional.
CTC Students are required to use computers but first they need to understand well the directions and instructions on how to use the said equipment. In order for them to understand the instructions, they also need to be well-informed on how to communicate in order for them and their instructors understand each other. This study very important to the following persons:
Students. Becoming an effective problem solver is an important skill for computer students to master. And, just as important is developing strong interpersonal skills. Students must be able to communicate effectively with human beings as well as with their computers. They should be able to effectively communicate with technical and non-technical colleagues. Teachers. "As computer Teachers they stress that computer science is more than programming. Yet in some of the courses, most of the assignments are programming assignments. Scope and Limitations of the Study
"Nothing is so simple that it cannot be misunderstood- Freeman Teague, Jr.
Anything that presents understanding of the message is a barrier to communication. Many physical and physiological exist.
No matter how good the communication system in an organization is, unfortunately barriers can and do often occur. These barriers are: 1. Physical barriers.
These barriers are often due to the nature of the environment. Thus, for example, the natural barrier which exists, if staff are located in different buildings or on different sites. 2. Physiological barriers.
This may result from individuals' personal discomfort, caused, for example, by ill health, poor eye sight or hearing difficulties. Definition of terms
These following are terms
Abstract
This paper describes "Communication Skills for Computer students". The majority of Computer Science Education Research to date has focused on purely cognitive outcomes. Understanding the communication skills of the graduating computer students state experienced by the students may enhance our understanding of the computer science learning process, and barriers, and may reveal important instructional interventions that could benefit student engagement and retention.
Related Topics