Ethnographic Observation at Three Starbucks Locations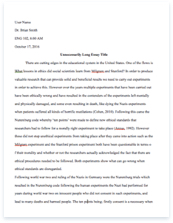 The whole doc is available only for registered users
A limited time offer! Get a custom sample essay written according to your requirements urgent 3h delivery guaranteed
Order Now
As we go about our busy lives, going here, there and everywhere, we never take a moment to look at the world around us. We never seem to take in the sights, sounds, smells and feelings that we often disconnect ourselves from in our obsession to make the world a perfect place. There is hardly a moment that we stop to notice the other people around us, they could enrich our lives without us even knowing it.
I thought it would be interesting to carry out a study on a group of people that most people do not considered a subculture. Therefore, I decided to do my ethnographic observation at three Starbucks locations within radius of Howard University. The three locations that I visited were located on O St NW, U St NW, and Georgia Ave NW. I choose three locations because I wanted to see different perspectives of subculture Two of the locations are branches of Starbucks (O St. and U St.), while the other location (Georgia Ave) is a Starbucks stand inside the university.
The coffee shop subculture is made up of different types of individuals at different periods of the day. For my study, I divided my session into two: a morning session that started at 7 am until 12:30 pm and an evening session that started at 5 pm until 8 pm. The ethnographic methods that were applied in my study were informal interviews and participant observation. I interviewed customers who frequently attends these locations, customers who attends these locations occasionally, and employees who work at these locations. When interviewing the employees, I tried to direct my questions towards their views as observers of the business.
When approaching the coffee subcultures, I simply just walked into the Starbucks and became one in their practices. I first had to engaged myself into their practice. In the morning session, I toke with me some reading material and sat at an open position within the location. This gave me a perfect perspective of what is going on in and outside the shop; while I surveyed the culture around me. In the evening session, I walked into the coffee shop ordered me a cup of coffee and sat and sipped it leisurely; while surveying the culture around me.
When entering each Starbucks, I noticed that no Starbucks are designed the same. Each Starbucks were designed to reflect characteristics of its neighborhood. For instance, the Starbucks stand that is located inside the university is tailored to reflect the university. The surrounding walls are white with Howard's logo painted on it. While the Starbucks on U St. has a modern-day interior. Every Starbucks is different but the one main thing they all have in common is computer technology. All three locations provide wireless hot spot internet. When it came to the seating, I observed that each location had a specific number of seats for their customers. Once again, their design reflects its neighborhood so the seating arrangements in each location was different. At the O St. and U St. location, their seating arrangement allows customers to easily move and interact between one another. While the Georgia Ave location, which is that stand inside the university, only allows easy interact between one another. That is because, this location seating arrangement only provides their customers with four tables and chairs.
As I began my observation, I quickly noticed that the morning hours between 7 am and 9:30 am are the busiest. Those are typically the busiest hours because that is the time where customers are getting their morning coffee before going to class, or going to work, or just starting their day. Between those hours there are few customers who tend to sit, drink their coffee, and relax. And at that moment I was able to interview a two young lady, one at the Georgia Ave location and one at the U St. location. Ms. K, who was at the Georgia Ave location, a 20-year-old and a junior at Howard University stated that she comes to the coffee shop every morning to grab her favorite coffee and wait for her classmate so that they can walk to class together.
She continues to state that she likes coming to this location better because its closer to her class and that the wait usually is not that long compared to the other locations. At the U St. location, I was able to interview Mrs. B, a 35-years-old mother of 2 small kids. This interview was different from my first interview because I was able to sit down with Mrs. B and have a conversation. Our conversation ranged from talking about her kids, to be being in school, to just talking about the world. Within our conversation, I did ask her how often she comes to Starbucks and she replied by saying "I visit Starbucks every morning after I drop my kids off to school." She goes to Starbucks every day to relax and to starts her day off by having her special made tea, bagel with cream cheese, and a cup of fruit.
When ending my first study session, I noticed that between the hours of 11am and 12:30 pm the crowd started to pick up. That is because people are starting their lunch break. I noticed that a lot of working-class individuals comes to Starbucks during their lunch break. I believe they enjoy coming to Starbucks because of the atmosphere and to get a break from their job.
When starting my second study session, I felt like I was one with the subculture because I knew what to expect when walking into the doors of the locations.
Related Topics