Ethics and Licensed Professional Counselor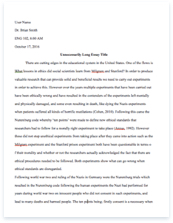 The whole doc is available only for registered users
A limited time offer! Get a custom sample essay written according to your requirements urgent 3h delivery guaranteed
Order Now
Directions: Read the scenarios below. For each scenario, provide a 75-150 word response to each question. Use the ACA and NAADAC Codes of Ethics and other scholarly resources to support your responses. You must provide at least one citation to support your response for each scenario. Though APA format is not required for your answers, citations and references should be presented in accordance with APA guidelines.
1. Barbara is a licensed professional counselor (LPC) working for a nonprofit social service agency. Many of the clients in the agency are female domestic violence victims. The director of the agency has asked Barbara to develop a counseling group to serve the needs of these individuals. a. What ethical matters should Barbara consider as she plans this group?Probably the most familiar of ethical issues , is the expectation that communications and information from participants in the course of this community program (including conversations, written or taped records, notes, test results, etc.) will be kept confidential. Because ethical issues are not always cut and dried, community programs should work out their own ethical guidelines and policies before questions actually arise. If Barbara and the agency can agree on standards for primary ethical issues — confidentiality, consent, disclosure, competence, conflict of interest, grossly unethical behavior, and the overall ethical stance and actions of the program — and create policies which will help them uphold those standards, they are on their way to community respect and outstanding service delivery ( National Association of Social Workers 1999).
b. What methods should Barbara use to ensure confidentiality in the context of group counseling? When treating clients in a group setting, the program can not guarantee that confidentiality will not be violated by group members. In order to address this issue, programs should require that all group members sign a mutual agreement to confidentiality. In this agreement programs should require that patients promise to hold confidential all communications made by participants and all information obtained from or about any participant while in a group therapy session (National Association of Social Workers 1999). Although this measure does not guarantee that all members will abide by the rule, it does set the expectation that can then be addressed clinically or administratively when a client does violate his/her agreement. c. If breaches of confidentiality occur, how should Barbara manage them? Confidentiality and privilege are key to keeping battered women safe and represent the cornerstones of all successful advocacy and shelter programs.
At its most basic level, confidentiality equals safety. The American Psychiatric Association (APA) has emphasized that: the continuing duty of the psychiatrist to protect the patient includes fully apprising him/her of the intention of waiving the privilege of privacy .First, Barbara can talk to the therapist /agency about your concerns and try to work it out with them. If you don't feel satisfied with the results or the breach was so conspicuous that you never want to have contact again you can call your local licensing board and file and formal complaint (National Association of Social Workers 1999)..
2. David is a licensed professional counselor (LPC) and a licensed marriage and family therapist (LMFT) working for a family counseling center. Steve, one of his adult clients, would like to begin couples counseling with his wife. a. What ethical matters should David consider before beginning to see Steve and his wife?If counseling roles change from individual to couples counseling or vice-versa, you must obtain appropriate informed consent from the client(s) and fully inform them of anticipated consequences to this change. (2005 CA Code of Ethics, Standard A.5.e.) b. What special issues of confidentiality may arise in the case?
How should David address these issues? Even though David most recently been in a counseling relationship with the husband, he stills have a legal "duty" to the husband, who was originally client..In most circumstances, he can release the husband 's individual counseling records to her upon his written request. However, he may be compromising his ethics and breaching confidentiality by releasing information to the wife that he obtained from the husband or learned during a joint counseling session unless he have written authorization of both or a court order (2005 ACA Code of Ethics, Section B.2.c.) )
c. How might differences in personal values and gender/cultural issues create ethical dilemmas in this case? It's an ongoing balance to decide how David going to view the cultural differences. There isn't a simple answer. The principal rule supporting ethical obligations is that the counselor must act with full recognition of the importance of client's rights, the ethics of the profession.(National Association of Social Workers 1999).
3. Stephanie is a licensed professional counselor (LPC) who has decided to start a private practice. As she makes her plans, there are many ethical issues she must consider. While these issues are of concern to all counselors, she must consider how they specifically impact a counselor in private practice. a. How can she ethically handle limited resources, respond to discrimination, and promote community change? Ethically, she have a responsibility to respect the client's worldview by maintaining an accepting and nonjudgmental stance. At the same time, it is our ethical responsibility to work within an understanding of social justice and advocacy( NAADAC 2013) . At a minimum, counselors should give clients the option and space to discuss racial and other prejudicial issues in the context of their own worldviews and experience (National Association of Social Workers 1999). b. As a service provider, with what ethical issues and practices related to state insurance laws and managed care must she be familiar?
The ACA Code of Ethics would probably serve counselors well in helping them to overcome these legal, ethical, and multicultural barriers. Working towards being knowledgeable and also being aware of what the state and local laws are in the area in which you practice because state laws do vary from region to region. c. What are the ethical obligations and limitations faced by a counselor who serves clients who have been the victim of discrimination, injustice, poverty, or lack of access to behavioral health services? According to NAADAC (2013) 'the challenge is to provide counseling services that improve and expand the service delivery to minorities, women, poverty,and thereby help to improve these conditions. This means that a counselor needs to have an understanding of how to recognize discrimination and other barriers to equal opportunity before he/she can take the appropriate steps to address these barriers enabling all people to develop to their fullest (National Association of Social Workers 1999).
References
2005 ACA Code of Ethics Wheeler, A.M. & Bertram, B. (2008). The counselor and the law: a guide to legal and ethical Practice (5thed.). Alexandria, VA: American Counseling Association
ACA Code of Ethics: www.ncyu.edu.tw/files/list/family/CodeEthics05enhancedprint%5B1%5D.pdf
National Association of Social Workers. (1999). Code of ethics. Retrieved from http://www.socialworkers.org/pubs/Code/code.asp.
NAADAC. (2013). Code of Ethics. Retrieved January 7, 2015, from http://www.naadac.org/code-of-ethics#iii
Related Topics