Ethical Theories from different prospectives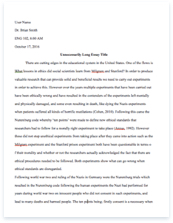 The whole doc is available only for registered users
A limited time offer! Get a custom sample essay written according to your requirements urgent 3h delivery guaranteed
Order Now
When dealing with ethics, there are many different theories that apply to what is right or wrong, and also what people should or should not do. All because something may seem or feel right for one person it may not always apply to another person or people in the society. Many people have their own beliefs and values as a person or while involving a society (Mackinnon, 2011).
Ethical relativism can be defined in many different aspects. All the different aspects focus on one main idea though. Ethical relativism reflects on the moral beliefs and values of the different society it is attached to. All around the world are different types of societies, and although what may be moral to one society, may be immoral to another.
Utilitarianism can be described by the consequences that occur after an action has been made. While referring to utilitarianism, one looks to seek out the most effective way to find the good in all consequences. Utilitarianism also refers to seeking the greatest amount of something, whether it being the good, in numbers, or even the greatest amount of prospects or opportunities.
To describe Kant's categorical imperative it is to provide human morals and human judgments into any action that takes place. In by doing so, humans have to apply moral understandings in what is right and wrong and they also have to think rationally about what is right and wrong.
In my personal experience, either it being in the work place setting or at home, I try to apply Kant's categorical imperative theory. In his theory he explained that people should treat other people with respect and kindness. In by doing so, the outcome of any debate or issue can be justified morally rationally and without any repercussions of something bad happening. I also believe in everyday life that using all three theories can help people transition better in today's society.
References:
Colorado Technical University Online (2010). PHIL 101-1403B-02 Phase 1 Ethical Theories [Ethical Relativism pdf]. Retrieved from Colorado Technical University Online, Virtual Campus, PHIL 101-1403B-02: https://campus.ctuonline.edu Mackinnon, B. (2013). Ethics: Theory and Contemporary Issues, Concise Edition (2nd ed). Retrieved from Colorado Technical University Online, Virtual Campus, PHIL 101-1403B-02: https://campus.ctuonline.edu www.qcc.cuny.edu/socialsciences/ppecorino/MEDICAL_ETHICS_TEXT/chapter_2_Ethical_Traditions/Categorical_Imperative.htm www.scu.edu/ethics/practicing/decision/ethicalrelativism.html
Related Topics