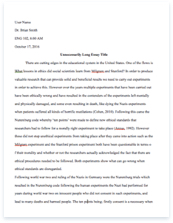 The whole doc is available only for registered users
A limited time offer! Get a custom sample essay written according to your requirements urgent 3h delivery guaranteed
Order Now
Environmental scanning is a key activity that begins a company's strategy planning process. The scanning must include both external forces like economic, technological, political-legal, and sociocultural as well as internal competencies such as value, rareness, imitability, and organization in order to be effective (Wheelen & Hunger, 2010). This thorough analysis will provide a foundation for a company to build their plan upon. Environmental scanning provides a company their strengths to build upon, their weaknesses to mitigate, their opportunities to seize, and their threats to be careful of. Large companies like Microsoft and Amazon are still operating and successful today because they take the time and resources to conduct frequent environmental scans to keep their strategic plans relevant to the ever evolving competitive market. Internal and External Environments
Environmental scanning shows that Microsoft Corporation would have typical internal environments such employee turnover and retention, employee morale, and standard financial planning. Specific to Microsoft would be hiring and retaining employees that will help keep Microsoft at the cutting edge of technology. Bill Gates' (2014) vision statement states "Our vision is to create innovative technology that is accessible to everyone and that adapts to each person's needs. Accessible technology eliminates barriers for people with disabilities and it enables individuals to take full advantage of their capabilities." This statement has a significant impact on internal environments and strategic planning. External Environments for Microsoft Corporation include technology advancement within the industry, competition such as Apple and Google, and in recent years the government and anti-trust lawsuits. Microsoft has invested and pursued a significant amount of vertical growth and has been criticized for creating a monopoly as well.
Internal environments for Amazon are similar to those of Microsoft. Amazon's mission statement is a very high reaching goal, "to be Earth's most customer-centric company, where customers can find and discover anything they might want to buy online, and endeavors to offer its customers the lowest possible prices," (Amazon, 2014). This is the main Internal Environment specific to Amazon as this drives many of the strategic planning as it relates to internal operations.
External Environments for Amazon are customer satisfaction, new vendors, new products, and competition. Competition is probably the largest External Environment due to Amazon's broad offering of products; this reaches into almost every industry worldwide and as Amazon increases its offerings it increases the competition as well. Competitive Advantages and Strategies
Like many other companies that achieved success in the business world, Microsoft rose to the top of the software and computer business via the right strategy for ensuring a competitive advantage. The Microsoft Corporation's competitive advantages include size and stability. The single most important strategy that the Microsoft Corporation went after that was pivotal for quick profits is research and development (R&D), which helped the Microsoft Corporation to grow. "Growth is a popular strategy because larger businesses tend to survive longer than smaller companies due to the greater availability of financial resources, organizational routines, and external ties" (Wheelen & Hunger, 2010, Chapter 7).
The strategies that the Microsoft Corporation now uses include a strong brand name, comprehensive product portfolio, inclusion, and global diversity as a strategy for success (Wheelen & Hunger, Chapter 8, 2010). Amazon's competitive advantages include investing and innovation. The strategies that Amazon uses include a marketing strategy that concerns sales, distributions, and pricing of goods. Johnson (2014), "Amazon at its roots is built to transform. When it finds opportunities to serve new customers, or existing customers in new ways, it conceives and builds new business models to exploit them. Amazon has the unique ability to launch and run entirely new types of businesses while simultaneously extracting value from existing businesses" (para. 7). Amazon innovates, changing the company's business model to maintain a competitive advantage. Creating Value
Amazon sustains competitive advantage by offering the convenience of shopping online and having products delivered right to the customer's door. They also offer a wide range of products from multiple sellers that can offer lower prices. Amazon also specializes in fast shipping and customer satisfaction. Burrus (2003), "In order to have a lasting competitive advantage, it is important to develop a competitive strategy that includes a wide spectrum of techniques to gain advantage." The internet allows customers to search for a product and where they can buy it at the lowest price. If it is delivered within two business days, that is more appealing.
This service will keep customers returning for future purchases. Amazon has something for everyone, from books to clothing, to housewares and grocery items. Someone who is busy and does not have time to shop can do so while at work or on the go without having to go to the store. According to Microsoft Customer and Partner Experience (2014), "Microsoft strives to continually create innovative technology products that transform the way people work, learn, play, and communicate." Microsoft has been one of the leaders in the computer software industry. They offer a wide variety of products from software to tablets and cell phones. Their variety of products can be used for personal and business use.
They sustain competitive strategy and create value by creating new products and services that can be used at school, work, or for play. Customers are always looking for the newest technology, the fastest computer, and the best prices. Microsoft continually competes with other companies in the technology industry by making their prices reasonable for the company but affordable for the customer. Measurement Guidelines
The measurement guidelines that the Microsoft Corporation is using to verify its strategic effectiveness are balanced scorecards. The balanced scorecard is a proven performance measurement system. It is a complete long-term performance management system and methodology. It is a fact that defines, refines and shares strategy, for expressing strategy to operational terms, and for sizing the success of strategy implementation. The balanced scorecard initiative is very successful in the noticeable guidelines for the Microsoft Corporation. They meet the standards that represent the period of events in its organization's gradual development even though it is challenging and relating to the process of cultural change. Microsoft's success is defined, with many facets approaches that support education, communication, scorecard development, and ongoing execution. (Bloomfield, C., 2002)
The measurement guidelines that the Amazon is using to verify its strategic effectiveness is its feasible and original business model that values its customers, and builds around the changing market. It is a plan of action and a thorough formula for profit, which turned around the respectable industry of books. Amazon continued to expand beyond just books and they now include all sorts of goods and services increasing from its central into near contiguity. Years later Amazon took hold of its empty space when it invented a new valued plan of action offering a charge service for brokers, buyers, and used books sellers. Once again it moved into its empty space by evolving a system to render assistance to distinct customers, and third-party sellers. Amazon has transformed its business from a store-front to precise types of service or goods to several different on-site departments as well as to outside beings which forms into a class of many sellers under one network, and it receives commissions sales from other companies. (Johnson, M. W., 2014)
Microsoft and Amazon are successful and profitable because of their ability to scan the environment, create value and sustain competitive advantages, and verify their strategies' effectiveness through measurements. They incorporate all of these elements into their strategic planning process. They are able to exploit their strengths and keep pace with the changing technology market and stay one step ahead of the competition. New products and services are regularly developed and tested before brought to market. Environmental scanning is part of the reason these companies have flourished where others have failed.
Related Topics