Education management and education leadership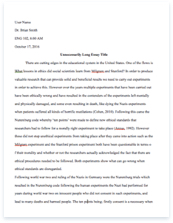 The whole doc is available only for registered users
A limited time offer! Get a custom sample essay written according to your requirements urgent 3h delivery guaranteed
Order Now
Differentiate between education management and education leadership For education to achieve its set objectives and mission, there must be people whom fore sees the implementation and dissemination of the set objectives. A leader must inspire while a managers brings about transformation. There are many differences between manager and leaders which includes: Leadership inspires change in education, managers manages transformation in education A leader must set direction and inspire people to follow them. The process of following often requires great change.
This is where strong management comes in. It's the manager's job to oversee the work needed to implement the necessary changes and realize the organizational transformation set forth by the leadership. Leadership in education set vision while managers in education requires tenacity. Leadership in education needs to envision what the education is to become. A great manager must have the willingness to do whatever it takes to achieve the goals set forth by the leader. Leadership requires imagination, management requires specifics.
A great education leader cultivate their imagination to inform what education should achieve in the future. Managers must understand that vision and drive their teams to do the specific work necessary to accomplish what has been expressed in the vision. Leadership focuses on human interaction while management is to procedures and results Education leaderships focuses on motivating of workers for them to give the desired results while management focuses on how the workers are carrying out their procedures which are geared in attaining a specific goal.
Education Leadership requires ability to articulate while education management requires ability to interpret. A good education leader can describe their vision in clear detail so to engage and inspire their organization to pursue it. A good manager must understand and interpret that stated vision and recast it in terms that their teams can understand and implement it. Education leadership focuses on binding people together while management focuses on resources and Achievement of the goals.
Leaders will mostly focus on the togetherness of the workers while managers focuses more on how the workers are using the available resources Importance of combining the following leadership styles when executing duties in school/colleges Democratic style Democratic style of leadership is a style by which consultations and participation of all members is involved. When a leader of an institution combines democratic leadership with others one is able to achieve more. This is because of: When using democratic leadership style, one is able to bring cooperation among workers.
This cooperation leads to high output in production of the expected results. Democratic style seek to opinion of every member involved. This in turn leads to boosting members' self-esteem as they feel they are being recognized and their input is valued. Decisions are arrived after all members are involved. This will help in widening his views are there will be more than one option available for him to choose among. Democratic leadership style is one of the best as it keeps the staff informed about matters that affect them and their institution.
This helps them to articulate what is happening now and in the future. It is also used when the head of the institution wants to provide opportunities for staffs to develop a high sense of personal growth and job satisfaction. A head of institution may apply this style when the problem to be solved is complex or involves all members of the staff. This will helps in getting all members of staff inputs and make the most right decision. Democratic leadership may be used when the head of an institution want to encourage team building and participation among the staffs. Autocratic style
Autocratic leadership style is also known as authoritative or coercive style. It is mainly characterized by a one man decision making. All authority and decision making is centred in the leader. This leadership skill is important and can be applied by head of an institution when; The decision to be made need to be arrived at in the shortest time possible. When applying this style, decision making is very fast as it is one man show. No need to consult. Secondly it can be applied when new, untrained/ unexperienced teachers do not know which task to perform or which procedure to follow.
It will help the new staffs to adopt to the new system. Thirdly, it is highly applicable and beneficial where there is no effective supervision and this can only be attained through detailed orders and instructions. When all other leadership style fails, autocratic is the best and is very effective. The leader just need to issues orders that do not need to be questioned but to be implemented. Sometimes, manager's power is challenged by the staffs. It is the right time to use autocratic leadership. The staffs are not expected to question but to implement.
The leader authority is regained through this style. Finally it is very applicable when work needs to be coordinated with another department or organization. Laisser-faire/ free reign style This is a leadership style where staffs are left free to do what they like to do. Also known as the "hands-off? style. The manager provides little or no direction and gives staff as much freedom as possible. All authority or power given to the staff and they determine goals, make decisions, and resolve problems on their own. A head of institution may decide to use laissez-faire leadership when;
His staffs are highly experienced, skilled and educated and they thoroughly know what is expected of them. He may also use it if the staff is using expert or knowledge beyond his knowledge. If a consultant is used or an expert is concerted, the leader might leave him to do what they best practice. It also motivate staff and create a sense of trustworthiness. This create confidence and motivation among the staffs. It also promote self-discipline among the staff as they are let to do what they can do on their own with little or no supervision.
Related Topics