ECCO – Integrated Vertical Value Chain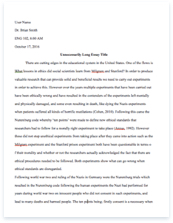 The whole doc is available only for registered users
A limited time offer! Get a custom sample essay written according to your requirements urgent 3h delivery guaranteed
Order Now
ECCO has a fully integrated vertical value chain. What are the pros and cons of this strategy? What economic and strategic factors should be analyzed to answer this question? Unlike many other shoe companies, ECCO had a vertical value chain, in that they controlled the product from the cow hide to the completed shoe. As noted in the text, ECCO would buy raw materials for use in their various tanneries and production sites. As the one of the world's five top producers, ECCO also sold leather to the auto and furniture industries (Bartlett & Beamish, 2014). While owning tanneries and controlling the product from the beginning is advantageous for quality, it can increase the cost of production. ECCO's competitors outsourced shoe production, which decreased production costs, which would translate into lower-priced products. Another consequence for a fully integrated vertical supply chain is also associated with production. Benchmarking production was supposed to be a way to further develop and enhance the production process and address production costs.
Instead, it compared internal production sites to each other as opposed to external partners. There are benefits to having almost total control over the process. Many times, companies find themselves at the mercy of their suppliers at various stages in production, which can be problematic. By obtaining the raw hide, and then seeing the process through to distribution, ECCO has insulated themselves from many obstacles. Another key advantage of controlling production and distribution is that this allows ECCO to respond more timely to shifts in market preference. Lastly, having this control allows them to tightly control and monitor quality, which is critically important. There are many economic and strategic factors that must be evaluated to determine the benefits and costs of a vertical supply chain. For example, when determining the pros and cons, one must consider production costs, which include labor and materials.
The company must determine if the added show quality outweighs the added costs, as well as how this compares to its competitors (who do not have many of those expenses). Strategically, the company has decided to invest in a leather research centre, in addition to multiple tanneries. This demonstrates their commitment to staying the course of internal production. The company strategically decided to place a premium on the quality and availability of their product, throughout the supply chain. ECCO felt that this was more valuable to the company than lower product costs, and their success in the market has illustrated this, as well.
Related Topics