Discovering Learning Patterns That Give Me Awareness in Every Aspect of Life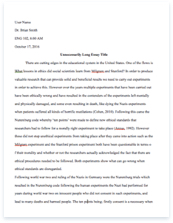 The whole doc is available only for registered users
Pages: 7
Word count: 1628
A limited time offer! Get a custom sample essay written according to your requirements urgent 3h delivery guaranteed
Order Now
Learning at the college level as a non-traditional student comes in many areas in the online classroom as well as outside of the online classroom. Currently, at Ashford University the class Personal Dimensions of Education teaches its students how to become an intentional learner by discovering your learning patterns and how to use those patterns to learn with intention in every aspect of your life. During that discovery you will accumulate and utilize tools like experiences, feedback, exchanged ideas, and revisit the learning challenges you are currently facing and have faced in the past to develop an awareness of how you learn. In doing so will assist you in becoming competitive in your chosen career but also an attentive learner in your personal life and more importantly as well as in your academic life.
With the tools to discover your learning patterns and the awareness you gain you will add value to your life and contribute to who you are as a person. When exploring my learning patterns for the first time in this class I discovered a true sense of who I am and how the skills I possess, the education I've already achieved, and the experiences I've faced can contribute to who I am in the competitive field of my chosen career in Early Childhood Education. After taking the LCI Assessment at the beginning of this class it revealed that I am a strong-willed learner who uses three or more of my learning patterns at the Use First level. The learning patterns in the LCI Assessment are Sequence, Precision, Technical Reasoning, and Confluence.
I scored in Sequence (32), Precision (27), Technical Reasoning (26) and in Confluence (29). As a student who is studying a field I have no experience in I must consider the skills I already possess and utilize my LCI assessment scores to maintain success. For example, my Use First Sequence learning pattern will assist me in organizing lesson plans for my classroom. Although those lesson plans will be organized with intention the age of the children I will be teaching will be too young to follow without a hands-on experience from the teacher. That's where my Use First learning pattern of Technical Reasoning will come into play. Those with a Use First Technical Reasoning learning pattern regularly pitch in to help find a solution to a task any time they come across one. With the help of an adult guiding its students during a task when needed will produce opportunities for growth for the student. Then as a Use First in the Confluence learning pattern, I'll be able to use my creative abilities to keep the children interested in learning daily and make connections with others to help build trust with students and their parents.
Then with my Use First learning pattern in Precision, I will be able to continue learning how to be a teacher throughout my career by asking my co-workers questions when I am experiencing an aspect of teaching I do not understand. With the awareness of how to use all my learning patterns and FITing them to accomplish the tasks and responsibilities of a Pre-Kindergarten teacher, I will be able to successfully be competitive in my chosen career. Before weeks two, three and five in learning about what type of intentional learner we are and gaining awareness of the learning patterns, we learned about the concept of a mindset. An individual with a fixed mindset is content with their levels of intelligence and talents and do not wish to improve themselves. An individual with a growth mindset is someone who has goals to increase their basic abilities by learning and being open to growth to improve themselves. Although there are two mindsets there is only one mindset that can help me further develop and positively impact others in any setting and that's a growth mindset.
What a growth mindset means to me is that there are always opportunities behind every failure and every challenge we face daily. What makes you a better version of yourself and those around you is how you react to a failure, how you learn from a mistake and how you gain motivation from a loss. When you are actively learning with a mindset like that it is contagious and can impact others around you. Beyond academics and with a growth mindset there are other roles we choose that impact others in different aspects of our life. For example, being a parent and having a growth mindset allows me to not only have a powerful role but a powerful impact on my child's life. As parents how we say things, the actions we take, providing an understanding for the mistakes they make and teaching them how we process emotions around and to our child has an impact on their mindset. As a parent with a growth mindset who is still constantly learning we have the power to affect our child's beliefs by encouraging their abilities and supporting them while they learn. In any role that we chose we could lead by helping others and positively impact others just by having a growth mindset. Now that we have dove deeper into our mindsets, how we learn and how it can impact others, we must dive even deeper by evaluating our level of integrity inside the classroom and outside of the classroom.
We must take the building blocks such as the knowledge we've learned thus far and start to frame each learning pattern we possess to assist in developing an adept mind to be successful in all areas of our life not just academically. Diving deeper like this can be referred to as being critical where we evaluate our roles, understandings, and positions in our lives. We can do so by utilizing the skills we have available to us and those are critical thinking, reading, and writing. We mostly hear or think critical thinking, reading and writing only happen in the classroom. Well, we actually critically read in many roles in our lives and we use our learning patterns to do so. An example outside of the classroom is when I found out I was pregnant with my first child I sought out many forms of text to assist me in becoming a parent. My Use First level of the Sequence pattern helped me move through my pregnancy milestones by methodically reading each chapter in order and referring to what I didn't understand.
Then I used my Use First level of the Precision learning pattern to help me pay attention to key terms of pregnancy and after birth to really focus on the important elements of what I will be going through before and after the baby. My Use First in the Technical Reasoning learning pattern really helped me understand the important elements during pregnancy and after birth by looking at photos and diagrams of what I was going through to help me interact with the content and reenact it through my experiences. For an example inside the classroom was when I went back to go to school and faced a lot of assignments that required a lot of reading material. I used my Use First level in Sequence to follow the textbook in order from pre-text questionnaires to end of chapter reflections methodically but made sure to go back to the material that didn't stick. I used my Use First in the Precision learning pattern to schedule specific times during the week to read the material so that I could slowly go over it.
All these are perfect samples of strategies I applied to critically read inside and out of the classroom and to achieve academic integrity and make principled choices based on my moral decision to have a child. In this class, we discovered how our minds work and how to add value to the choices we make but what really helped me mentally process the material we were learning was the metacognition forums we had each week. A metacognition forum was a place for us to analyze everything we were going through while we were becoming intentional learners. Throughout this course, we were able to engage with our classmates in a weekly discussion about what we were learning about ourselves, how we processed that information and be able to reflect positively to all the changes we were going through. For most individuals, it isn't easy to communicate with strangers the unveiling truth about who you are and why you do what you do.
The metacognition forum broke that barrier of misunderstanding and guided us in helping each other get through the learning process. Week by week I learned something new about myself and how I needed to improve in all aspects of my life by participating in the metacognition forum. Continuing through the forum helped not only me learn intentionally but other students as well. All in All, the past five weeks of this class has been a bittersweet journey. Although my expectations were exceeded I really had a tough time developing a growth mindset from a fixed mindset. Although it did make change have more of a positive face and allowed me to admit the areas in my life that I needed to work on.
Even after a tough first class like this at the beginning of a college degree, I wouldn't change anything about how the content was shared, how the interactions were orchestrated or how thorough the instructor was in communicating the lessons of this class. The to-do list was very long to complete the weekly assignments, but it is worth your time and effort if you are seeking deep change in how you communicate, process and impact others. If anyone ever needed a recommendation for change in their education, work environment or personal life I'd recommend this class entirely.
Related Topics