Disability & Brain Research Essay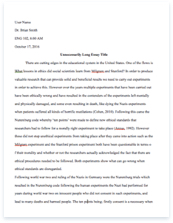 The whole doc is available only for registered users
A limited time offer! Get a custom sample essay written according to your requirements urgent 3h delivery guaranteed
Order Now
In reflection on neuroscience and the medical brain research study that explains learning disabilities I found an online article that is very interesting, which explains the concept of research. Researching students with learning disability has become the fore front of how student development and maintain information. According to research, the goal of this study is to gain knowledge of neuroscience and how it relates to learning disability. The research that will be discussed is documents from the center for molecular biology and neuroscience. The mission of this study is to advance the understanding of brain's structure and function through neuroscience research and Individual training. The goal of neuroscience research can only be reached through an intrusive approach that cross the boundaries of past disciplines. Hence, the Center for molecular neuroscience researcher combine molecular, electrophysiological, neurochemical, anatomical, imaging, behavioral, and neuropsychological methods to analyze how the brain works, develops, interacts with the environment, and is modified by experience in health and disease.
The terminology mention all plays a major part to understanding the development of the brain. The Center for molecular and behavioral neuroscience is dedicated and committed to helping students academically and surrounding communities through educational outreach programs, community outlook, and research assessments. I have enclosed titles of some educator resources for parents and teachers such as; all kinds of Mind, The American Council of Rural Education, The Autism Network, and the Bridge Center. The following are links to websites that can help parents and teachers gain knowledge about neuroscience development. A learning disability is not only a learning dysfunction, but it could also be dyslexia. Dyslexia is known as reading disorder whereas students see words right to left and not left from right. Intervention is mandatory to helping people with learning disabilities to learn, read, write etc. Research has shown that there is a high percentage of children who display learning problems in lower grade that will have reading problems into adulthood unless there is an intervention.
In order for a student be be diagnosis with a learning disability there are a series of steps the student and parent must go through to get 504 accommodation. There are many intervention methods that are utilized currently in today's school system. Even though there and studies being rendered there is controversy to find out which research study works accurately. With company donations medical researchers are examining which methods might help students who are struggling with a learning disability such as; dyslexia. Brain imaging technology help researchers discover the biological function of the brain and how reading levels are achieved. Today's Scientists have established that students with dyslexia or a learning disability have an error in their nerve make-up that makes reading and learning extremely difficult. Researchers are constantly, searching for an inept understanding of how the brain becomes damaged. One particular study suggest looking at the immune proteins in the brain that may somehow cause neurons in the brain to be disrupted.
Hence, researchers are also examining the role of hormones and neurotransmitters which is the chemicals that transport messages between nerve cells. To add on, genetic research into dyslexia is constant in the ranged and extremely at a high rate. Scientists already have found genetic markers for learning disabilities in addition to extra chromosomes that aid into a genetic error. By gaining knowledge of the genetic make-up and possible chemical imbalance this may help experts more accurately diagnose and treat at-risk students. By using additional technologies, doctors are hoping to find which types of comprehensive methods and interventions are most effective to helping students. Other Scientist perform conducive reading research to understand disabilities. The advantage of early intervention is to catch a problem in advance that actually reprograms the brain, causing positive brain function which may trigger certain disability to not be prevalent. .
Yes, scientists has established students with learning issues have a problem in their brain function that makes learning extremely difficult. Scientist are searching for an inept decision of how the brain becomes damaged. Researchers are bias if or whether the immune makeup in the brain may cause disruption. As I continue to do researchers it was found that scientist must examine the role of hormones and there function. The brain is a complex system that will take decades to explore. Teachers, are always exploring how and why students act a certain way. As a Special Education Para Professional I see all kind of disabilities and sometimes just can't diagnosis by just looking a student. I often have to look at a student Individual Evaluation Plan. An Individual Evaluation plan helps Instructor understand a student disability. Often learning disabilities are diagnosis as having dyslexia.
Knowing of the genetic and learning disabilities are possible due to the break -down of chemicals in the brain cause by learning disabilities. Scientist gain more accurately information on students with learning exceptionalities after being researched. As mention earlier the use of brain imaging technologies, and other mellium gadgets researchers can determine how the brain function. Through accurate studies it is suggest that certain types of intensive learning strategies, is offered through early intervention programs. At Michigan State University researcher has discovered that the first detailed evidence of children with a nonverbal learning disability is considered a "pseudo". Pseudo is a diagnosis that develop differently in the brains of individual children. The finding, published in Child Neuropsychology article, states their findings can help educators and doctors better understand how and why children with a nonverbal learning disability can be helped.
Another form of a learning disability is called Asperger's Asperger's is a high functioning autism, which is often confused with other disabilities. The key concept is to understand the genetic makeup of students with learning and behavioral difficulties is gaining intervention strategies for students and the Instructor. In conclusion the concept of neuroscience is becoming more prevalent in today school systems. Educators must be able to understand the brain and how it function. As early childhood educators we study child development on how a child develop by age, hence not the development of the brain of students. There are more than 1000 neurological disorders that affects the nervous and brain system. . Every year, more than a million people and students are diagnosed with a neurological disorder. Neurological disorders affect people of every age not just children, but are more common in older adults. As we get older I brain begins to lose cells causing optimizers are Parkinson disease.
Consequently, there are babies who are born with a neurological disorders. Other neurological problems may develop into childhood or adolescence. If a baby or child is born with a neurological disorder then the child's entire life is at risk and this is concerning. However, not all neurological problems have long-term consequences for children there has been success stories. Through research we can learn the signs and symptoms and how to be aware. . A neurological disorder is often a diagnosis with the nervous system, which may include the brain, the spinal cord and nerves. If a child sustain injuries then he/she may have difficulty with movement, speech, or thinking. Many neurological disorders in children are inherited and others are developed during pregnancy.
Common neurological disorders in childhood include attention deficit hyperactivity disorder, autism, cerebral palsy, and traumatic brain injury. As I review the following information I found disabilities come in all forms and not just physical. I can go on and on about the different forms of disability, hence I would have over thirty pages to this essay. We as educators are constantly evolving to understand the different exceptionalities. The medical field is flowing over into the education field; we must understand how and why we must coincide with the medical industry. In conclusion we as educators must be aware of the different disabilities and diagnosis of special education and help advocate for students with disabilities.
Reference
"Center for Molecular and Behavioral Neuroscience." Center for Molecular and Behavioral Neuroscience | Rutgers–Newark Colleges of Arts & Sciences. n.d. Web. . "Special Education Resources." Teacher Resources for Special Education – Lesley University. N.p., n.d. Web. 1 Apr. 2015. . n.d.Dyslexia: What Brain Research Reveals about Reading. Society for Neuroscience. Retrieved April 1, 2015, from
Researchers Use the Latest in Nanotechnology and Transdermal Drug Delivery to Combat Acne. Study Finds Differences in Brains of Children With Nonverbal Learning Disability. Retrieved from http://scicasts.com/neuroscience/2066-neuropsychology/6970-study-finds-differences-in-brains-of-children-with-nonverbal-learning-disability
Related Topics